"Why Do I Need a Lawyer After a Car Accident?"
After being injured in a car accident in North Carolina, you may be wondering whether you should hire an attorney to represent you in your claim. To be clear, you are not required to hire a lawyer if you've been injured in a car accident in North Carolina, but an experienced personal injury lawyer can help you secure maximum compensation.
"Do I Really Need a Lawyer After a Car Accident?"
You aren't required to hire an attorney after a car accident in North Carolina, but the effects of a car accident are often life-changing and can be both emotionally and financially draining. Your injuries could prevent you from working and supporting your family. Additionally, other losses such as high medical bills, future medical expenses, and loss of income can cause further financial strain.
It can be a time of uncertainty and stress.
You may have a lot of questions, including:
"Will the insurance company give me a fair offer on my own?"
"Should I give the insurance company a recorded statement?"
"How can I prove the other driver was at fault?"
"How will the insurance company value my injuries and pain and suffering?"
"How long does it take to settle a personal injury claim?"
"Should I accept an immediate settlement, or try to negotiate?"
An experienced North Carolina car accident lawyer can help manage all aspects of your case, ensuring that you can focus on your recovery and improving your quality of life.
According to a recent study, hiring a personal injury attorney will likely increase your settlement amount. In fact, the study found that those who hire an attorney recover, on average, 3X more compensation than those who represent themselves. However, it is important to remember that all cases are different and generally the cases with more serious injuries are accompanied with higher settlement offers.
Taking on the Insurance Companies
In our experience, the insurance companies often try to get our clients to settle quickly with confusing terms that make it hard to understand what you are settling your case for. We recommend that you consult with an attorney before speaking to the insurance company about anything related to the accident or your injuries.
Adjusters might seem like they are willing to help you pay for all your medical expenses, however, while every case is different, in our experience insurance companies aim to settle cases for the lowest amount possible. Having an experienced car accident attorney on your side can help ensure that you and your loved ones obtain a fair settlement.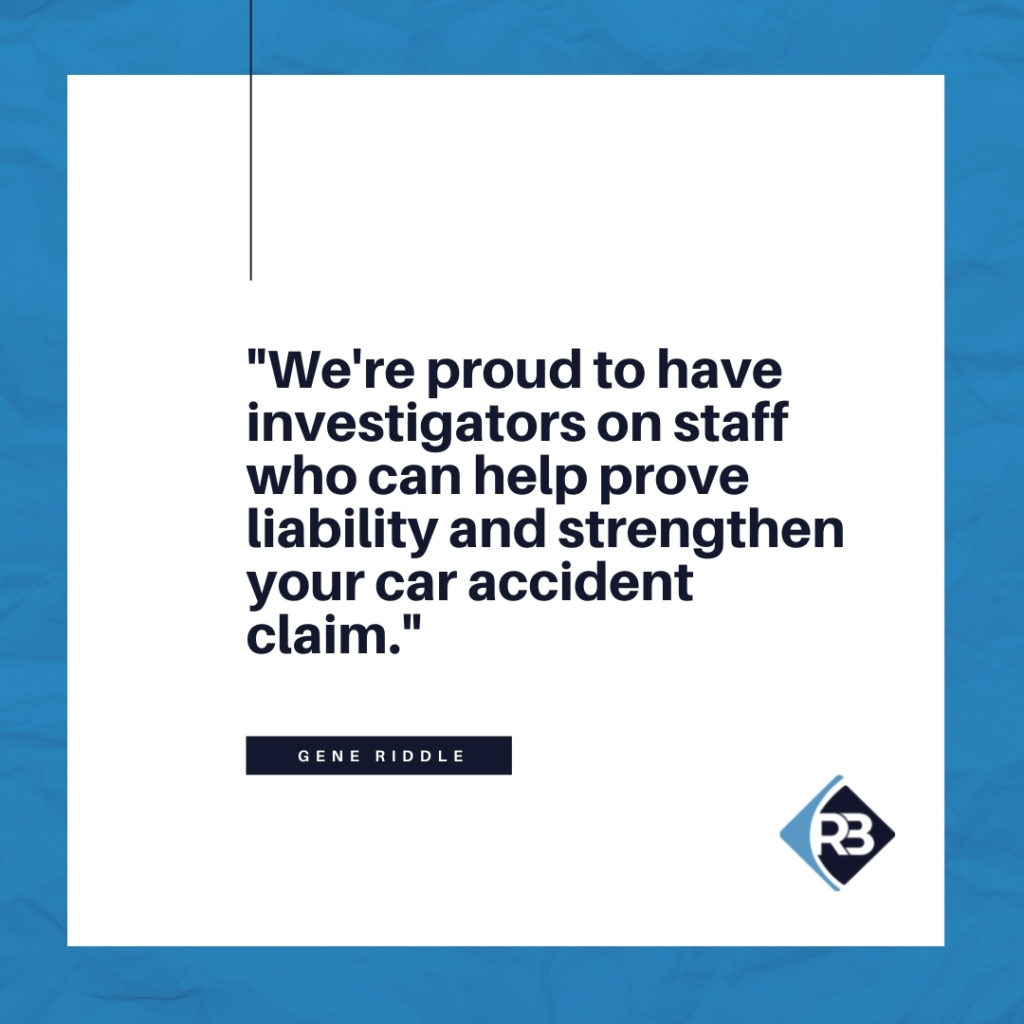 For more than 35 years, the car accident attorneys at Riddle & Brantley have helped clients throughout the state of North Carolina receive fair compensation for their injuries. Our legal team understands how devastating being injured in an auto accident can be and we have the experience and the resources to handle your case from start to finish.

Helping Build Your Case
Our main goal is to help you recover from your injuries, pay for your medical bills, and get you fair compensation for your damages. To do this, we aim to build the strongest case for the insurance adjuster or jury to review. Although each case we take is different, generally most cases follow the same timeline:
Initial Investigation: during this stage of your case, your attorney reviews the specific facts related to your accident to ensure that we hold all negligent parties accountable. Our attorneys and investigators will help you gather evidence in order to prove negligence. In some cases, we will even track down a hit and run driver, or seek other sources of compensation in order to hold uninsured drivers accountable.
Treating: During this phase clients treat with medical providers and recover from their injuries.
Released: Once clients are released from all providers our dedicated legal team begins obtaining all medical records and bills to document your injuries for the insurance company.
Negotiations: After all the medical records and bills are collected, we send them off to an adjuster to review and from there your attorney will start the negotiations process. This can be time-consuming and we always try to get the best offer we can for our clients. If negotiations do not lead to a reasonable offer from the insurance company, you and our attorneys may decide to take your car accident case to trial.
The list above is a simplified look at the typical process in pursuing a car accident claim.
Under certain circumstances, such as DWIs, hit and run accidents, catastrophic injury or wrongful death, additional investigations might be needed. For example, our investigative team might hire an accident reconstructionist. Having an experienced investigative team can be crucial the insurance company accepting liability in certain cases. At Riddle & Brantley, we have four in-house investigators on staff to assist with any needed investigations.
Recently, one of our clients was involved in a hit and run near a gas station. She immediately called our offices and attorney Gene Riddle personally met with her at the scene. Gene gained access to the video footage and within days our investigative team had identified the suspect.
Call Our North Carolina Car Accident Lawyers Today
If you or a loved one has been injured in an accident, contact us for a FREE, no-obligation consultation. Our law office works on a contingency fee basis, which means we don't receive attorney fees unless we recover compensation for you.
Since 2000 alone, we've recovered more than $600 million in total compensation for injury victims (see disclaimer below). We are passionate about fighting for justice for injured North Carolinians, and we strive to treat every client like family."
"You'll walk in the front door as a client, but leave as family. They're the absolute best."
–Susan S., Riddle & Brantley client
There are no upfront costs, and we don't get paid unless you do.
Justice Counts for those injured due to others' negligence, and we are ready to help you however we can.
---
*** Disclaimer: The results mentioned are intended to illustrate the type of cases handled by the firm. These results do not guarantee a similar outcome, and they should not be construed to constitute a promise or guarantee of a particular result in any particular case. Every case is different, and the outcome of any case depends upon a variety of factors unique to that case.