"Will Bias Against Motorcycles Affect My Accident Claim?"
Motorcycle bias is the belief that cyclists are dangerous risk-takers. This motorcycle bias can play out in courtrooms, where a jury will refuse to treat an injured rider fairly because they were riding a motorcycle at the time of the accident. Honestly, we have not seen any bias directed against any of our clients in the past, whether in the investigation phase, negotiation/settlement phase or trial phase. We have tried motorcycle cases and won, even in contested liability circumstances. We have settled many, many more motorcycle cases and did not experience any bias directed at our motorcycle clients. However, we hear about motorcycle bias all the time, so we researched the issue and want to give you some helpful free information on this subject.
The reality is that motorcycle riders are no more reckless than any other driver and deserve to be treated fairly under the law. A North Carolina motorcycle accident lawyer will help ensure that you receive this same fair treatment for your injury claim.
If you suffered injuries in a motorcycle accident in North Carolina and are concerned about motorcycle bias, Riddle & Brantley is here to help. Our North Carolina motorcycle accident lawyers will work tirelessly to help you secure the compensation you deserve. To get started, call 1-800-525-7111 for your free consultation right away because we believe that Justice Counts!
Please call 1-800-525-7111 and let's review your claim.
What is Motorcycle Bias?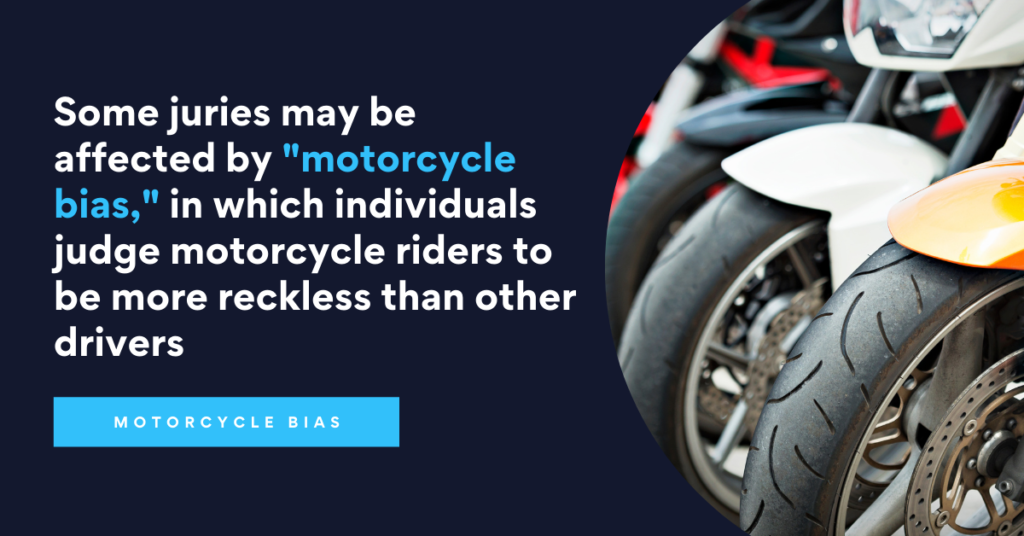 Different biases impact motorcyclists across the country. Motorcycles have earned a reputation — fairly or not — of being driven by riders who travel at high speed. Motorcycles have also earned the reputation of being difficult to see. While visibility is an issue, a jury might assume a rider did not take extra steps to ensure the motorists were aware of his or her presence on the road.
Have questions about motorcycle bias? Call us today at 1-800-525-7111 for a free consultation.
Overcoming Motorcycle Bias
A useful method of overcoming motorcycle bias is building the strongest case for the other driver's negligence possible. Determining the fault in a motorcycle accident requires establishing four specific elements:
You must show the other motorist owed you a duty of care.
You must prove they breached that duty.
You must link any injuries to their negligence
You must prove that you have suffered measurable damages in the accident.
Meeting each of these elements can demonstrate to the jury that the other party was at fault and help them overcome any bias that exists. These elements are the same as in a normal auto accident.
Jury Selection
Jury selection also offers an opportunity to address bias. Our attorneys will carefully question the potential jurors to probe for bias and ensure they are prepared to take on the case with an open mind.
Hiring a Lawyer
One aspect of overcoming motorcycle bias that cannot be overstated is the importance of hiring a lawyer. We understand how to deal with motorcycle bias at trial by building a solid case and establishing that our client did nothing to cause the accident. This approach has led to numerous successful settlements and trial verdicts for motorcycle accident injury victims.
In 2019, we secured a settlement for $1 million on behalf of a Goldsboro motorcycle rider (see disclaimer below). Another driver crossed in front of the rider on a service road, causing a collision that sent the motorcyclist 15 feet through the air. This settlement represented the maximum benefits allowed under the insurance policy (see disclaimer below).
Talk to an Attorney About Your Motorcycle Accident Injury Claim
At Riddle & Brantley, our attorneys have more than 220+ years of combined experience fighting for the rights of the injured. We believe that Justice Counts for motorcycle accident injury victims and can help explain how unique factors like lane splitting or helmet laws in North Carolina could impact your personal injury claim.
We also understand motorcycle bias and are prepared to help alleviate it in your case. Using our aggressive and thorough approach, we can build a strong case for negligence that could overcome any bias the jury might have. To learn more about how we can help, call 1-800-525-7111 for your free consultation right away.
"This settlement changed me and my family's lives."
Linda B., Riddle & Brantley client
With convenient locations across North Carolina, we're ready to serve you in-person or virtually by phone, email, text, or video conference. Please call 1-800-525-7111 for a FREE, no-obligation consultation with an experienced North Carolina motorcycle accident lawyer.
---
Disclaimer: The results mentioned are intended to illustrate the type of cases handled by the firm. These results do not guarantee a similar outcome, and they should not be construed to constitute a promise or guarantee of a particular result in any particular case. Every case is different, and the outcome of any case depends upon a variety of factors unique to that case.