Can a Trucking Company Be Held Liable for Hiring an Unfit Driver?
Many of our clients ask, "Can a trucking company be liable for hiring a driver that caused my injuries?"
The answer is yes — when a trucking company negligently entrusts its vehicles to an unfit operator, and that driver's actions or errors contribute to a crash, injury victims and their families can sue the trucking company for damages.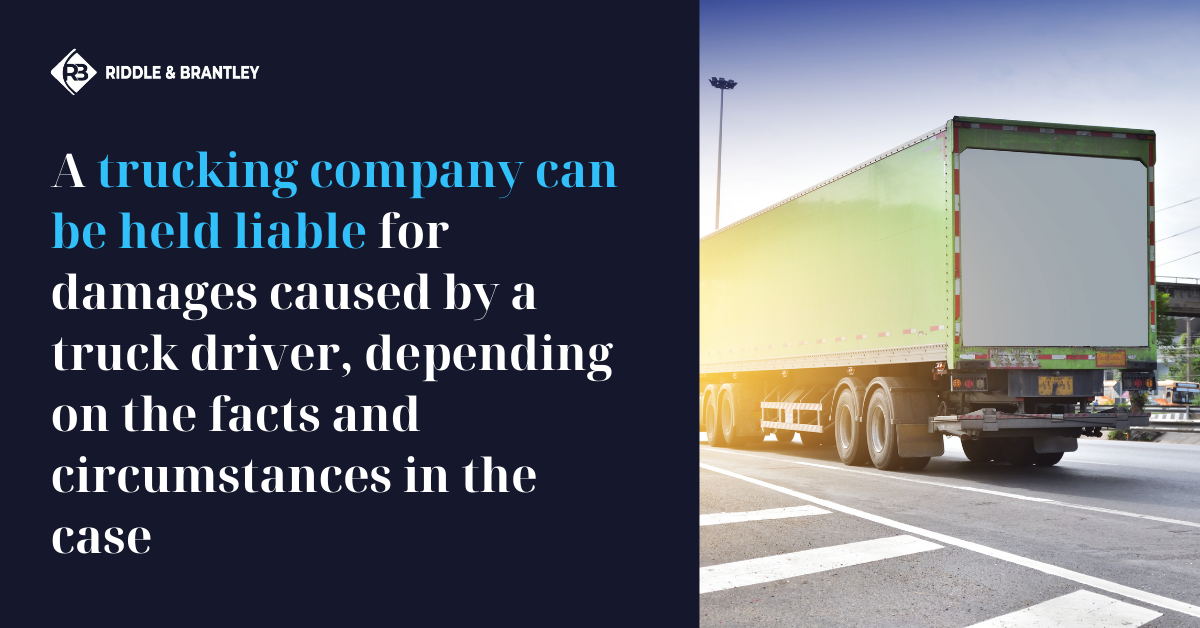 Trucking companies across the United States are "common carriers" that are held to a very high standard of care and diligence when they transport goods on public roads. The size and speed of a truck will typically overwhelm a passenger car in a collision, and trucking companies must hire skilled drivers that can handle that size and speed to avoid collisions. Trucking companies and truck drives are required to comply with many rules and regulations throughout the country.
Our dedicated and knowledgeable attorneys here at Riddle & Brantley have more than 220+ years of experience handling personal injury cases, including those involving North Carolina truck accidents. We know the techniques and "tricks" that insurance companies often use to try to limit liability when trucking companies hire unfit drivers.
There is no obligation and we don't get paid unless you do. If we don't win your case and recover compensation for you, you won't pay any attorney fees. It's as simple as that.
We believe Justice Counts and we would love to help you seek compensation for your injuries. Please call 1-800-525-7111 today and let's review your claim.
Suing for Negligent Hiring After a Truck Accident
A trucking company can be liable for negligence if it hires a driver that it knows or reasonably should have known is not fit to operate a truck or other large commercial vehicle on public roadways. You can sue a trucking company to recover your damages after the driver causes an accident that leaves you injured, but you will need the services of a knowledgeable and experienced North Carolina truck accident attorney  investigate the company's hiring policies and the actions it took to determine the driver's skills and safety record.
How We Investigate Trucking Companies
In addition to the truck company's hiring process, our lawyers and on-staff investigators will also examine the training that is provided to the driver, the truck's maintenance and repair records, and the company's overall safety record to assess the bigger picture of whether it exercises a high degree of care and diligence in its overall operations. In some cases, "rogue" trucking companies endanger others by not adhering to safety regulations and responsible hiring practices.
After filing suit in a truck accident case, we can demand the truck driver's medical records as well as results of past physical fitness tests for obtaining his or her commercial driver's license (CDL).
In some cases, drivers will allow their physical fitness test results to expire, or may have questionable medical conditions that render them unfit to operate a commercial vehicle. This information can be helpful in proving liability.
When taken together, all of these factors can demonstrate the extent of the company's negligence and support an injured truck accident victim's right to recover compensation for all of his or her injuries and losses.
The trucking industry includes everything from large national companies that own, operate, or manage hundreds of trucks to small companies that might only operate a single vehicle. We understand how these companies operate and how they might use contract relationships to deflect liability away from themselves and on to independent contractors that might hire an unfit driver.
A lawyer that knows the industry can cut through these relationships to prove liability by the trucking company that is ultimately responsible for an unfit driver's negligence.
You deserve justice and we would love to help you if we can.
There is no obligation and you won't pay any attorney fees unless we win your truck accident injury case.
What Else Can a Truck Accident Lawyer Do to Prove that a Trucking Company Hired an Unfit Driver?
In addition to unraveling contracts, we can conduct a thorough investigation of the truck accident that caused your injuries, including:
Collecting photographs of the accident and the damaged vehicles
Interviewing witnesses
Reviewing police reports
Hiring experts to inspect the vehicles
Re-creating the accident scenes and the conditions surrounding them
Consulting with federal truck safety experts
Obtaining truck "black box" data
Reviewing surveillance footage and other video evidence like dash cam footage
Obtaining GPS and traffic data
And more…
The insurance companies that cover commercial trucks might also try to contact you to offer a quick settlement, which may be far less than the full value you are entitled to. Call 1-800-525-7111 to speak with an experienced North Carolina truck accident lawyer before you talk to any insurer representing a trucking company.
We can handle all negotiations with insurance companies and make sure that you do not give up your right to collect the full amount of damages you deserve.
Riddle & Brantley: Protecting the Rights of Accident Victims
Many of our attorneys have been recognized by such prestigious organizations as Multi-Million Dollar Advocates Forum, The National Association of Distinguished Counsel, Super Lawyers, and The National Trial Lawyers Top 100 (see disclaimer below).
Recent settlements include (see disclaimer below):
$9.45 Million — Our attorneys investigated a terrible accident that left a family of four dead and set out to prove liability, bringing in outside experts and even subpoenaing traffic data from Google Maps. We filed multiple lawsuits and secured $9.45 million in total compensation for surviving loved ones.
$2 Million — Attorney Gene Riddle handled a matter in which an elderly woman was struck by an 18-wheeler and ultimately succumbed to her injuries. We represented the surviving sons, bringing in an outside expert to help prove liability. Ultimately we were able to negotiate a $2 million settlement with the insurance company.
$1.8 Million — Attorney Gene Riddle fought for justice for a truck driver who was hit by another truck and suffered extensive injuries, including the eventual loss of his left leg below the knee. We filed claims with the truck insurance company and the workers' comp carrier and ultimately secured $1.8 million in total compensation on behalf of the injured victim.
Free consultations are available by phone, email, text and even video conference. We can come directly to you if you prefer, however, no in-person meeting is required to get started on your case.
Bilingual interpreters are available for the convenience of our Spanish-speaking clients, as well.
We are committed to the belief that Justice Counts, and we will fight tirelessly to get the justice you deserve.
Please call 1-800-525-7111 today and let's review your truck accident injury claim.
---
*** Disclaimer: The results mentioned are intended to illustrate the type of cases handled by the firm. These results do not guarantee a similar outcome, and they should not be construed to constitute a promise or guarantee of a particular result in any particular case. Every case is different, and the outcome of any case depends upon a variety of factors unique to that case.
*** Disclaimer: An attorney must meet certain requirements to join these organizations or receive these awards. For more information on Membership Criteria for Million Dollar Advocates Forum, Multi-Million Dollar Advocates Forum, Super Lawyers, The National Trial Lawyers Top 100, The National Association of Distinguished Counsel, AV Preeminent by Martindale-Hubbell, the Litigator Award, and other memberships, awards, and accolades, please visit our Membership Criteria page. These awards and memberships should not be construed as a promise or guarantee of a similar result. Each case is different and must be evaluated separately.