Should I Release My Medical Records to the Trucking Company's Insurer?
If you are injured in a truck accident, you can expect that the trucking company's insurer will pressure you to sign a HIPAA release or medical authorization. You do not need to sign such a release and should never do so without first talking to a truck accident attorney.
You will need to document your injuries and bills as a part of your insurance claim or lawsuit. However, there are ways to do this without disclosing unrelated personal information. At Riddle & Brantley, we can help you with these kinds of questions.
Proving Injuries Caused by a Truck Accident
Insurance adjusters often give the impression that you need to authorize a release of your medical records if you want to receive reimbursement for your medical bills after a truck accident. In effect, this is a lie based on a truth — the insurance company will need to see your bills, but they do not need to receive your entire medical file.
As a claimant, you have the burden of showing:
That you were injured;
That your injuries were caused by the truck accident;
That the trucking defendants or other parties included as defendants were to blame; and
The monetary value of your claim
Your medical records related to the accident will likely be relevant in proving one or more of these elements. However, rather than granting blanket authorization, your attorney will take a more focused approach so that the defendants receive targeted relevant documentation. This will likely include requesting medical records and bills and then releasing what is relevant to the insurance company.
Understanding a Records Release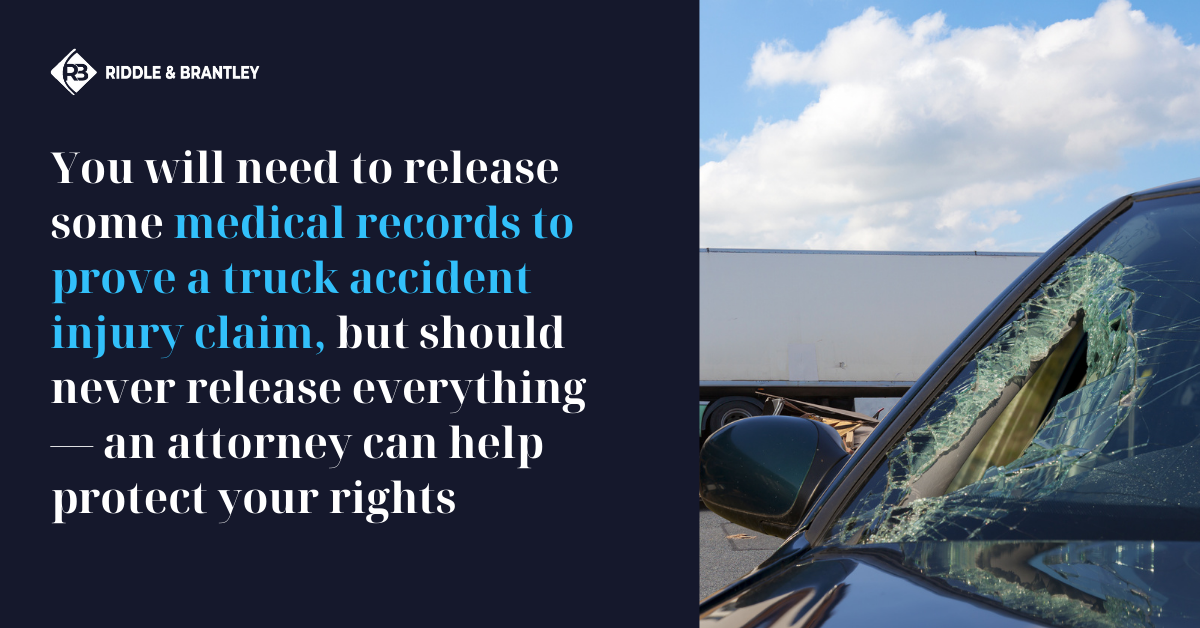 A records release, also known as a HIPAA release after the Federal Health Insurance Portability and Accountability Act, grants authorization to release your protected medical information. To comply with state and federal laws, medical providers will not release your medical information unless you provide written permission.
The insurance company may ask you to sign a release that permits a medical provider to provide copies of all your medical records.
If it is a doctor or hospital that only holds records related to your truck accident, there may not be a problem with that. But if the doctor is someone who has treated you for much longer than that, the request may be overly broad. The request must be tailored to the situation.
If you're wondering, "Should I release my medical records to the truck insurance company?", the answer is, it depends. You will need to release some records to support your truck accident claim, but you don't need to release everything — an experienced truck accident lawyer can help protect your rights and manage the entire process.
At Riddle & Brantley, we will review your medical records and help you decide what to release to the insurance company.
We only release records that relate to your accident. Our priority is protecting your legal and privacy rights. We want to protect you from unreasonable expeditions into your private medical history.
There are no upfront costs and you won't pay any attorney fees unless we win your case and you receive compensation.
Why You Should Protect Your Medical Records
At-fault parties and their liability insurance providers are responsible for the injuries that their negligence causes. However, they are not responsible for unrelated injuries. In many cases, the insurance adjuster will request full medical records so that they can look for pre-existing conditions to blame for your injuries. This can reduce how much they pay in a settlement or verdict. It can also reveal irrelevant personal details that you would rather not share.
For example, imagine you suffered a back injury in a truck accident. The insurance company requests that you sign an authorization to request your medical records. The adjuster notices that you had experienced a back injury playing sports when you were younger. Even though your sports injury had resolved, the insurance company argues that your prior injury caused your accident-related one.
Even if there is no merit to the claim, this can substantially reduce the amount that the insurance company will be willing to pay.
Insurance companies are in the business of saving money. These kinds of tactics to reduce settlement amounts are common and expected. You can fight back by working with an experienced truck accident lawyer who will review the request for authorization and ensure that it is limited in scope.
There is no obligation and you won't pay any attorney fees unless we win your case and you receive compensation.
Contact our Team of North Carolina Truck Accident Lawyers
Experience counts. At Riddle & Brantley, we help personal injury victims secure the compensation they need to move on after an accident. For example, in a truck accident involving multiple injuries and an eventual amputation, we fought for a $1.8M settlement in workers' compensation for our client (see disclaimer below).
Our attorneys have been fighting for North Carolinians since 1985 and collectively have more than 220+ years of legal experience.
"Riddle & Brantley found me all the available money from the insurance companies."
–David Howard, Riddle & Brantley client
We don't get paid unless you do. If we don't win your case and recover compensation for you, you won't pay any attorney fees.
Justice Counts for North Carolinians injured in truck accidents due to others' negligence.
There is no obligation, and there are no upfront costs or attorney fees unless we win your case.
All consultations are free, confidential, and with absolutely no strings attached.