Paraquat Compensation: What Can Victims Expect?
As the Paraquat lawsuits are filed across the United States, many potential victims are wondering, "What compensation is available in Paraquat lawsuits?"
In this article, we'll detail what kind of compensation victims might expect in Paraquat lawsuits.
Paraquat Lawsuits: Brief Background
Paraquat is a popular brand of herbicide used in the United States to kill weeds and enable grass control. However, recent studies show that the herbicide contains highly toxic chemicals that may be linked to the development of Parkinson's disease in individuals who have had prolonged exposure.
If you have been exposed to Paraquat and subsequently developed Parkinson's disease, you may be facing substantial medical expenses, diminished earning capacity, and significant pain and suffering due to your diagnosis. Compensation may be available for those who file or join a Paraquat lawsuit alleging that exposure to the herbicide has caused them to develop Parkinson's disease.
For a FREE, no-obligation consultation with an experienced Paraquat lawyer, please call 1-800-525-7111 or complete the fast and easy form below. 
We can review your claim, determine your eligibility, and if you qualify, help with how to file a Paraquat lawsuit. As always, there are no upfront costs and no attorney fees unless we win your compensation.
NOTE: If you don't know if you were exposed to one of the many herbicide brands containing Paraquat, our attorneys can help investigate your claim and determine your eligibility. Call 1-800-525-7111 and let's get started on your claim.
What Kind of Paraquat Compensation May Be Available?
A number of lawsuits have already been filed against Paraquat manufacturers. These lawsuits allege that manufacturers failed to adequately warn the public about the neurological risks of the herbicide and the potential that Paraquat exposure can cause Parkinson's disease.
Since there are numerous plaintiffs alleging that Paraquat caused their Parkinson's disease, these Paraquat lawsuits will likely be treated as a class action or mass tort. When a lawsuit with numerous plaintiffs settles, the total amount of compensation each plaintiff receives often depends on several factors, including:
The final amount of the total settlement
The severity of each plaintiff's damages
Proof of individual damages
Several other legal factors
Although an exact compensation figure can never be predicted before a case settles, and there are never any guarantees, individuals in similar cases involving toxic chemicals have recovered substantial amounts for their damages.
Settlements in Similar Cases
In June 2020, after years of litigation, Roundup manufacturer Bayer announced it agreed to pay more than $10 billion to settle current and future claims that the popular pesticide caused non-Hodgkin's lymphoma and other cancers. Prior to settling, the manufacturer faced more than 120,000 lawsuits alleging that the manufacturer failed to warn the public that its product contained known carcinogens linked to the development of certain types of cancer.
In addition to this massive settlement, previous jury verdicts against Bayer and the former Roundup manufacturer Monsanto awarded victims more than $2.3 billion in damages covering medical expenses, lost wages, and pain and suffering. However, some of these verdicts were later reduced by judges on appeal.
As of spring 2021, many victims have started receiving the first Roundup settlement checks, with a second disbursement to follow tentatively in fall 2021. The exact amount that each individual plaintiff will recover depends on a variety of factors including severity of injury, level of Roundup exposure, and the type of cancer involved.  However, legal experts expect that these settlements will pay out an average of $100,000 to $150,000.
Similarities Between Roundup & Paraquat Claims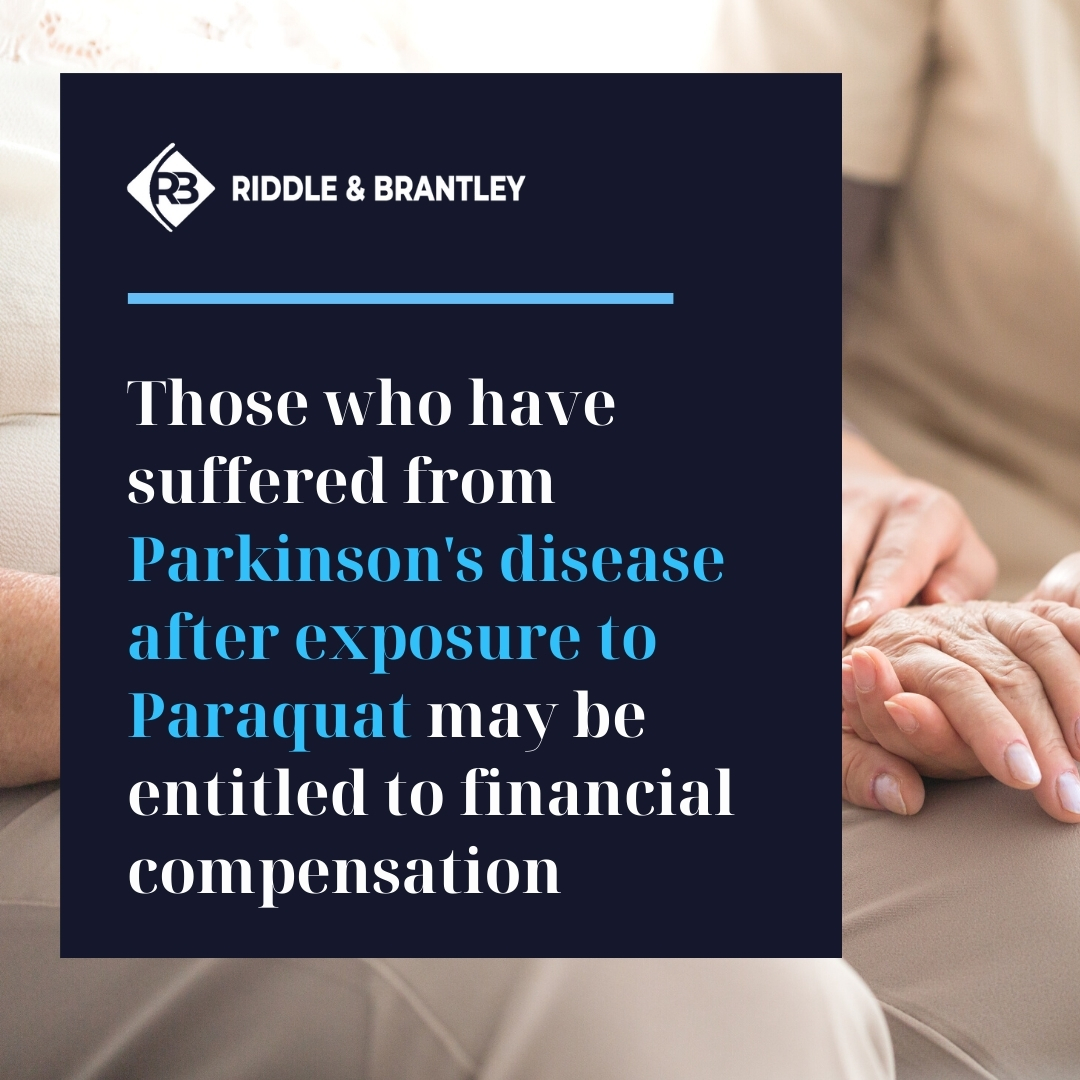 Like Roundup, Paraquat herbicide has been linked to serious disease. Although there is no guarantee what, if any, settlement will be reached in the recent Paraquat litigation, victims deserve justice and we are fighting to help secure compensation for those adversely affected.
Recent settlements in Roundup cases may offer clues as to how Paraquat claims may be resolved.
If you or a loved one has developed Parkinson's disease after exposure to Paraquat herbicide, we want to help you protect your rights and secure justice for your injuries. Call 1-800-525-7111 today for a FREE, no-obligation consultation with a Paraquat lawyer today.
Paraquat Dangers & Side Effects
The dangers of Paraquat are well known.  Because it is highly toxic, the EPA has designated Paraquat as a "restricted use" herbicide. This means that Paraquat cannot be used by just anyone – individuals must obtain a commercial license in order to apply the herbicide.
Epidemiological studies have found that humans living in areas where Paraquat exposure is likely to occur as well as agricultural workers who apply Paraquat without adequate protective equipment have an increased risk of developing Parkinson's disease. Even in laboratory studies, researchers have found that repeated exposure to Paraquat in different animals can induce the many of the same pathological features of Parkinson's disease found in humans.
For a comprehensive review of Paraquat Parkinson's disease research, please check out our recent article.
Due to its highly poisonous nature, Paraquat is currently banned in 32 countries around the world, including Brazil, China, England, Switzerland, and the European Union. Several of these countries still manufacture Paraquat, but the yield is mostly exported to the United States.
If you or a loved one has been exposed to Paraquat and now developed Parkinson's disease, you may be entitled to significant compensation for your medical expenses. Please call 1-800-525-7111 for a FREE, no-obligation consultation with an experienced Paraquat lawyer today.
Call an Experienced Paraquat Lawyer Today
If you've suffered from Parkinson's disease after exposure to Paraquat, you may be entitled to significant Paraquat compensation in a potential settlement or verdict. However, there are no guarantees.
Riddle & Brantley's experienced product liability attorneys are currently reviewing legal claims on behalf of those who have developed Parkinson's disease potentially as a result of Paraquat exposure. If you used Paraquat or lived near a farm that used Paraquat and subsequently developed Parkinson's disease, you may be able to recover significant compensation in a Paraquat lawsuit.
Our Paraquat lawsuit attorneys can help evaluate your claim for damages and advise you on your eligibility for legal action. Since 1985, our injury lawyers have recovered millions of dollars in compensation for victims of injury (see disclaimer below).
"This settlement changed me and my family's lives."
–Linda B., Riddle & Brantley client
Although no settlement amount or compensation figure is ever guaranteed, Riddle & Brantley's experienced products liability attorneys have spent decades holding potentially negligent manufacturers like Syngenta and Chevron responsible for possibly defective and dangerous products.
Call our Paraquat attorneys today at 1-800-525-7111 for a free review of your claim to see if you may be entitled to compensation.
---
*** Disclaimer: The results mentioned are intended to illustrate the type of cases handled by the firm. These results do not guarantee a similar outcome, and they should not be construed to constitute a promise or guarantee of a particular result in any particular case. Every case is different, and the outcome of any case depends upon a variety of factors unique to that case.