Does PFAS in Firefighting Gear Cause Cancer?
Research Shows PFAS Chemicals in Firefighter Gear May Cause Cancer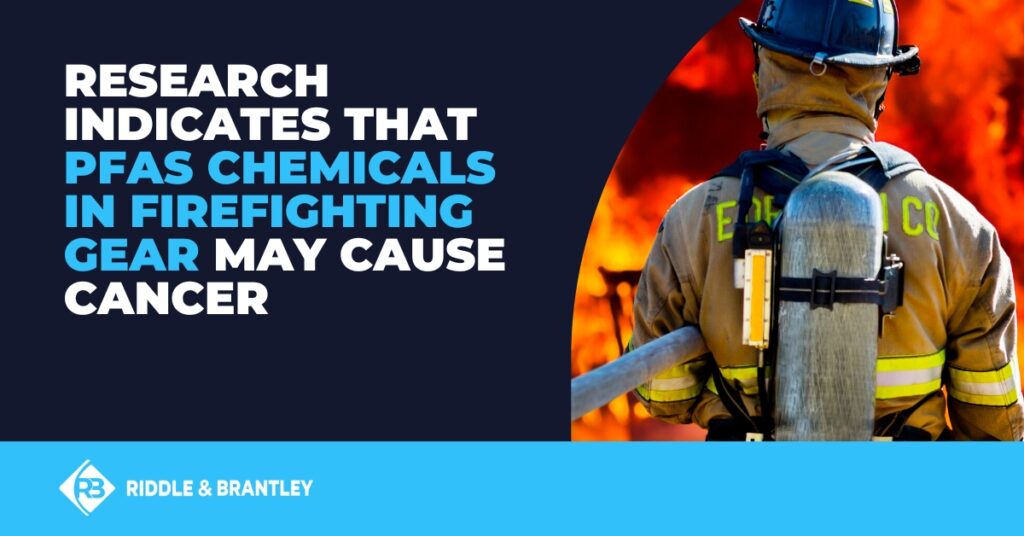 Firefighters are exposed to large amounts of carcinogens from a wide variety of sources, from smoke and chemicals released during fires to certain types of firefighting foam. Recent allegations claim that firefighters may be exposed to yet another source of cancer: the firefighting gear meant to protect them.
Cancer is the top killer of firefighters, accounting for 74% of deaths related to the profession in 2022. As carcinogen concerns grow, eyes are turning to firefighting gear as a potential source of exposure.
PFAS chemicals, which are known to cause cancer, are used in manufacturing firefighting gear. If these chemicals leech over time and are absorbed by firefighters, they could be at an increased risk of cancer.
Does Firefighting Gear Cause Cancer?
"Turnout gear" refers to the heavy, multi-layered uniform worn to protect from heat and exposure while fighting fires. Manufacturers of this gear use PFAS to repel water and liquids like oils that could cause burns and other injuries.
Scientific Evidence of Firefighting Gear Cancer Risk
While no existing research has drawn a direct link to cancer, two small studies published in 2020 and 2021 found that PFAS can leech from turnout gear. A growing number of firefighters are concerned that these PFAS chemicals could be causing cancer. As a result, a push to rid gear of PFAS is gaining strength.
In early 2023, the National Fire Protection Association, a nonprofit organization that sets codes meant to prevent fires and fire-related injuries, set a national standard for all fire-resistant turnout gear to be made without PFAS by 2025.
As allegations grow, the International Association of Fire Fighters has retained a team of lawyers to aid in what could turn into another round of firefighter PFAS mass tort litigation.
If you worked as a firefighter and are worried that your turnout gear may have led to cancer, give us a call today at 1-800-525-7111. Our experienced lawyers can help you navigate your claim and a potential lawsuit. The case review is free, and you never pay attorney fees unless we win and you receive compensation.
What are PFAS Chemicals?
PFAS, which stands for per- and polyfluoroalkyl substances, are known colloquially as "forever chemicals." They don't break down naturally in the environment. PFAS chemicals are known to cause cancer, and they exist in a wide variety of everyday products.
As knowledge about PFAS chemicals and their side effects grows, a number of issues have reached the courts, from litigation over larger-scale contamination to lawsuits about specific products like AFFF firefighting foam. 
"When Will We Know More About PFAS in Firefighting Gear?"
Dozens of firefighters filed two lawsuits over PFAS in firefighting gear in February 2022. Both were voluntarily dismissed that September. With limited information, it will be difficult to prove a direct link between firefighting gear and cancer, especially because firefighters are exposed to carcinogens from many different sources.
It is too early to predict whether any mass tort litigation will come from the allegations that PFAS in firefighting gear may cause cancer, but there is momentum building in that direction.
Do You Have a Claim?
If you have questions about your own PFAS cancer claims related to firefighting service, give our experienced lawyers a call at 1-800-525-7111 for a FREE case review. Riddle & Brantley lawyers are actively involved in PFAS lawsuits. If you believe you have been exposed from firefighting gear or from other sources our PFAS attorneys are here to help.