Why Do Disability Benefit Claims Take So Long To Get Approved?
Our North Carolina Social Security disability lawyers are asked all the time: "Why do disability benefits take so long to get approved?"
Many of our Social Security Disability clients are surprised and disappointed when to hear how long it takes for their claim to be processed through the disability system and get a hearing in front of an Administrative Law Judge (ALJ).
Why Disability Claims Take So Long
There are many steps and requirements in pursuing disability benefits from the government. The system provides that a disability claim must:
Be evaluated by Disability Determination Services (DDS), an agency of state employees, at the "initial" phase — this normally takes three or four months
Then be re-evaluated by a different person at DDS if the claim is denied at the initial phase — this is called "reconsideration" and it takes another several months
Then, if the decision is another "no" at the reconsideration level, be heard before an ALJ once it makes it to the top of the list of claims waiting to be heard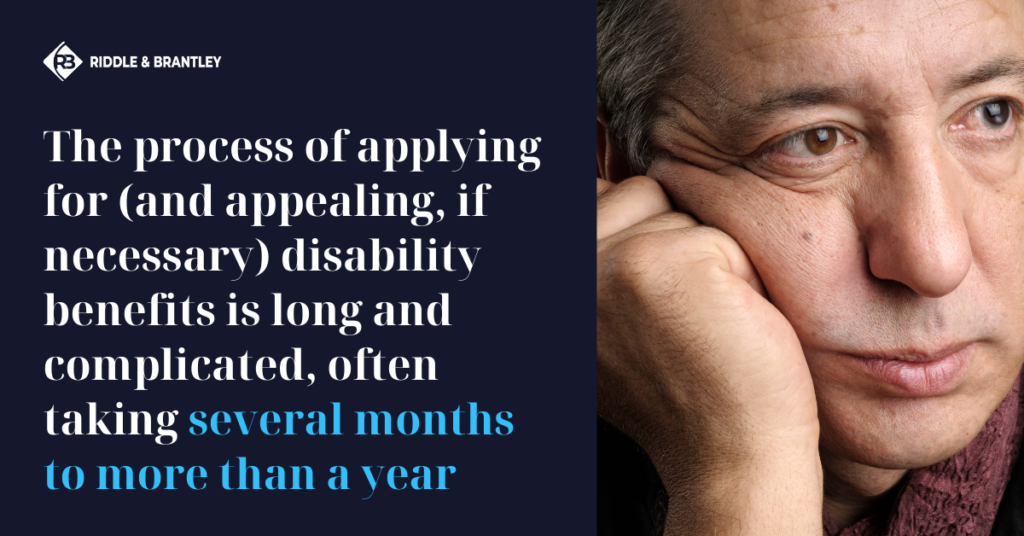 And there are many, many other requirements that must be met and considerations that must be made along the way. That's why it is advised that claimants work with an experienced disability attorney in seeking benefits. Your chances of winning a disability appeal significantly improve with an attorney on your side.
For a FREE consultation with a North Carolina disability lawyer and Board-Certified Specialist at Riddle & Brantley, please call 1-800-525-7111 or submit the form below.
There is no upfront cost and we only get paid if we are successful in getting you disability benefits.
Call 1-800-525-7111 and let's review your case. It would be an honor to serve you, and we would love to help however we can.
Wait Times for Hearings in Disability Cases
The waiting time for an ALJ hearing is even longer than the waiting times at the initial and reconsideration phases.
The good news is that wait times for hearings have dropped significantly over the past several years. The bad news is that wait times for a disability hearing still average around eight to ten months (or more), depending which region you live in. The North Carolina region wait times are right about in the middle of that range. There are simply too many cases and too few judges to move cases forward any faster.
Most reasonable people would agree that having to wait over a year for a decision on a disability claim when a person has no means of support because they cannot work is just plain wrong. Unfortunately, this is the reality of the system right now. Our attorneys do whatever we can to move disability claims forward, but there is often a significant amount of waiting involved.
Our goal is to get you the best possible outcome in the shortest amount of time possible.
For a FREE consultation with a North Carolina disability attorney and Board-Certified Specialist, please call 1-800-525-7111 today.
We will review your disability claim and advise you on your best available legal options for seeking SSD benefits.
Call 1-800-525-7111 to speak with our legal team at no cost today.
"I never felt like just another client, but like family."
–D. Montague, Riddle & Brantley client
Do you need help with a Social Security Disability application?
Perhaps you have been denied or had your benefits terminated and require assistance to re-file?
At the law offices of Riddle & Brantley, our Social Security disability team is led by attorney Scott Scurfield, a Board-Certified Specialist in disability law. This means he has been recognized by the NC State Bar for his experience and expertise handling these cases.
Our team knows the disability system inside and out and we would love to help you if we can.
For a FREE, no-obligation consultation with an experienced North Carolina disability lawyer, please call 1-800-525-7111.
"We are committed to getting justice for North Carolinians with disabilities."
–Scott Scurfield, disability attorney and Board-Certified Specialist
Don't wait — long wait times mean you'll want to start the disability claim process as soon as possible. Let us help however we can. Call 1-800-525-7111 for a free consultation and case review.
Justice Counts.