Disability for COVID-19: Update for "Long-Haulers"
Do COVID-19 "long-haulers" qualify for Social Security disability?
In a prior post on disability for coronavirus, we mentioned a category of COVID-19 sufferers called "long-haulers."  A recent NPR story provides more insight into the issue of whether these coronavirus "long-haulers" will eventually qualify for disability benefits.
In our previous post, we talked about the SSA's durational requirement for disability claims.  We said that, "in order for any impairment to be 'disabling' as that term is defined by the SSA, it must have already lasted, or be expected to last, for at least a year, or to result in death."
The NPR story makes the same point this way:
"There are three things, in general, that you need to qualify for benefits: First, a medical diagnosis. Second, evidence that the condition affects your ability to work. And third, the disability has to last for a while."
Can COVID-19 "Long-Haulers" Get Disability Benefits?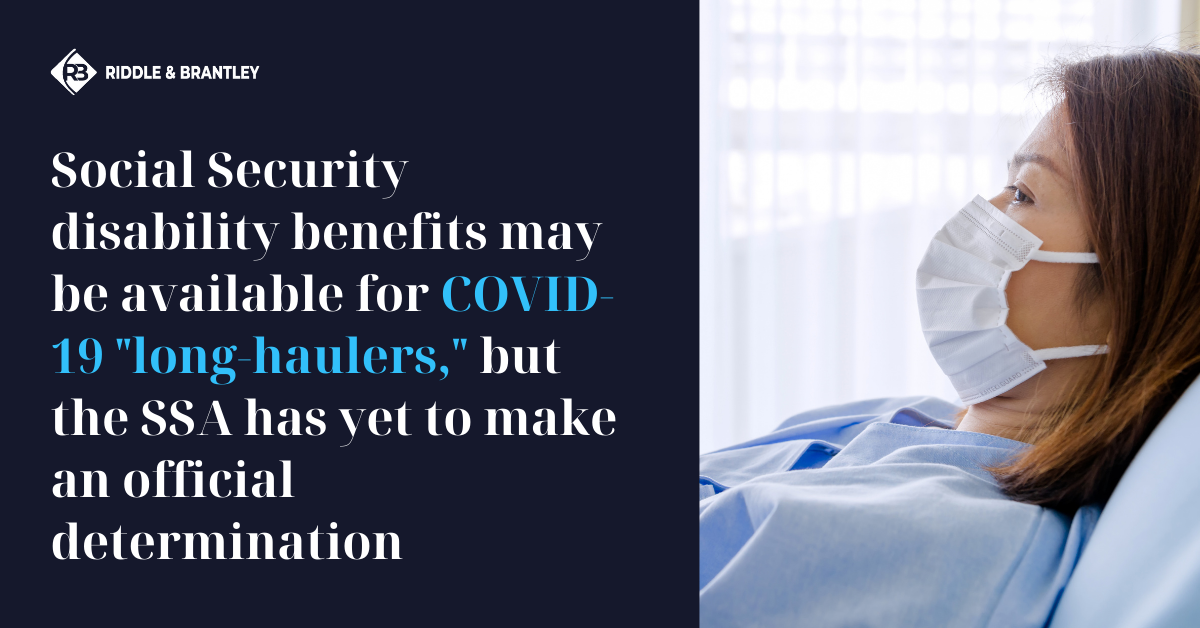 It is now starting to look like the COVID-19 long-haulers are going to be suffering from severe symptoms for a year and beyond, which would satisfy the SSA's durational requirement. So now the issue is whether SSA is prepared to properly consider these long-lasting symptoms.
The NPR article points out that the SSA has issued special guidance in the past for conditions like migraine headaches and fibromyalgia. It advocates for the issuance of similar guidance for long-lasting COVID-related symptoms.
So, in short, COVID-19 may qualify as a disability eligible for Social Security disability benefits… but it will depend on how the SSA decides to handle the issue. And Social Security disability for COVID-19 will likely only be available for coronavirus "long-haulers," if it is made available at all.
Thankfully, the most recent data reveal that only a small minority of COVID sufferers will end up as true long-haulers — somewhere in the 3% to 10% range — but there are a lot of unknowns in those estimates. The point of this article, and of our prior post, is the same: SSA needs to make sure its bureaucratic systems are ready to handle an influx of new claims based, at least in part, on long-lasting symptoms of having had COVID-19.
Need Help with a Disability Claim or Appeal in North Carolina?
Our North Carolina disability attorneys can help. For a FREE, no-obligation consultation with an experienced North Carolina disability lawyer, please call 1-800-525-7111 or complete the fast and easy form below.
There is no obligation and you won't pay a dime in attorney fees unless we win your case and you receive compensation.
Call 1-800-525-7111 today and let's review your claim.
"Without your help, I would not have received my Social Security disability benefits."
–Charlotte R., Riddle & Brantley client
Justice Counts for North Carolinians suffering from disability, and we would love to help you if we can. Our team is led by Scott Scurfield, a Board-Certified Specialist in Social Security disability, who knows the disability system inside and out. In more than three decades of practice, Scott has secured disability benefits for hundreds of North Carolinians.
Don't gamble with the disability benefits you're entitled to. Statistics show that those who hire a disability attorney to help with their disability claim or appeal are almost 3 times more likely to be approved for Social Security disability.
You don't have to go through this alone. We are ready to help however we can.