3 Types of Disability Benefits: Do You Qualify?
Our clients often have a lot of questions about benefits available to those with disabilities — Social Security disability, VA disability (veterans benefits), and private disability insurance. For instance:
What resources are available for someone who is disabled?
What's the difference between Social Security disability and VA disability benefits?
Can I qualify for both Social Security disability and veterans disability?
What about private disability insurance? What are my options?
In this blog post, our North Carolina disability lawyers will dig into these questions and give you what you need to know.
What disability programs are available for those unable to work due to disability?
There are three programs in our nation's governmental and economic system set up to provide benefits for people who have become unable to work due to physical or mental impairments.
These programs are:
Social Security Disability Insurance / Supplemental Security Income
Private Short and Long-Term Disability Insurance
Department of Veterans Affairs Disability Benefits
Here is a brief review of each program:
Social Security Disability Insurance ("SSDI") / Supplemental Security Income ("SSI")
Overview: Programs operated by our state and federal governments to provide a modest monthly income to persons totally disabled by physical or mental impairments, so that they do not become destitute or homeless.
Who pays for it? Employees and taxpayers. The SSDI program is paid out of deductions taken from reported wages. These deductions appear on your pay stubs and are placed into a government-held trust fund which is then used to pay benefits. The SSI program is funded from general funds of the U.S. Treasury (personal income taxes, corporate income and other taxes) and is administered by each of the states for their residents.
Who is eligible to receive benefits? U.S. citizens and lawful residents who qualify as "disabled" as that term is specifically defined in federal regulations. SSDI is for people who have paid into the system from their reported wages over a required minimum period of time. SSI is for poor persons who have not paid in to the SSDI system but who nevertheless meet the definition of "disabled" due to illness, injury or disease.
How much does it pay? SSDI recipients receive benefits proportional to the amounts they paid into the system while working, with a cap of $3,011/month as of year 2020. The average monthly SSDI benefit paid per recipient for 2020 is $1,258. The amount of SSI benefits a person receives depends on whether they are "deemed" to have any other significant sources of income. Most do not, and as such they receive the maximum benefit amount of $771/month.
Key Features of Social Security Disability:
A person must be totally disabled in order to qualify. This is an "all or nothing" program — either you are disabled or you are not.
Age is a very significant factor in determining eligibility. Persons under age 50 have a very difficult time obtaining benefits.
Dependents of the disabled person (spouse, children, sometimes grandchildren) can also receive a benefit if certain conditions are met.
Private Short and Long-Term Disability Insurance
Overview: Programs operated by private insurance companies (such as Unum, Liberty Mutual, and others) that pay benefits to insured individuals who buy coverage under the policy, or have it bought for them by their employer.
Who Pays For It? In most cases, employers pay the insurance premiums to the insurance company and enroll their employees as a benefit of working there. Private individuals can also purchase this insurance directly from an insurance company, just as if buying a car or homeowners insurance.
Who is eligible to receive benefits? Only "insured persons" under the terms of the insurance policy, which usually means just a single, named, covered individual.
How much does it pay? It depends on the language of the insurance policy, but typically 60% or so of the disabled employee's pre-disability wages.
Key Features of Private Short and Long-Term Disability Insurance:
Benefits are not normally subject to income taxes.
Your treating doctor will be asked to certify your level of impairment (i.e. how bad off you are) to the insurance company every few months in order for benefits to continue.
Benefits are rarely paid for more than two years.
The insurance company will require the beneficiary to apply for the Social Security disability (SSDI/SSI) programs and if approved, will require repayment of their benefits from any award of those SSDI/SSI benefits. Thus, private disability benefits are more like a "loan" than a true benefit.
Department of Veterans Affairs Disability Benefits ("VA Disability")
Overview: Program operated by the Department of Defense to compensate veterans for "service-connected" injuries, illnesses and conditions.
Who Pays For It: Your tax dollars. This money is part of the federal defense budget.
Who is eligible to receive benefits? Any veteran holding a discharge other than dishonorable (i.e., either honorable or general) who can prove that he or she suffered a compensable injury, illness or condition connected to his or her service, where the impairment continues to affect the veteran.
How much does it pay? It depends on the medical diagnoses of the impairment(s) and the extent to which they affect the veteran. Monthly benefit amounts can range anywhere from around $125 to over $3,500 depending on many factors. The computation of the "rating percentage" (often called a "VA disability rating") and resulting benefit level is very complex.
Key Features of Veterans Disability / VA Disability: 
You do not need to prove total disability in order to receive benefits. You can receive compensation for as little as a 10% rating.
Your initial disability rating (if any) is established following your compensation and pension examination ("C&P Exam") done at the time of discharge from the military.
In recent years, significant numbers of Gulf War era (and later) veterans have been awarded benefits for mental health impairments like PTSD, traumatic brain injuries from IED explosions, and for having been victims of military sexual assaults.
The VA disability system is incredibly complex, cumbersome, and slow. Their recordkeeping procedures are deficient. Challenging a rating typically takes upwards of three years, and oftentimes many more.
"Can I qualify for more than one disability benefits program?"
A person could theoretically qualify for benefits under one, two, or all three of these programs.
If a person was a veteran who was injured or became ill during his or her active service, and had paid sufficient funds into the system to qualify for SSDI benefits while working both inside the military and in private industry, and who worked for an employer who provided private disability insurance (or purchased it him or herself), he or she could qualify.
That type of situation is rare, however. Normally, only one or, at most, two of these programs are available to an individual.
Do you qualify for Social Security disability or veterans disability?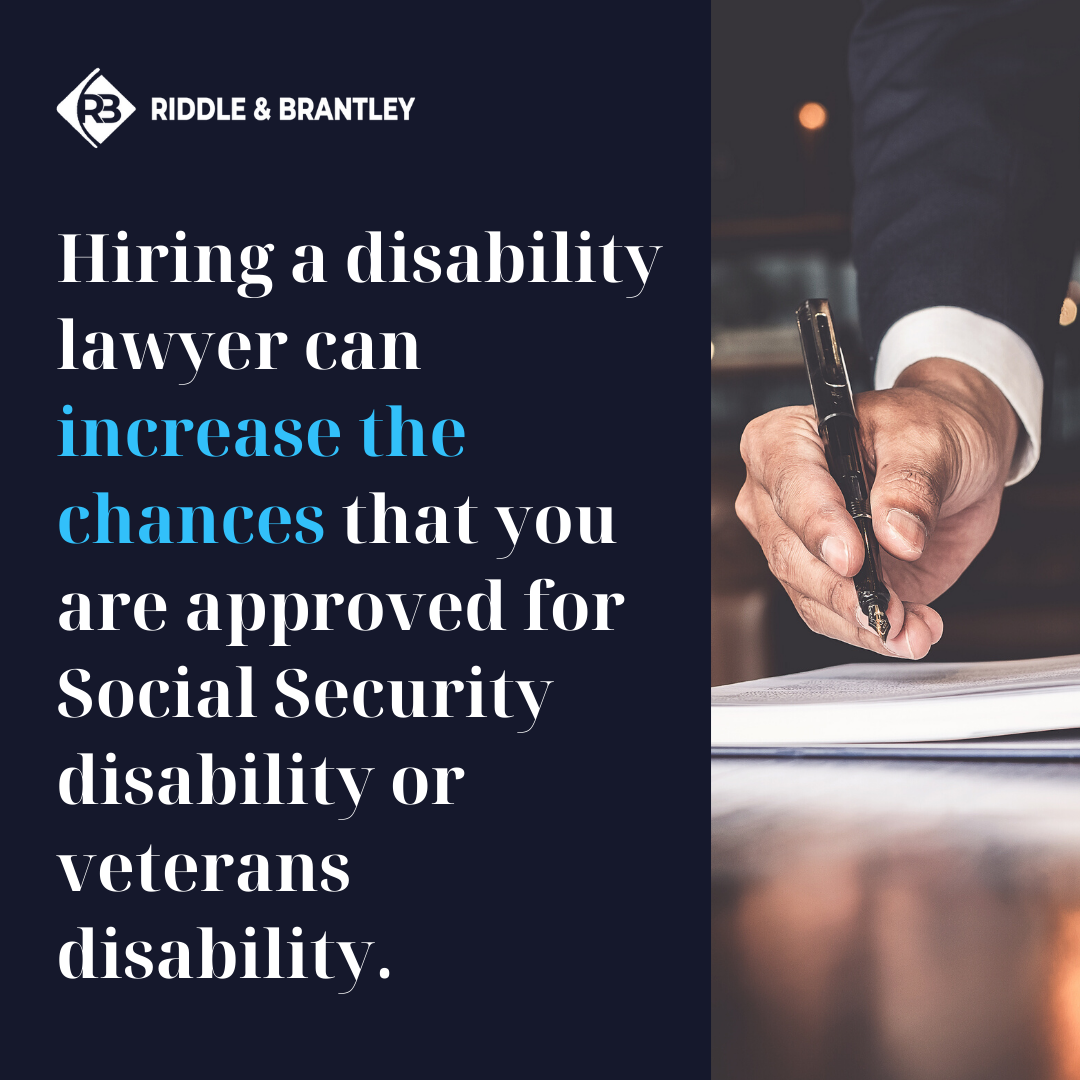 If you believe you may qualify for disability benefits, or you need to appeal a claim, the North Carolina disability lawyers at Riddle & Brantley are ready to help.
For a FREE consultation with an experienced NC disability lawyer serving Raleigh, Durham, Fayetteville, Goldsboro, Greenville, Jacksonville and other North Carolina areas, please call 1-800-525-7111.
There is no obligation and you won't pay any attorney fees unless we win compensation for you under one of these disability programs.
Please call 1-800-525-7111 today and let's review your claim for Social Security disability and/or VA disability.
"There is nothing more satisfying than helping North Carolinians with disabilities get the benefits they need and deserve."
We've been serving North Carolinians and veterans with disabilities for more than 35 years, and are proud to fight tirelessly for our clients and provide excellent client service.
We're proud of the way our clients describe their experience working with our attorneys and staff, and would love to help you if we can.
"I would recommend Riddle & Brantley to anyone who needs help with disability."
–B. Fields, Riddle & Brantley client
For a FREE, no-obligation consultation with a North Carolina disability attorney, please call 1-800-525-7111 or complete the short form below.
Disability benefits can be life-changing. Don't gamble with the benefits you need and deserve. Let us help. Call 1-800-525-7111 today and let's review your claim.