Is Distracted Driving to Blame for the Deadly I-95 Truck Accident?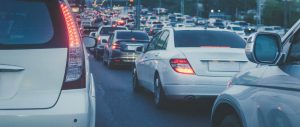 According to a WRAL-TV report, distracted driving could be to blame for a deadly I-95 truck accident that happened in Smithfield. The wreck, which early reports said occurred around 1:45 pm, happened about 1:30 pm on Wednesday, October 19. It was part of a series of crashes along a stretch of Interstate 95 in Johnston County between exits 81 and 97. As a result of the series of accidents, both the northbound and southbound lanes of I-95 were closed while authorities provided aide, investigated and cleaned up the accident scenes.
One of the vehicles involved in the massive series of wrecks was a truck that was carrying hazardous chemicals. The northbound lanes of I-95 were reopened on Thursday morning, but the southbound lanes between US Highway 70 and the I-40 interchange remained closed.
The incident began when a tractor-trailer veered onto the shoulder and turned over. The trucker was pinned as a result of the crash, and both directions of I-95 were closed while he was freed from his truck. While sitting in traffic waiting for the first accident to be cleared, an 18 wheeler was rear-ended by a RV. Reportedly, this crash resulted in a fire erupting that continued to burn late into the night. The truck that was rear-ended was carrying what authorities described as a solid corrosive. The chemical posed a danger to emergency workers, which is why they were forced to let the fire burn itself out rather than fight it. Due to the chemical spill/fire, initially, everyone within a mile of the accident scene had to evacuate. That evacuation was later extended to two miles, with people located between two and three miles of the accident being told to shelter in place, according to WNCN-TV. However, WRAL-TV reported that the evacuation was eventually extended to a five mile radius. Several schools were ordered to evacuate, including:
South Campus Community School
Johnston Community College
Johnston County Early College
Johnston County Middle College
At least one person was killed as a result of this the fiery truck wreck. Authorities believe distracted driving may have led to the crash. Another accident involving an RV and tractor-trailer truck happened on I-95 later that same day. Reportedly, the RV was stopped because of an auto accident scene blocking the highway when it was rear-ended by an 18 wheeler. Two people who were riding in the RV were killed as a result of the crash. The truck driver in this wreck is facing charges for two counts of misdemeanor death by motor vehicle. A second trucker involved in the series of crashes is expected to be charged as well.
The personal injury attorneys at Riddle & Brantley have been protecting the rights of victims of traffic accidents in Raleigh, Kinston, Goldsboro, Jacksonville and throughout North Carolina for years. We have secured millions in verdicts and settlements for clients, including recovering a $2,250,000 settlement for the family of a fatal auto accident victim.