What is the Average Car Accident Settlement?
Car accidents can result in serious injury, and the related costs can be enormous. A car accident injury can mean weeks, months, or even a lifetime of physical limitations, rehabilitation, mental and emotional distress, expensive medical bills and lost wages.
Car accident lawsuits can be very complicated.  They often include depositions, court dates, meetings with lawyers and months and months of work.  It's a lot of work for both the client and the attorney. Therefore, it's no wonder that people want to know what kind of settlement they can expect, or whether or not their settlement is fair.
As personal injury lawyers, people ask us all the time:
What is the average car accident settlement?
The reality is, there is no average car accident settlement, as every case is different and there are many factors that may affect an ultimate settlement amount.
"How Much Should I Expect in a Car Accident Settlement?"
As frustrating as it may be, the best answer is that there is no answer. There is no average car accident settlement because every case is different.
A car accident settlement can be influenced by the minimum insurance required in your state. In North Carolina, for instance, the minimum auto liability coverage requirement is $30,000 in bodily injury coverage for each person, $60,000 in bodily injury coverage for all persons in an accident, and $25,000 for property damage.
What about the "3 times medical" rule?
You may have heard of a "3 times medical" rule. This mythical rule states that your settlement should be 3 times the amount of the medical bills.
This is not necessarily true and can be misleading.
The false "3 times medical expenses" rule stems from the fact that in the past, simpler cases often did settle for roughly that amount. Even today, some cases do settle for close to 3 times the medical bills. However, this is no hard and fast rule that always applies to car accident settlements.
But things have changed, and settlements for car accidents are very different based on the specifics of each case.
What factors influence a car accident settlement?
Depending on the facts and circumstances of your car accident and injuries, the following may be considered in negotiating a settlement:
Medical expenses
Treatment duration or length of treatment
Permanent injury
Mental and emotional distress if diagnosed by a doctor
Evidence collected at the crash site
Recovery or rehabilitation period
Impact on your quality of life
Lost wages
Scarring
Loss of a part of your body or loss of use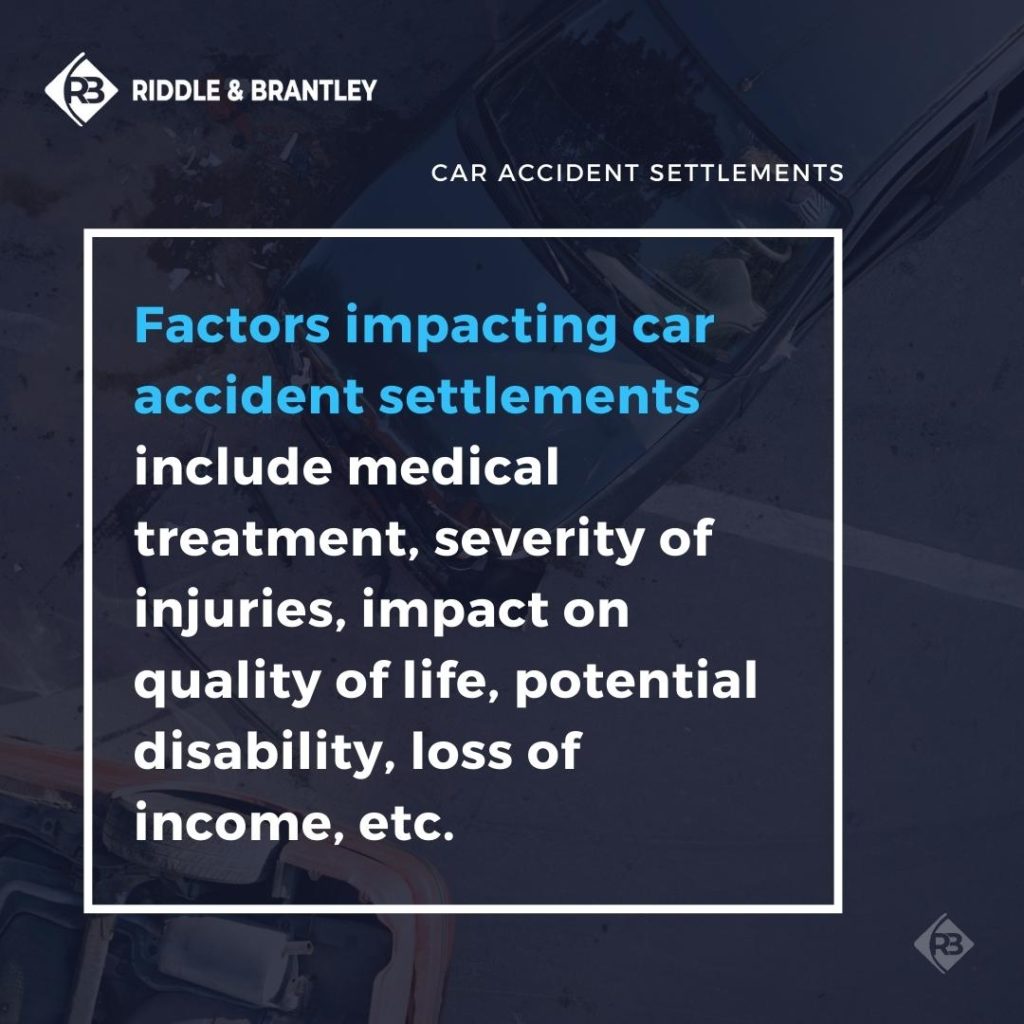 To be clear, there are no law books or court decisions that support the so-called "3 times medical" rule.
Consider the example of a professional athlete who loses an arm in a car accident:
The medical expenses for proper medical care, prosthetics, and rehabilitation would probably amount to hundreds of thousands of dollars. However, even if the athlete were paid 3 times his or her basic medical bills it would not compensate him or her for a lifetime of lost wages, physical changes, and emotional damages resulting from not being able to play the sport.
Here's another example:
If our client is a professional piano player and loses a couple of fingers in an auto wreck, then his case would be worth much more because of his inability to fully play the piano.
"To us, no case or client is average.  Each client is special and every case is unique." — Gene Riddle
It is important to know the factors that go into placing a value on an injury claim when pursuing a settlement.
Do NOT accept an auto accident settlement "guarantee"
Not only is this kind of settlement "guarantee" potentially misleading and unethical, but it's also based on the false idea that car accident settlements are predictable.
Truthfully, no one can predict or estimate the value of a car accident claim until all the elements of damage have been thoroughly analyzed and evaluated.
There is no magic formula for car accident settlements because the value of a settlement may be partially subjective.
Remember, your medical expenses are a major focus of your personal injury claim, but there are many more factors involved.
While an injury attorney cannot precisely tell you what your car accident settlement will be, he or she can help you fairly estimate your accident damages and gather evidence to support your claims.
Do you need a car accident lawyer?
At Riddle & Brantley, our experienced personal injury lawyers will be happy to examine and evaluate your car accident claim and help you recover the compensation you deserve. Please contact us today at (800) 525-7111 or fill out the form below.
We will evaluate your case for free with no obligation — and there are never any attorney fees if we do not win your case.