Goldsboro Rear-End Collision Attorney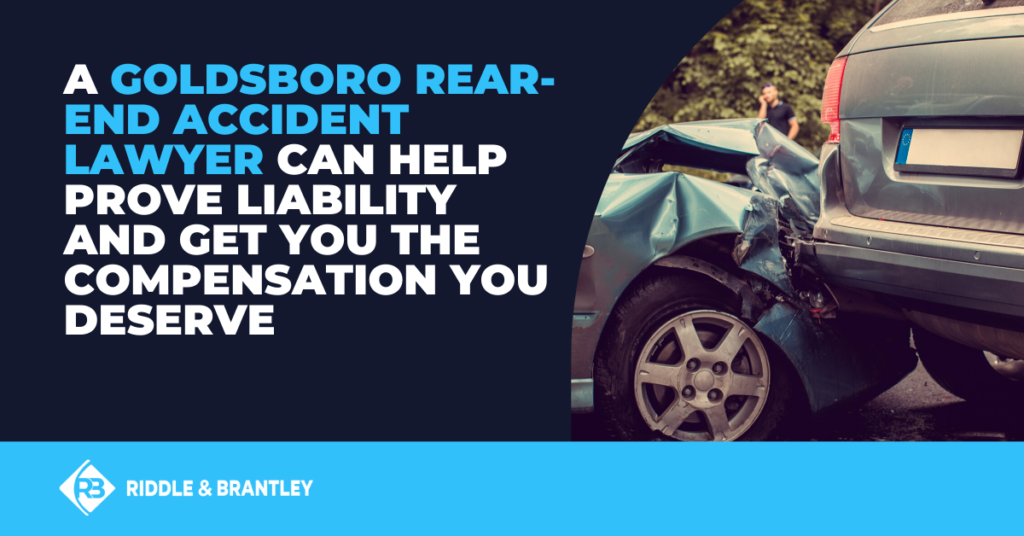 Have you been injured in a rear-end collision in Goldsboro? A rear end accident lawyer can help you recover the compensation you deserve.
Rear-end accidents can be devastating and the physical, financial, and emotional impact can be serious. An experienced Goldsboro car accident lawyer can handle all aspects of your rear-end accident claim so you can focus on what's most important — your recovery and well-being.
There is never any obligation, and we don't get paid unless you do. There are no attorney fees unless we win your case and you receive compensation.
Let's review your case.
Rear End Accidents in Goldsboro
Goldsboro is a relatively large city in North Carolina and the roadways are busy with traffic. Rear-end accidents are not uncommon in the area.
According to the North Carolina Department of Transportation (NCDOT), there were 4,683 auto crashes in Goldsboro in 2020. 1,040 of those crashes resulted in injury.
While we can't definitively say how many rear-end accidents occurred in Goldsboro during that time period, we can make some assumptions based on other data provided by NCDOT.
For instance, 22.3 percent of all auto accidents in North Carolina in 2019 involved driver inattention. In many cases, driver inattention may result in a rear-end accident, which lets us estimate that as many as 1,044 accidents in Goldsboro may have been rear-end accidents in 2019.
Regardless of the exact number, rear-end accidents are extremely common in the area. Our Goldsboro personal injury lawyers have handled hundreds of these cases in the last several years alone.
Common Injuries in Rear-End Accidents
Rear end accidents can result in injuries ranging from mild to life-threatening, and the specific injuries are influenced by many factors. In more than 35 years serving the area, our rear-end accident lawyers have handled cases involving all types of rear-end accident injuries, including:
Broken bones
Head injuries
Traumatic brain injuries (including concussions)
Whiplash
Neck injuries
Spinal cord injuries
Shoulder injuries
Seatbelt-related injuries
Airbag-related injuries
Cuts, scrapes, and abrasions
Organ damage and internal bleeding
Semi-paralysis and paralysis
Coma
Death
In the most heartbreaking cases, rear-end accidents can be fatal. In these instances, our Goldsboro rear-end accident attorneys can help surviving family members fight for justice for their lost loved ones.
"How Do I File a Rear-End Accident Claim?"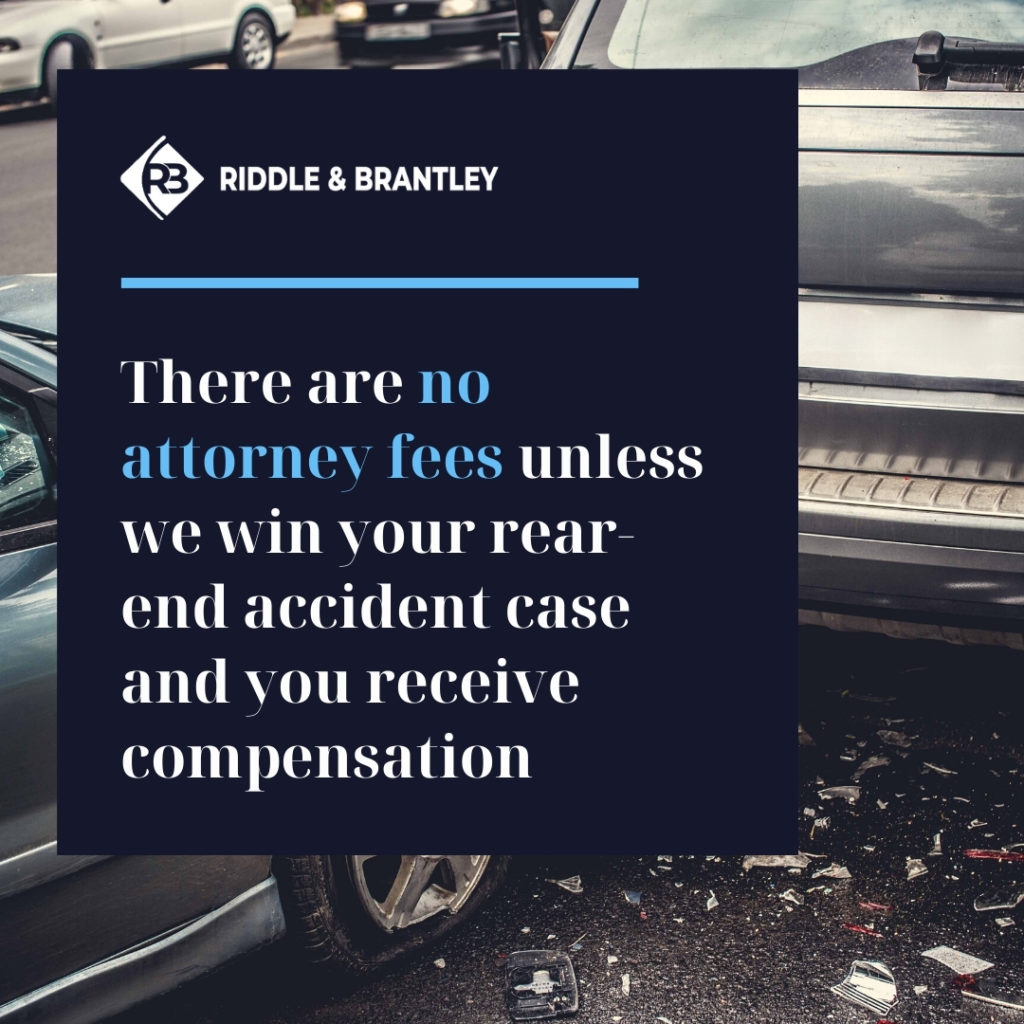 If you've been injured in a rear end collision, you may be eligible for a personal injury claim seeking damages for your injuries and other losses.
In North Carolina, you have three years from the date of injury to file a personal injury claim (in most cases), and two years from the date of death to file wrongful death claim.
Most personal injury claims can be resolved through negotiations with the insurance company without going to trial. However, an experienced rear end collision lawyer can put pressure on the insurance companies by being willing to take a case to trial if a reasonable offer is not made. On average, less than 10 percent of personal injury cases go to trial.
You can file a rear-end accident injury claim on your own, but studies show that by hiring a personal injury lawyer, victims recover roughly 3 times more compensation than those who don't hire an attorney, on average.
A rear-end accident attorney at Riddle & Brantley can handle all aspects of your rear-end accident claim, including:
Investigating the accident and helping prove liability
Identifying and interviewing potential witnesses
Hiring expert witnesses like accident reconstructionist
Finding surveillance or dash cam footage
Obtaining the official accident report
Preparing you for statements to the insurance company
Negotiating with defense counsel and the insurance company
Calculating damages
Obtaining a comprehensive life care plan in order to calculate damages
Filing a lawsuit if necessary
Drafting and filing court documents and legal briefs
Representing you at court hearings
Representing you at trial
Negotiating on your behalf in mediation and/or arbitration proceedings
Helping negotiate to lower your medical liens
Proving liability is the most important part of any personal injury claim, and at Riddle & Brantley, we have investigators on staff and the resources necessary to help investigate rear-end accidents and prove fault.
Rear-End Car Accident Lawyers in Goldsboro, NC
We are ready to help however we can. Our priority is getting our clients the compensation they deserve, and making the entire process as easy, stress-free, and convenient as possible for victims.
"I would recommend them to anyone. They fought hard for me."
–Christine W., Riddle & Brantley client
The consultation is free, and you won't pay any attorney fees unless we win your case and you receive compensation. We've recovered more than $600 million for our deserving clients in the last two decades alone, and we are ready to help (see disclaimer below).
Let's review your claim.
Justice Counts.
---
*** Disclaimer: The results mentioned are intended to illustrate the type of cases handled by the firm. These results do not guarantee a similar outcome, and they should not be construed to constitute a promise or guarantee of a particular result in any particular case. Every case is different, and the outcome of any case depends upon a variety of factors unique to that case.