Kinston Truck Accident Attorneys
Truck Accident Lawyers in Kinston, NC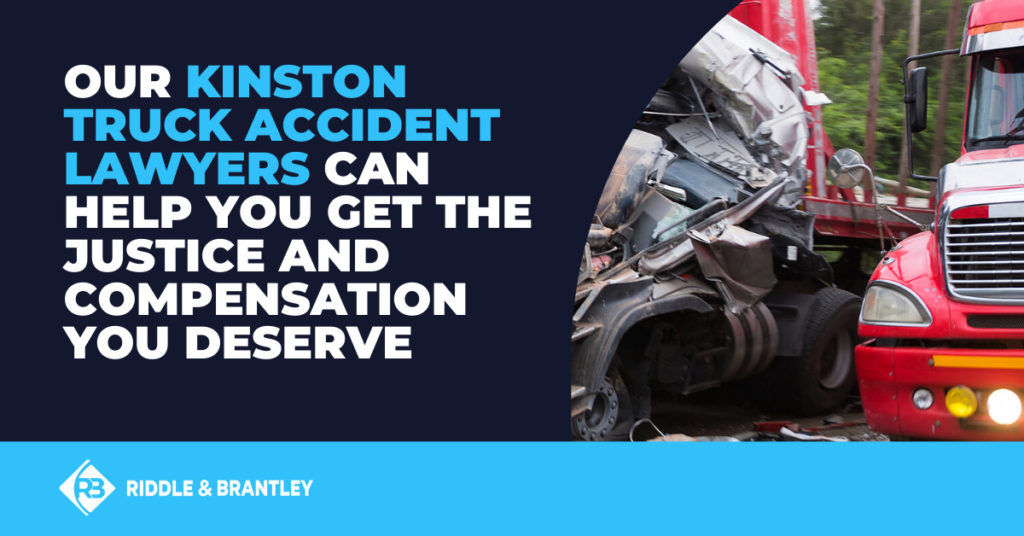 Trucks and tractor-trailers are common vehicles riding the roads of Kinston and eastern North Carolina. An accident can be potentially life-changing for anyone.
If you've been injured in a truck wreck, a Kinston truck accident lawyer at Riddle & Brantley may be able to help you get the compensation you deserve.
Since 2000 alone, our truck accident attorneys in Kinston have secured more than $600 million in compensation for injury victims across North Carolina (see disclaimer below), and we'd love to help you however we can.
Reach out to Riddle & Brantley for expert guidance on a wide range of truck accident lawsuits.
At Riddle & Brantley, we understand that our clients may struggle to get through the aftermath of a devastating truck accident. These may include expensive medical bills, property repairs, physical injury, job loss, financial hardships, and more. We are prepared to use our legal skills to help you get back the quality of life you are accustomed to.
"They made a hard time in my life easier to endure."
–Melissa C., Riddle & Brantley client
Truck Accident Statistics in Kinston
In 2020, the North Carolina Department of Transportation (NCDOT) reported 3055 accidents involving tractor-trailers and out of these collisions 25 were fatal and over 700 resulted in serious injuries. In Lenoir County alone, there were 33 crashes involving tractor-trailers with one fatality and nine serious injuries.
"What Can a Kinston Truck Accident Lawyer Do for Me?"
The Kinston injury attorneys handling truck accident cases at Riddle and Brantley can assist injured victims by conducting a full investigation of the accident, evaluating your claim, and helping determine your best available legal options for seeking compensation.
We have retired law enforcement officers — including retired NC State Troopers — to help conduct our investigations. We also have truck accident experts to help us determine the cause of the crash and whether the truck or driver was in violation of federal trucking safety rules and regulations.
A Kinston truck accident lawyer at Riddle & Brantley can handle your entire injury claim from start to finish. Our priority is getting you maximum compensation and making the entire process as easy, convenient, and stress-free as possible for you.
Our Record of Results
The Kinston truck accident attorneys at Riddle & Brantley have handled hundreds of truck accident claims, obtaining millions of dollars in compensation for our clients involved in these serious accidents (see disclaimer below).
Some of the cases we've won include:
$2,750,000 — Attorneys Gene Riddle and Adam Smith represented a construction worker who was hit by a truck in a work zone, ultimately resulting in the loss of his right leg below the knee. We filed separate personal injury and workers' comp claims, and were eventually able to secure $2.75 million in total compensation for our deserving client.
$9,450,000 — Our attorneys secured $9.45 million in compensation for the surviving relatives of a family of four who were killed in a terrible tractor-trailer crash. We led a thorough investigation and even subpoenaed traffic data from Google Maps in order to prove liability.
$2,250,000 — Attorney Gene Riddle represented the surviving family of a young woman who was killed when a truck ran over the center line and hit her head-on. We partnered with attorney David Kirby of Kirby Edwards law firm in Raleigh in order to prove liability in the case.
$1,800,000 — We represented a truck driver who suffered severe injuries, including the loss of his left leg below the knee, when another truck hit him while on the job.
*** Disclaimer: The results mentioned are intended to illustrate the type of cases handled by the firm. These results do not guarantee a similar outcome, and they should not be construed to constitute a promise or guarantee of a particular result in any particular case. Every case is different, and the outcome of any case depends upon a variety of factors unique to that case.
What Makes Tractor-Trailer Accidents Different?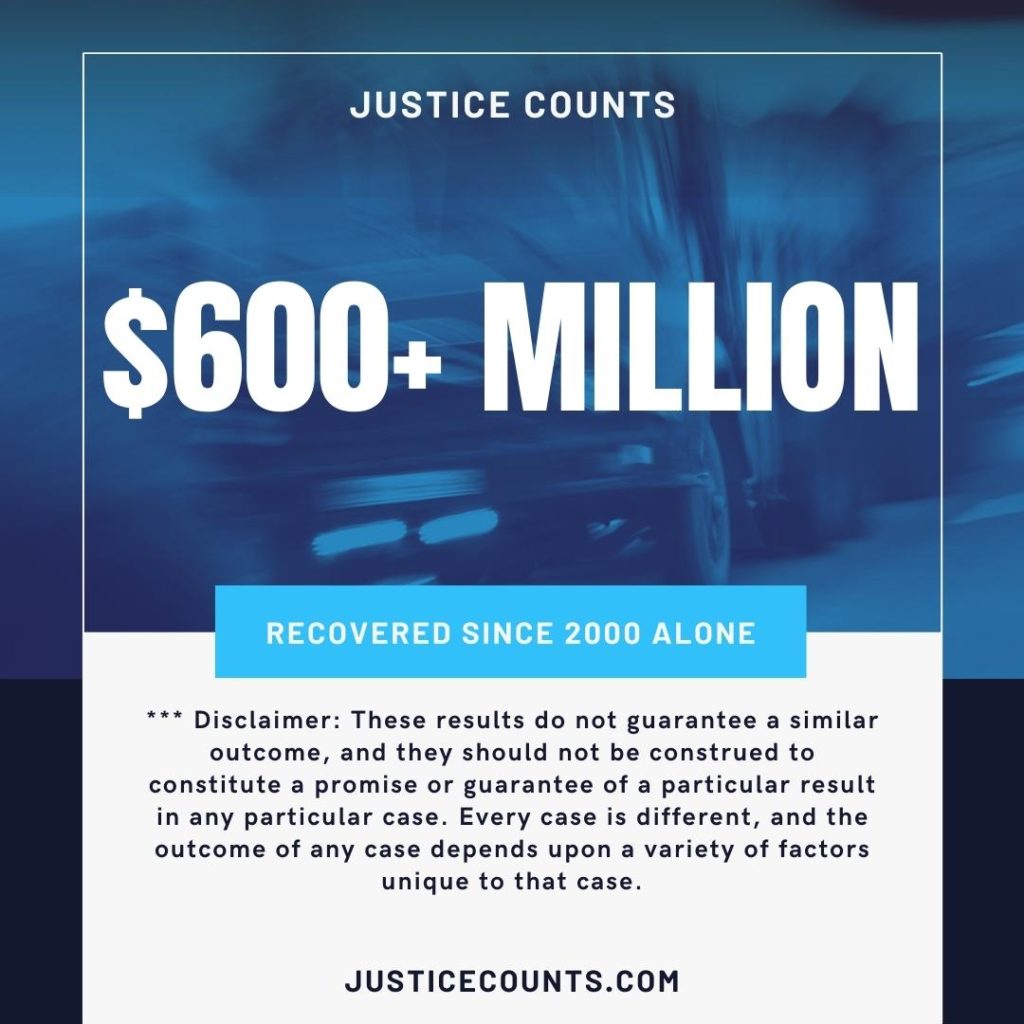 Any motor vehicle accident can be devastating, leading to serious injuries or even death, but that is especially true of accidents involving trucks and tractor-trailers. These vehicles, when fully loaded, can weigh up to 80,000 pounds (sometimes more with a special permit).
These massive vehicles are often powered by engines that produce more than 1000 horsepower and travel our interstates at average speeds over 70 MPH.
Such vehicles can take hundreds of feet to come to a complete stop, even when the driver and tractor-trailer are both functioning properly.
However, when there is a mechanical failure or a driver falls asleep behind the wheel, these vehicles can become extremely dangerous. The devastation and complexity of these accidents require experienced representation.
North Carolina and National Trucking Regulations
Due to the dangers of tractor-trailers, truck drivers and trucking companies are subject to numerous laws and regulations in Kinston and North Carolina, including:
Hours of Service: The Federal Motor Carrier Safety Administration (FMCSA) regulates how long a driver can be behind the wheel of a tractor-trailer. Nationwide, truck drivers cannot drive for more than 11 hours after taking a 10-hour break. They are also required to take a 30-minute break every 8 hours and keep a logbook (or electronic log) showing they have abided by these rules.
North Carolina Vehicle Safety Regulations: The North Carolina Highway Patrol conducts spot safety inspections at weigh stations across the state. For minor violations, truck drivers are given a grace period to fix the issue. More serious violations can result in a heavy fine and even the vehicle being taken off the road.
Medical Examinations: Before a truck driver can operate a tractor-trailer, he or she must pass a medical examination to ensure that there is no risk of medical conditions that could become hazardous on the road.
Although these and many other safety regulations have been put into place throughout the state and the country, some drivers and "rogue" trucking companies still operate out of compliance. When this happens, and a serious injury to another motorist results, the Kinston truck accident lawyers at Riddle & Brantley know how to help.
"What Should I Do After a Truck Accident in Kinston?"
What you do in the immediate aftermath of a truck or tractor-trailer accident can have a significant impact on the outcome of any potential personal injury claim or lawsuit. Follow these tips to protect your health and safety as well as your legal rights:
Call 911
Get emergency medical help if needed – Your health and safety are most important. Medical records will also play an important part in any potential Kinston truck accident claim or lawsuit.
Stay at the scene of the accident if possible – If necessary, move your vehicle to a safe area. However, if possible, leave your vehicle where it is. This will maintain evidence of the crash.
Do your best to make sure all other drivers involved in the accident remain at the scene. This is important so these people can provide statements for the accident report as well as give their contact information.
Ask any witnesses to stay and give law enforcement any details about what they saw during and after the accident. Witness testimony can be crucial in a future legal case.
Make sure law enforcement gets the following information:

All names and phone numbers of all parties involved
Driver's license numbers
License plate numbers
The license number in the truck's cabin
Name, address, and contact number of the driver of the truck or tractor-trailer
Insurance information
Information on the company that owns the truck or hired the truck
Cargo being transported (if applicable)

Take photos of the scene if you are able. Be sure to capture all damage done to any vehicle, property, surrounding areas and road conditions. Get photos of any injuries, as well.
Contact your insurance company as soon as possible, but do NOT give a recorded statement to the insurance company without first talking with a Kinston truck accident lawyer.
Consult with an experienced truck accident lawyer in Kinston, NC — Riddle & Brantley is ready to help at a moment's notice — call (252) 397-8624 today for a free, no-obligation consultation.
Protecting Your Rights and Seeking Justice
Truck accidents can cause devastating injuries and the North Carolina trucking companies that cause these accidents are quick to cover up any signs of negligence.
The Kinston truck accident attorneys at Riddle & Brantley have years of experience uncovering the truth and recovering compensation for accident victims.
"How Do You Prove Fault in a Truck Accident Case?"
Truck accident cases are complicated and complex, but in general, there are several pieces of evidence used to establish fault in these claims and lawsuits:
Police reports – Police reports help establish the basic facts of a truck accident such as who is involved, who is injured (or killed), and what outside factors may have contributed to the accident.
Visual evidence – Any videos or pictures of the accident will be helpful in establishing who is at fault for the accident. Pictures of skid marks, damage to vehicles and property, and injuries. Video footage from surveillance, dashboard, and traffic cameras may be crucial in showing how the accident happened and who was at fault.
Witness statements – Eyewitness accounts of the accident provide key details about what happened. This is especially true coming from someone who was not involved in the accident.
"Black Box" data — Many trucks and tractor-trailers have onboard "black box" data recorders that track vehicle and related conditions. In Kinston truck accident cases, our attorneys routinely request access to this data and run a comprehensive analysis to help determine the cause of the accident.
The Statute of Limitations for Filing Your Truck Accident Lawsuit
Every truck accident injury lawsuit has to comply with the statute of limitations. The statute—the legal deadline that applies in these cases—is strictly enforced by the courts. In North Carolina, you generally have a three-year window of opportunity to file a truck accident lawsuit which begins on the date the accident happens.
There are exceptions to this deadline. While the statute of limitations expires after three years for most personal injury cases, the time to file a lawsuit is shortened regarding a fatality. According to state law in North Carolina, you must file a wrongful death lawsuit within two years.
There are other exceptions to the statute of limitations, namely when an injury is not immediately discovered. However, these exceptions are relatively uncommon when it comes to truck collisions. This is because injuries are usually immediately noticeable.
What happens if I violate the statute of limitations?
There are usually serious consequences to any truck accident injury lawsuit that fails to comply with the statute of limitations. Violating it could put your recovery at risk, no matter how strong your case for compensation might be.
If you file a lawsuit after the expiration of the statute of limitations, you should expect the defendant to file for a motion to dismiss with prejudice. If granted, this motion does more than end your case. It also bars you from ever filing it again. It is a permanent end to your path to compensation following a truck accident. Outside of a handful of exceptions, a judge will have little choice but to grant this motion and dismiss your case.
If the statute of limitations expires in your case, you also lose the chance to negotiate a settlement with the other side. In addition, insurance companies are not obligated to negotiate an injury claim after the statute of limitations expires.
Following a truck accident, three years might seem like a long time to act. However, it is worth noting that building a successful injury case takes time. The sooner you talk to an attorney about the statute of limitations in your case, the better your chances of a successful injury claim.
Talk with a Kinston Truck Accident Lawyer for Free Today
If you or a loved one has been involved in a truck or tractor-trailer accident in Kinston, Lenoir County, or the surrounding areas of eastern North Carolina, a Kinston truck accident lawyer at Riddle & Brantley may be able to help. Simply call (252) 397-8624 or fill out the form below for a free, no-obligation consultation. In-person consultations are available at our convenient Kinston location by appointment only, or we can consult with you from anywhere by phone, email, text, or video conference. We can even come directly to you if it's more convenient.
"You'll walk in the front door as a client but leave as family. They're the absolute best."
–Susan S., Riddle & Brantley client
We don't get paid unless we recover compensation for you or your loved ones.
Our attorneys have over 220+ years of combined experience helping the people of North Carolina get the justice they deserve.
Please call (252) 397-8624 today and let's review your Kinston truck accident case. Justice Counts.
---
*** Disclaimer: The results mentioned are intended to illustrate the type of cases handled by the firm. These results do not guarantee a similar outcome, and they should not be construed to constitute a promise or guarantee of a particular result in any particular case. Every case is different, and the outcome of any case depends upon a variety of factors unique to that case.