Kinston Wrongful Death Attorney
Kinston Wrongful Death Lawyer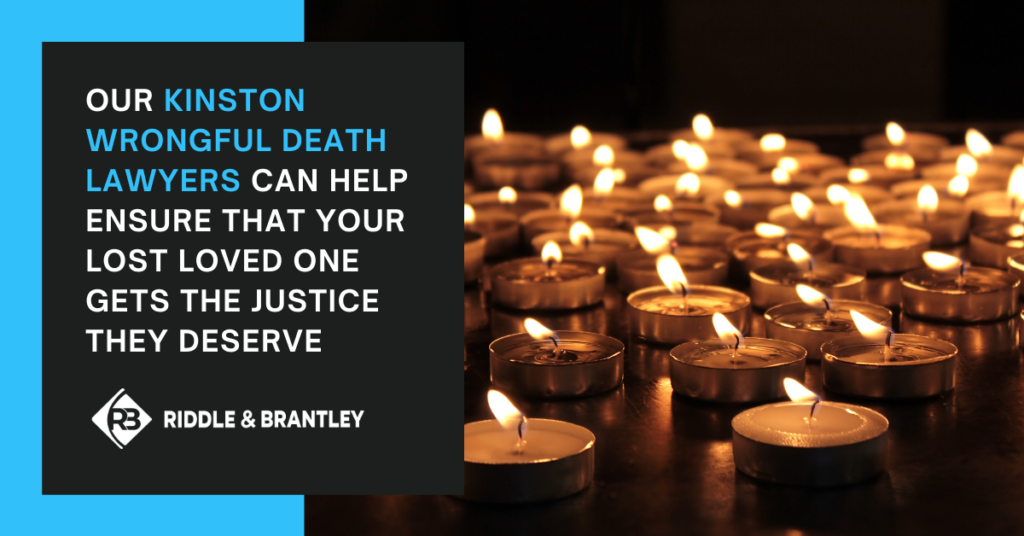 When a loved one dies due to someone else's negligence, the aftermath is devastating. Nothing can make up for the loss, but a wrongful death claim can help you seek justice and compensation on behalf of the deceased. A Kinston wrongful death lawyer can help compile the evidence in your case, prove liability, and hold the negligent party accountable.
If you've lost a loved one due to someone else's negligence, a Kinston wrongful death attorney at Riddle & Brantley can help. Call (252) 397-8624 to set up a free consultation in our Kinston office location (by appointment only), or by phone, email, text, or video conference. There are no attorney fees unless we win your wrongful death case and you receive compensation.
Remember, the longer you wait to talk with an attorney, the harder it may be to win your case and recover the compensation and justice you deserve on behalf of the deceased.
Types of Wrongful Death Claims
A wrongful death claim can be filed in many types of cases. In more than 35 years serving the people of Kinston and North Carolina, our Kinston personal injury lawyers have filed hundreds of wrongful death claims.
Types of wrongful death cases include:
Car accidents
Truck accidents
Motorcycle accidents
Bicycle accidents
Pedestrian accidents
Boating accidents
Premises liability cases
Slip and fall cases
Negligent security cases
Nursing home neglect and abuse
Defective consumer products
Defective medical devices
Dangerous drugs
Dangerous chemical or substance exposure
Mesothelioma due to asbestos exposure
Police brutality or misconduct
Civil rights violations
In each of these types of cases, a wrongful death attorney must prove that the death was the result of another's negligence.
"How Long Do I Have to File a Wrongful Death Claim?"
Most civil cases are subject to a statute of limitations, which is the deadline for filing a claim.  In North Carolina, in most cases, the statute of limitations for a wrongful death claim is 2 years from the date of death. Keep in mind that this is very different from personal injury claims in North Carolina, which are typically subject to a 3-year statute of limitations.
If you miss the statute of limitations, you may be barred from seeking recovery in a wrongful death claim, so it's important to talk with an experienced North Carolina wrongful death lawyer as soon as possible. He or she can advise you on the statute of limitations and determine if you are eligible for a claim or lawsuit.
Damages Available in Wrongful Death Claims
Depending on the facts and circumstances of the case and the evidence available, you may be entitled to several different types of damages (compensation for injury or economic loss) in a wrongful death case.
Potential damages available in wrongful death claims include:
Medical expenses — This compensation can help pay expensive medical bills resulting from treatment while the deceased was still alive, including hospital bills, testing, prescription medication, surgeries, home care and hospice, medical equipment, etc.
Lost wages — Damages may also help compensate surviving family members for the loss of income incurred while the deceased was unable to work due to their injury or illness.
Loss of future income — You may also qualify for compensation for the loss of future earning potential due to the death of a family member.
Pain and suffering — These non-economic damages are intended to compensate for emotional injury and trauma.
Loss of consortium — These damages are intended to make up for loss of companionship and/or sexual relations resulting from the death of a spouse.
Funeral costs — You may be entitled to compensation for funeral expenses when the death of a loved one is due to someone else's negligence.
Punitive damages — In some cases in which the defendant is found to have committed "gross negligence" involving "willful or wanton" conduct, a jury may award punitive damage, which are designed to "punish" the defendant and discourage similar conduct in the future.
An experienced Kinston wrongful death lawyer can help investigate your claim and determine what types of damages you may be entitled to.
Wrongful Death Attorney in Kinston NC
Since 1985, our North Carolina personal injury attorneys have been handling injury and wrongful death claims in the Kinston area and across the state. We know how to hold negligent parties accountable by building the strongest case possible, and we're willing to go to court when necessary to seek maximum compensation.
At Riddle & Brantley, our compassionate attorneys strive to treat every client like family, and we're proud of the way our clients speak about their experience with us. We invite you to review our client testimonials.
Our Results
Since 1985, we've recovered hundreds of millions of dollars in compensation for victims of others' negligence (see disclaimer below). In one recent case, we secured $9.45 million on behalf of a family of four who were killed in a terrible tractor-trailer accident on a busy NC highway (see disclaimer below).
"Nothing can ever make up for the loss of a loved one, but we can help surviving family members get the justice they deserve."
–Gene Riddle, attorney and managing partner
The consultation is free, and there are never any upfront costs. You also won't pay any attorney fees unless we win your wrongful death case and you receive compensation. That's our promise to you.
Please call (252) 397-8624 and let's review your case. You may be entitled to compensation and you and your deceased loved one deserve justice.
Justice Counts.
---
*** Disclaimer: The results mentioned are intended to illustrate the type of cases handled by the firm. These results do not guarantee a similar outcome, and they should not be construed to constitute a promise or guarantee of a particular result in any particular case. Every case is different, and the outcome of any case depends upon a variety of factors unique to that case.