Should I Sign a Medical Records Release in a Workers' Comp Claim?
If you have filed a claim for worker's compensation benefits in North Carolina, your employer and their insurance company may ask you to sign a medical record release so they can communicate with your doctors and obtain your medical records. You may be asking yourself, "Should I sign a medical records release in my workers' comp claim?"
The best answer is, it depends — and you should consult with an experienced North Carolina workers' comp lawyer before releasing any medical records in your workers' compensation case.
What Does North Carolina Law Say About Releasing Medical Records in a Workers' Comp Claim?
This situation is addressed by the North Carolina Worker's Compensation Act's "reasonable access to medical information" section.
The statute is North Carolina's attempt to balance two competing interests:
the employees right to a confidential physician-patient relationship
the employer's right to have access to medical information relevant to the employee's ability to return to work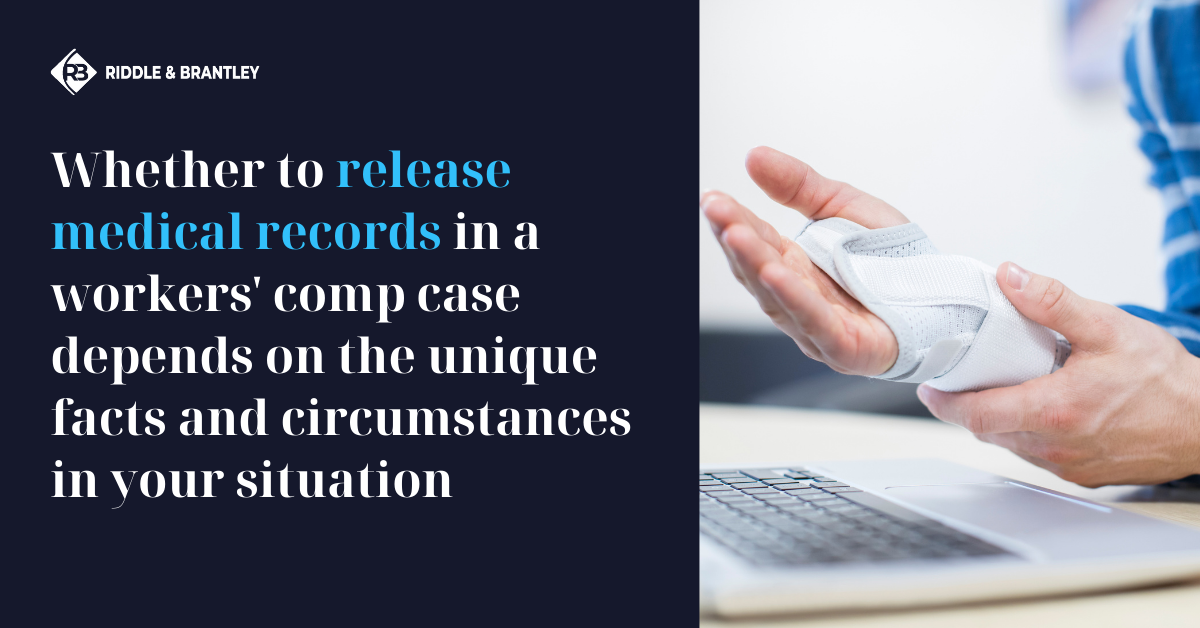 In some instances, the rules under the statute are clear. For example, if you injure your back on the job and your employer sends you to an orthopedist to get your back evaluated, they should be able to get records from your orthopedist so they can know if or when you might be expected to return to work.
But unfortunately, many other situations are less clear.
For instance, in the same example, should your employer or their insurance company be able to get records from your primary care physician?  In some instances, the answer is probably yes. Say the orthopedist referenced above said you need epidural steroidal injections, but he wants your primary care doctor to evaluate you first and confirm that you do not have an underlying health condition such as diabetes that would make these injections dangerous. In this scenario, the insurance company has a valid interest and should be able to obtain your records from your primary care physician.
However:
Many medical releases are very broad and cover all kinds of possible medical information that your employer and/or insurer may not really need.
Does an insurance company really have a right or valid interest in talking to your OBGYN? Or your psychiatrist? In most instances, the answer would be "no."
Covered Dates in Medical Releases for Workers' Comp Claims
Medical releases typically also have "covered dates" listed on them which stipulate what period of time released records will cover.
If you've been asked for a medical records release associated with a workers' compensation claim, give careful thought to the covered dates.
Should an employer or insurance company be able to obtain medical records from before your date of injury? Again, in some instances they might have a valid interest.  For example, if you had an underlying back injury that was exacerbated or aggravated by a workplace accident, then your employer probably has a valid interest in obtaining your pre-accident records to confirm that your accident really made your back injury appreciably worse.
However:
Employers and insurance companies do NOT have a right to simply go on a fishing expedition and start requesting medical records for no reason.
Medical Releases and Communication with Your Doctors
Another issue with medical releases is that they might grant an employer or insurance company the right to verbally talk to your doctor, or communicate with them by email.
This can be problematic.
Some unscrupulous adjusters could use such a release to try to influence your doctor and convince them to return you to work before you are ready.
The Bottom Line
If you've been asked to sign a medical release as part of a workers' compensation claim, it is important to carefully review any documents before you sign, and talk to an experienced worker's compensation attorney to know your rights.
Experienced Workers' Comp Lawyers Ready to Fight for You
At Riddle & Brantley, our workers' comp attorneys are led by two Board-Certified Specialists in Workers' Compensation law. Attorneys Chris Brantley and Adam Smith have been recognized by the NC State Bar for their experience and expertise handling work injury claims, and they are ready to help you however they can.
Before you sign a medical release in a workers' comp claim, or take any important steps, please call us for a free consultation. We will review your claim and advise you on your best legal steps for pursuing compensation — including whether you should sign a medical records release.
Our priority is to protect our clients' legal rights and get them the compensation they need and deserve.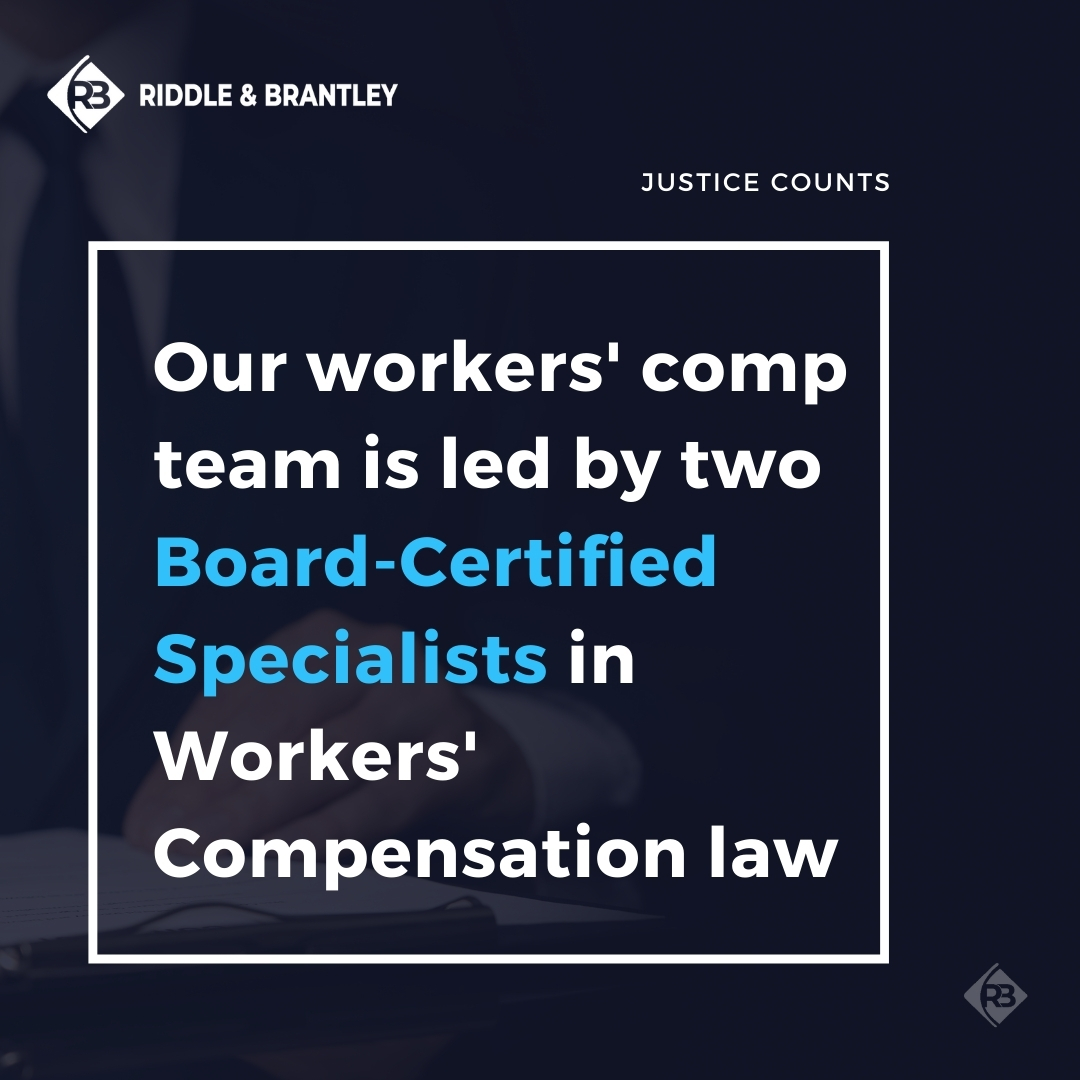 The consultation is free and there are no upfront costs or attorney fees unless we get you the workers' comp benefits you need and deserve. That's our promise to you.
In cases in which a workplace injury results in long-term disability, our North Carolina Social Security disability lawyers can assist with those claims, as well.
Together, our personal injury lawyers have more than 220+ years of combined legal experience and since 2000 alone we've recovered more than $600 million in total compensation for our deserving clients (see disclaimer below).
We're proud of the results we've secured for our clients, and humbled by the words they use to describe their experience working with our attorneys and staff.
"I would like to thank Riddle & Brantley for doing such a great job handling my workers' compensation case."
–Gregory S., Riddle & Brantley client
Please call 1-800-525-7111 or complete the fast and convenient form below for a FREE, no-obligation consultation with an experienced North Carolina workers' comp lawyer.
Victims of workplace accidents deserve justice and we would love to help you if we can.
---
*** Disclaimer: The results mentioned are intended to illustrate the type of cases handled by the firm. These results do not guarantee a similar outcome, and they should not be construed to constitute a promise or guarantee of a particular result in any particular case. Every case is different, and the outcome of any case depends upon a variety of factors unique to that case.