Did a Bus Driver's Mistake Lead to a Wayne County School Bus Crash?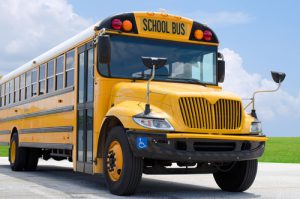 The Goldsboro Daily News recently featured a report on a Wayne County school bus crash that sent the bus driver and two passengers in a car involved in the wreck to the hospital. Per the Goldsboro Daily News report, the bus driver made a left turn in front of the vehicle, which forced the car to swerve in an attempt to avoid a collision. However, despite swerving, the car still clipped the rear of the school bus. None of the eight Southern Wayne High School students on the bus were injured in the crash. The driver and passenger in the car, who are students at Spring Creek High School, along with the driver of the bus, were injured in the accident. They were taken to the hospital for treatment following the incident. Reportedly, the school bus driver is facing charges for causing the wreck.

Who Can Be Held Responsible for School Bus Accident Injuries?
As we have mentioned in past blogs, pursuing an injury claim against a public school can be difficult because they are government entities, which means they may be protected against lawsuits by government immunity laws. However, just because it is difficult does not mean that it is impossible. Parents have been able to hold schools, school districts and school employees accountable for injuries to their children before.  Most importantly, accidents involving the "yellow" school buses are covered by our State Tort Claims Act and the injured parties will be compensated for injuries caused by negligent school bus drivers.
If a family believes their child was injured as a result of the negligence of a school or one of its employees, they should speak to an experienced personal injury attorney about their situation as soon as possible. A lawyer can analyze their situation, tell them whether they have a valid case, explain what options they have and answer their questions.
Let our devoted bus accident injury lawyers handle your claim, so you can focus on your recovery. We offer free, no-obligation consultations, and we don't get paid unless we win your case.