What Can Drivers Do to Make the Roads Safer for Cyclists?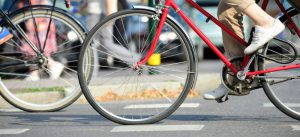 In late October, a deadly bike accident robbed a Cary family of a husband and father. Now, his friends and family, as well as the local cycling community, are spreading the word about bike safety awareness and asking North Carolina's drivers to do a much better job of sharing the road with bicyclists.
The bike accident that claimed the cyclist's life happened on NC-751, according to WRAL-TV. As the Cary man neared the Luther Road intersection, he attempted to make a left turn. As he did, his bike was rear-ended by a Chevy pickup truck. The impact of the collision killed the cyclist. The man driving the truck is facing charges as a result of the fatal traffic accident, including misdemeanor death by bicycle and not reducing speed to avoid a collision.
How Drivers Can Help Keep the Roads Safe for Bicyclists?
Edmunds, an information source for auto consumers, released a list of tips for how drivers can learn to share the road safely with cyclists:
Keep in mind that cyclists are far less protected from injury compared to automobile occupants and drive more cautiously when around them.
Take the time to study up on what the traffic laws are for bicyclists. For instance, some drivers do not understand why cyclists don't just ride on the sidewalks when they're available. This is because if a bicyclist is 10 years old or older, then according to the National Highway Traffic Safety Administration (NHTSA), he or she should ride a bicycle as if it were the same as any other street legal vehicle. Therefore, cyclists need to ride on the road and in the same direction as regular traffic.
Respect cyclists as fellow members of traffic and not an obstacle in the road that's in your way. Bicyclists and drivers are equals and to share the street safely both sides must recognize that fact.
When you're making a right turn, especially if you're on a road with bike lanes, always signal and keep an eye out for cyclists.
If you're making a left turn, make sure you don't miss bicyclists who are part of oncoming traffic.
As much as possible, try to give bikes at least three feet of clearance when driving near them, and especially when passing them.
Is there anything we missed? What tips do you have for safely sharing the road with bicyclists? Let us know in our blog's comment section or on our Facebook or Twitter.