Car Accident Compensation: What Can Victims Expect?
What can you expect in car accident compensation when you've been injured in a motor vehicle accident? It's a complicated question, and there's really no exact answer because all cases are different and potential car accident compensation will vary based on the unique facts and circumstances of your case.
That said, in this blog post we'll review some of the factors that may impact the amount of potential car accident compensation you may be entitled to.

Factors Impacting Car Accident Compensation
Liability
Obviously, any potential car accident compensation will depend on who is liable for your injuries.  In the State of North Carolina, the law of contributory negligence means that if you are determined partially responsible for the accident, you do not have a claim for compensation.
IMPORTANT: If the insurance company or defense counsel can prove you are just 1% responsible for accident leading to your injuries, you may not be able to claim compensation. However, an experienced car accident lawyer can help advise you on your claim. There are certain scenarios in which we can help overcome the rule of contributory negligence.
Proving liability is one of the most important steps in pursuing an auto accident injury claim. An injury attorney can assist with this process. In certain cases, your lawyer may even bring in outside experts, such as accident reconstructionists or trucking safety authorities, to help prove liability.
If you're considering hiring an attorney, consider one with a track record of obtaining successful settlements and verdicts, and also keep in mind the firm's capabilities when it comes to investigating the accident.
Injuries
If you are injured in a motor vehicle accident, any potential car accident compensation will depend in part on the extent of your injuries.
Certain injuries, such as those resulting in long-term disability, can result in significant car accident compensation through a large settlement or verdict. Less extensive injuries, such as minor fractures or cuts, scrapes and contusions, frequently result in lesser compensation.
If the most tragic cases involving wrongful death, car accident compensation can be especially significant.
However, as in all legal matters, there are no guarantees of car accident compensation when you've been injured. Every case is different and potential compensation will vary based on the unique facts and circumstances of your particular case.
Legal Representation
You are not required to hire a lawyer to pursue an injury claim following an accident, but in order to maximize your chances of obtaining car accident compensation for your injuries, it is recommended that you consider hiring a personal injury attorney.
Research shows that, on average, those who hire an injury lawyer recover roughly 30 percent more in car accident compensation than those who represent themselves.
An experienced car accident lawyer knows how to navigate the injury claims process, including negotiating with the insurance company, filing a lawsuit if necessary, handling mediation and/or arbitration, and representing you at a potential trial.
Have you been injured in a North Carolina auto accident?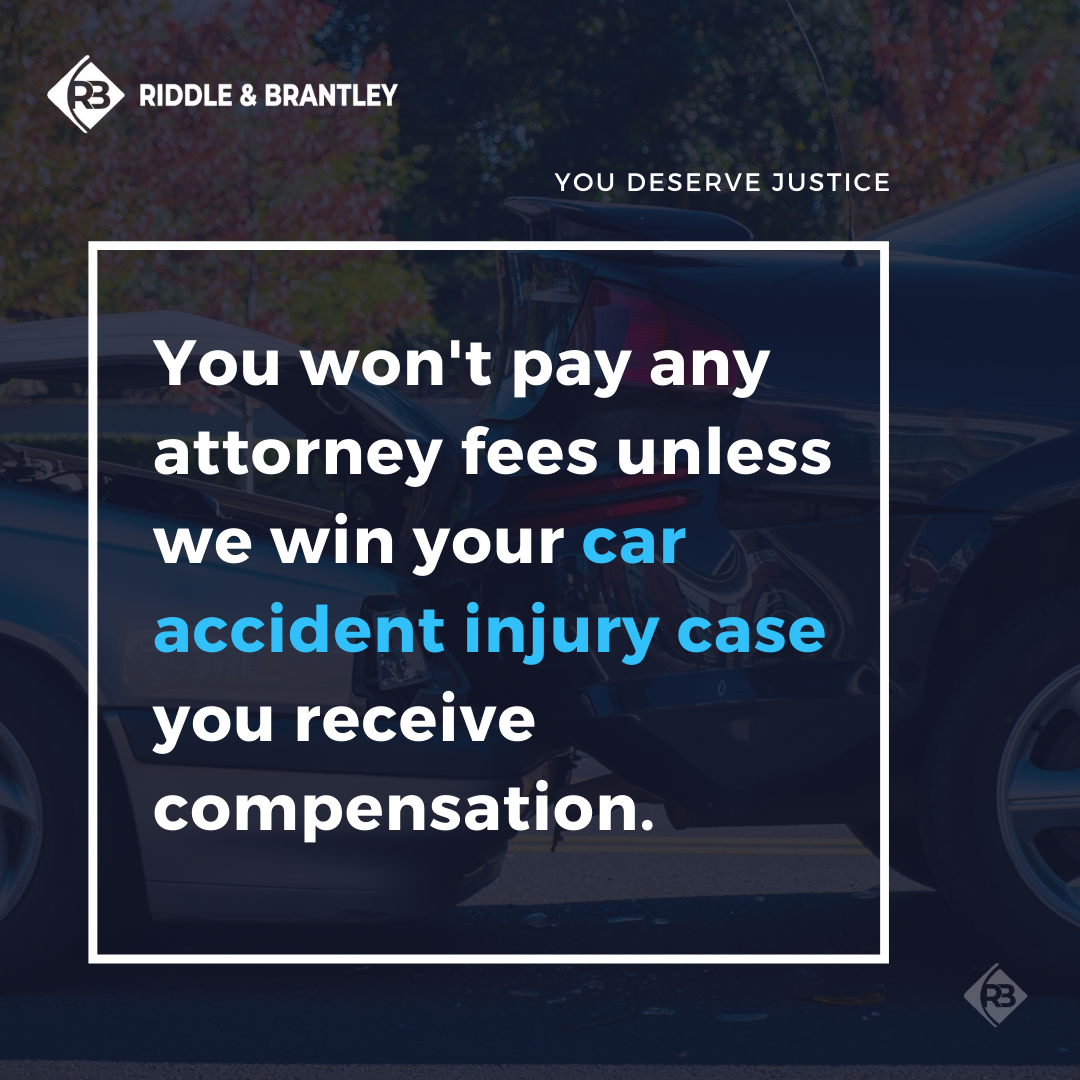 If you've been injured in a car, truck, pedestrian or other motor vehicle accident due to someone else's negligence, you may be entitled to compensation.
There is no obligation and you won't pay any attorney fees unless we recover compensation for you.
We serve clients across North Carolina, including Raleigh, Durham, Fayetteville, Greenville, Goldsboro, Jacksonville, Charlotte, Greensboro, Winston-Salem and High Point.
Our attorneys have more than 220+ years of combined legal experience and we are committed to justice for victims of auto accidents in North Carolina.
Justice Counts for North Carolinians injured in auto accidents. We would love to help however we can.