Is Speeding to Blame for Deadly School Bus Accident?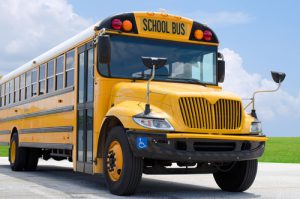 WRAL-TV reported on a tragic school bus accident that happened in Chattanooga, Tennessee shortly before Thanksgiving. The crash happened in the afternoon as 35 elementary school kids were being driven home. Reportedly, the bus driver was speeding as the vehicle was traveling down a narrow, curvy road, which led to him losing control of the school bus and crashing into a tree. Five children died in the wreck, and as of this writing, 12 children were still hospitalized due to injuries suffered in the traffic crash.
Did the Bus Driver Have a History of Reckless Driving Prior to the Tragic Wreck?
The bus driver was arrested following the school bus accident. He is charged with reckless endangerment, reckless driving and five counts of vehicular homicide. Authorities report he was driving much faster than the 30-mph speed limit when he lost control of the bus. The bus driver had his license suspended in 2014 for failure to show proof of insurance and he was involved in a wreck that led to property damage in September.
The National Transportation Safety Board (NTSB) is investigating the crash. The NTSB received a warrant to obtain the bus's black box. Reviewing the data on the black box should tell them more about the bus's movements leading up to the crash. An official for the NTSB has said their investigation will cover several factors, including the driver's actions prior to the wreck, the condition of the bus and whether having seat belts on the bus would've made a difference.
The NTSB has been advocating for seat belts in school buses, believing it could prevent injuries and save lives.
Do you think all school buses should have seat belts? Share your opinion about this issue in the comments section below or on our Facebook or Twitter  pages.