Understanding Your Auto Insurance Policy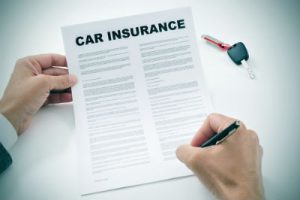 Each year, June 28 is informally recognized as National Insurance Awareness Day. Although we are not entirely sure who created this unofficial holiday, it's a good day to not only review your existing insurance coverage, but to increase your awareness of what your policies actually say. In honor of National Insurance Awareness Day, allow us to discuss one of your most important policies – your automobile insurance.
Why Car Insurance Matters
Being involved in a car accident will take both a physical and emotional toll. It can also cause significant financial strain. Unless you have adequate North Carolina car insurance coverage, you could find yourself legally and financially liable for any damage or injury caused.
Even if you are not at fault, you cannot rely on the other driver's coverage being enough to cover your hospital and medical bills, car repairs, legal costs and other accident-related expenses.

When you purchase car insurance, you are providing yourself with the protection you may need in an accident.
North Carolina requires vehicle owners show proof of insurance when registering their vehicles. If you plan on financing your vehicle, your auto lender will require that you obtain at least the legal minimum coverage to help make sure their investment is protected.

What Those Coverage Terms Mean
With all of the different types of car insurance available, it is important you educate yourself on what each of the coverage terms mean. Doing so will allow you to make sure your policy provides you with the coverage you require and, if it does not, give you the opportunity to acquire additional coverage before an accident.
To help you gain a more in-depth understanding of your insurance, the following are some of the basic insurance coverage terms and what each covers:
Liability Coverage
Liability coverage encompasses both bodily injury liability and property damage liability in vehicle-related accidents where it is determined you were at fault for the injury sustained by another person or damage caused to another person's property. Liability coverage does not cover injuries you yourself sustain, nor damage caused to your vehicle as a result of the accident. It simply protects you against claims filed by the injured party.
Liability coverage has limits as to the maximum amount that will be paid per injured party, accident and property damage.
For example, you might have split limits of 100/300/50. This means your policy covers a maximum of $100,000 for injuries sustained by any one individual per accident, and up to $300,000 for all injured parties. Property damage would be limited to a total of $50,000 per accident.
Bodily Injury Liability
The bodily injury liability coverage of your auto insurance policy will help cover the cost of damages in cases where it is found you were responsible for causing an accident in which other people sustained injury. Many bodily injury claims often include damages to cover medical expenses, rehabilitation, lost wages, disability, as well as pain and suffering.

Property Damage Liability
Property damage liability covers damages in cases where another person's individual property has suffered physical harm, or they have sustained some kind of material loss, in an accident caused by your negligence. Costs to repair or replace a vehicle, mend a fence, rebuild the wall of a house, or buy a new bicycle can all be covered by property damage liability.

Uninsured Motorist (UM) coverage
Should you ever be involved in an accident caused by a motorist who does not have auto insurance, the uninsured motorist (UM) coverage you have on your own auto insurance policy can help you cover your accident-related expenses such as medical costs and vehicle repairs. UM coverage essentially replaces the coverage which would have been provided had the negligent driver purchased liability insurance.
UM coverage also provides protection in cases where the covered motorist suffers injury or loss in a hit-and-run accident.

As of 2009, UM coverage is required to be included in all auto insurance policies issued in the state of North Carolina according to House Bill 738, which amended the North Carolina Financial Responsibility Act. Drivers no longer have the choice of opting out of this coverage.

Underinsured Motorist (UIM) coverage
Underinsured motorist (UIM) coverage provides additional protection for the times when you are involved in an accident and the at-fault driver does not have sufficient insurance to cover the personal injuries you sustained. UIM coverage will pay the difference between the negligent driver's bodily injury liability limits and your UIM policy limits. UIM coverage does not cover personal property damage.

Collision
Collision coverage pays for any physical damage caused to your own vehicle in instances where your vehicle collides with another vehicle, a house, a tree, or any other object. This coverage will generally pay for repairs to your vehicle or reimburse you the actual cash value (ACV) of your vehicle, whichever is less expensive.
Without collision coverage, you will likely have to pay for repairs to your vehicle out-of-pocket, particularly when you are involved in an accident where you are at-fault.


Comprehensive
Comprehensive coverage pays for any physical damage caused to your own vehicle by any other means than a collision. If your vehicle is damaged or totaled as a result of a falling object, theft, fire, vandalism, civil commotion, explosion, earthquake, or weather-related incident including a windstorm, hail, heavy rains or flooding, comprehensive insurance provides you with the protection you need. Either the cost of repairs or the ACV will be paid by your comprehensive coverage, minus the cost of your deductible.


Medical Payment
Medical payment coverage pays for necessary medical, chiropractic, dental and funeral expenses for the covered individual, as well as any family members or other individuals who sustain injury or are killed in a motor vehicle accident while driving or riding in the covered driver's vehicle.
Medical payment coverage also extends to any incidents in which the insured is injured or killed after being struck by a motor vehicle while as a pedestrian. Payments will be made up to the maximum of the policy limits.
More Information About Your Car Insurance
Now that you know some of the basic terms that apply to car insurance, you will have a much more comprehensive understanding of your policy. At Riddle & Brantley, our car accident attorneys are well-versed on the ins and outs of auto coverage, and we know what it takes to protect you in an accident.
Want to learn more? Please check out these resources on our site:
If you have other questions about your auto policy following a car accident in Raleigh, or elsewhere through Eastern North Carolina, we are here to give you the answers you seek.
Sources: