What Are Medical Liens in a North Carolina Car Accident Case?
Medical bills after a car accident can be expensive… and overwhelming. In many cases, a medical provider will place a "medical lien" on your account, claiming repayment for their services out of any potential settlement or verdict. It can be confusing. Many of our clients ask us, "What is a medical lien in a car accident case?"
In this article, we'll share what you need to know about medical liens in car accident cases in North Carolina, and how an experienced car accident lawyer may be able to help negotiate your medical liens so you put more money in your pocket.
Remember, if you have questions about medical liens in your North Carolina car accident case, an attorney at Riddle & Brantley may be able to help. Call 1-800-525-7111 today for a free, no-obligation consultation.
What is a Medical Lien?
A medical lien is a demand for payment that may be placed against a potential settlement or verdict in a personal injury case. It acts just like a lien against a car loan or a loan with a bank against encumbered property. It attaches to the proceeds of your settlement with the insurance company or your attorney.
After your personal injury lawsuit is filed, the amount of money you have spent and still need to spend on your medical treatment is taken into consideration. North Carolina General Statutes sections 44-49 through 44-51 specifically address medical liens from physicians and health care providers. It can be surprising to learn that in some situations, the state and federal government, health insurance companies, hospitals, and medical providers have claims or liens against your personal injury settlement.
If you have been a victim of an accident and filed a personal injury claim or lawsuit to recover costs of medical treatment, the insurance companies or government entities (such as Medicaid or Medicare) that paid these bills can file a lien against your settlement or verdict proceeds.
Medical Liens in Car Accident Cases in North Carolina
In North Carolina, if you are represented by a personal injury lawyer, he or she is required to distribute payment from your settlement or verdict to health insurance companies, government agencies and/or medical providers that have placed a medical lien on your car accident injury case.
Common personal injury liens include:
Medicare liens
North Carolina workers' compensation liens
Healthcare insurance liens (but not all health insurance companies have liens)
Medicaid liens
TRICARE liens
Ambulance liens
Federal Worker's Compensation liens
State Vocational Rehabilitation liens
ERISA liens
State Employees and Teachers Health Plan liens
Additionally, any physician in North Carolina who provides medical services can claim a medical lien against the proceeds from your car accident settlement or judgment.
"Is There a Cap on Medical Liens in Car Accident Cases in North Carolina?"
According to North Carolina law, a plaintiff in a personal injury case shall pay no more than 50% of their settlement or verdict after an attorney's fee is deducted.
However, a medical lien is separate from your own financial obligation to the insurance company, government agency (such as Medicare), or medical provider. For example, if your hospital bill totals $20,000 and your attorney is required to pay the hospital $12,000 as part of a medical lien, you may still owe $8,000. This can be complex but an experienced personal injury lawyer may be able to negotiate a reduction in your outstanding medical bills so that your bill can be finalized for a fair reduction. 
"What is subrogation?"
Your health insurance provider could issue a lien to recover money it has paid for your personal injury accident treatment. In some cases, you may be obligated to pay back these medical expenses. This is known as subrogation.
The extent of the subrogation claim can be different for each situation depending on the language used in your policy. Some states do not allow subrogation in insurance policies.
In North Carolina, insurance companies (where you pay for your coverage under a private personal plan) cannot receive a subrogation interest in the proceeds of your personal injury settlement or verdict.
Injured in a North Carolina Car Accident?
Do you have a car accident injury claim? 
If you've been hurt in a motor vehicle accident due to someone else's negligence, call 1-800-525-7111 for a FREE consultation with an experienced North Carolina car accident lawyer today.
There is no obligation and you won't pay any attorney fees unless we recover compensation for you.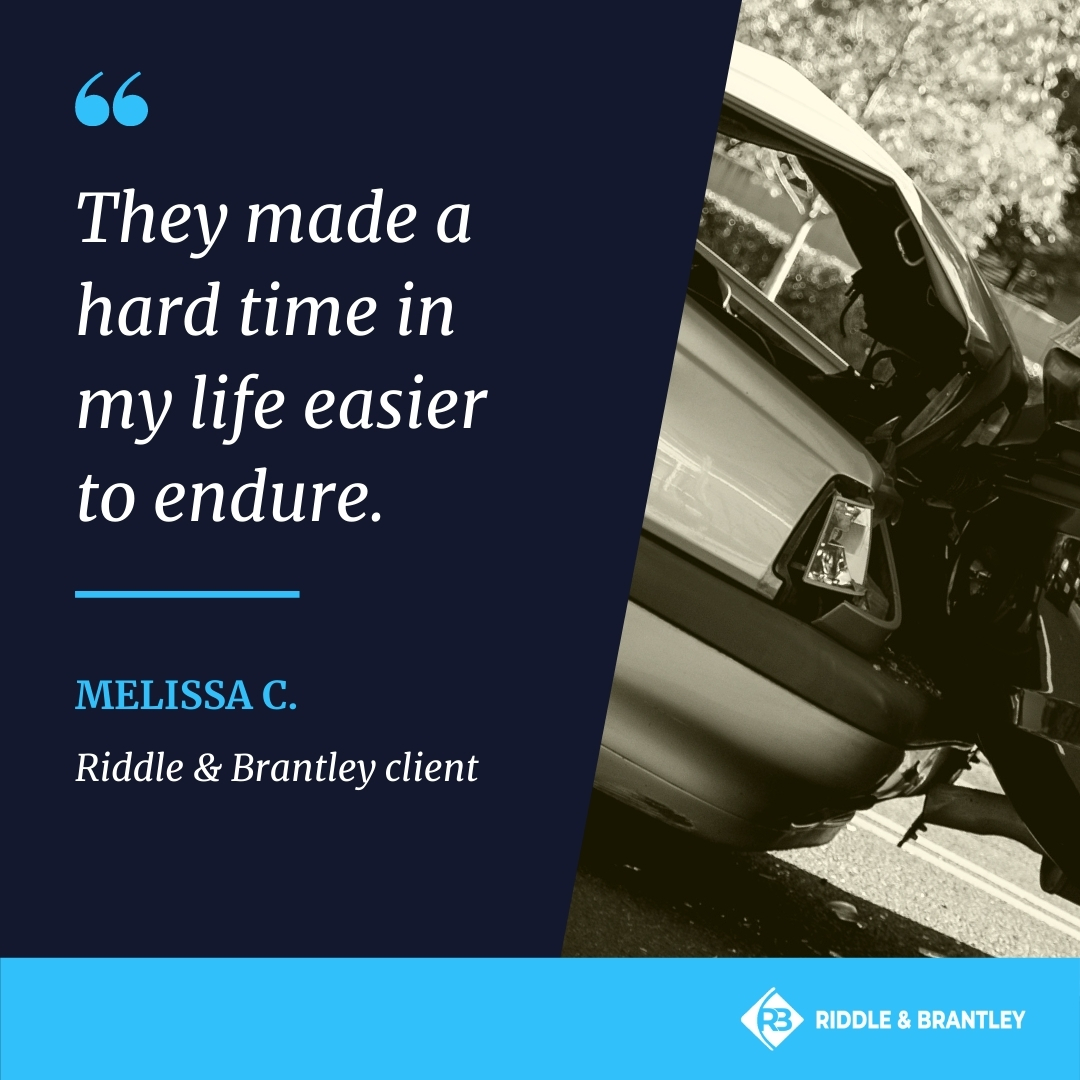 We can help with complicated and expensive medical liens after a North Carolina car accident, and we may even be able to negotiate with medical providers to reduce your medical bills.
Please call 1-800-525-7111 today and let's review your claim.
At Riddle & Brantley, we're ready to fight for you however we can. We believe Justice Counts and our attorneys have more than 220+ years of combined legal experience handling car accident claims in North Carolina. Since 2000 alone, we've recovered more than $600 million in compensation for our valued clients (see disclaimer below).
We serve clients throughout the state, including:
Winston-Salem
Asheville
Gastonia
New Bern
Free consultations are available by phone, email, text and video conference, and we can even come to you if you prefer. However, no in-person meeting is required to get started on your case.
Please call 1-800-525-7111 today and let an experienced North Carolina car accident attorney at Riddle & Brantley review your case.
"Riddle & Brantley found me all the available money from the insurance companies."
­­-David Howard, Riddle & Brantley client 
You may be entitled to compensation and you deserve justice.
Call 1-800-525-7111 today and let's talk.
Justice Counts.
---
*** Disclaimer: The results mentioned are intended to illustrate the type of cases handled by the firm. These results do not guarantee a similar outcome, and they should not be construed to constitute a promise or guarantee of a particular result in any particular case. Every case is different, and the outcome of any case depends upon a variety of factors unique to that case.