"Should I Sign a Car Accident Settlement Release?"
How Signing a Settlement Release Affects Your Right to Compensation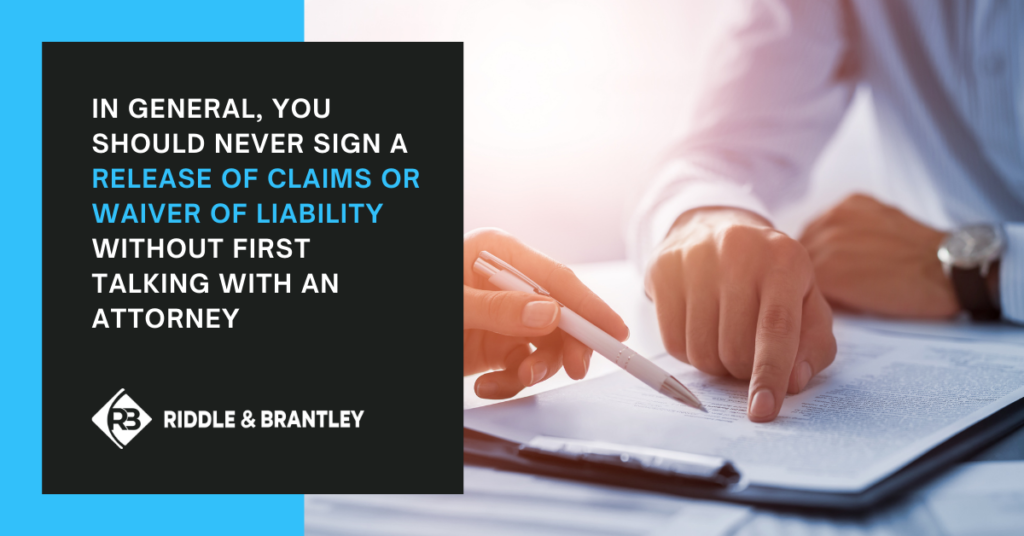 In the immediate aftermath of a car accident, you may be overwhelmed and unsure of how to move forward. If another driver was obviously at fault, their insurance company may contact you with an early settlement offer and require that you sign a release of claims in order to obtain your payout. Unfortunately, these early settlement offers rarely cover all of your losses, and by signing the release, you will give up your right to pursue additional damages.
At Riddle & Brantley, we know the unfair tactics that insurance companies use in order to get car accident victims to settle for less than their claims are worth. We provide aggressive, dedicated representation to individuals who have been hurt in devastating accidents, fighting to ensure that they receive the maximum compensation in their case.
Things to Consider Before Signing a Release of Claims
In general, you should never sign a release of claims or waiver of liability without first consulting with an attorney. Signing a release of claims will prevent you from being able to pursue additional compensation.
Have you consulted with an attorney?

Is the settlement adequate to cover all of your medical bills, lost wages, and other losses related to the accident?

Does the settlement take into account the loss of future earning capacity?

Does the payout include compensation for future medical treatment and care?

Are there other liable parties?

Does your insurance policy apply?
By signing the release, you are acknowledging that you are fully compensated for the injuries you suffered. It absolves the other party or their insurance company from any liability beyond what was agreed to in the settlement.
Why Hire an Attorney?
The first settlement offer from an insurance company is usually for significantly less than the case is worth. While it can be enticing to close the case quickly, signing a release of claims will end your chance of getting the compensation you need to truly cover all of your losses.
Unrepresented injured parties often end up signing a release of claims without realizing that they are giving up certain rights, including the right to sue for additional damages. This is particularly critical in cases of serious or catastrophic injuries where you may need long-term medical treatment.
A car accident attorney will fight to ensure that you receive the largest recovery possible and will work to make sure that the settlement you receive covers all of your losses, not just the immediate financial needs. 
Injured in a Car Accident? Contact Our Office Today!
Did you receive an insurance settlement offer after being injured in a car accident? Contact our office for a FREE consultation. Our legal team is here to help you understand your rights and pursue justice on your behalf. 
We have over 220+ years of combined experience and have recovered over $600 million in verdicts and settlements for our clients (see disclaimer below). Call today to get started.
---
*** Disclaimer: The results mentioned are intended to illustrate the type of cases handled by the firm. These results do not guarantee a similar outcome, and they should not be construed to constitute a promise or guarantee of a particular result in any particular case. Every case is different, and the outcome of any case depends upon a variety of factors unique to that case.