Camp Lejeune Miscarriage Claims and Lawsuits
Victims Who Lived & Worked at Camp Lejeune Bring Miscarriage Claims Due to Toxic Water
If you served at Camp Lejeune in North Carolina between 1953 and 1987 and later suffered a miscarriage, you might be eligible for a Camp Lejeune miscarriage claim or lawsuit (or a claim for another qualifying condition).
Potentially more than a million service members, family members, and military contractors may have been exposed to contaminated water at Camp Lejeune and suffered from various illnesses, from cancer to miscarriages.
Call Riddle & Brantley at 1-800-525-7111 for a free evaluation of your case. We are actively investigating these claims and would love to help military veterans, their families, and civilian workers get the justice they deserve in a Camp Lejeune lawsuit or claim.
The US military previously denied all claims associated with the contaminated water at US Marine Corps Base Camp Lejeune, but you may still be eligible for compensation. Because of the Camp Lejeune Justice Act, which passed Congress as part of the PACT Act on August 2, 2022, victims whose claims were previously blocked or rejected will now be eligible to move forward with their miscarriage claims and claims involving other conditions.
Could Toxic Water at Camp Lejuene Have Caused a Miscarriage?
It is well-documented and supported by evidence: those who worked and/or lived at Camp Lejeune between 1957 and 1987 were at higher risk of miscarriage and birth defects (those in utero during the period of contamination are also eligible for claims).
In 2014, scientists found that the level of hazardous chemicals in the water at Camp Lejeune had increased significantly over time. The water contamination may have played a role in the increased rate of miscarriage and birth defects among those who were pregnant or born at Camp Lejeune. Another alarming study conducted by the Agency for Toxic Substances and Disease Registry (ATSDR) also found an association between contaminated water and various health issues among veterans.
Evidence that Camp Lejeune Water Caused Miscarriages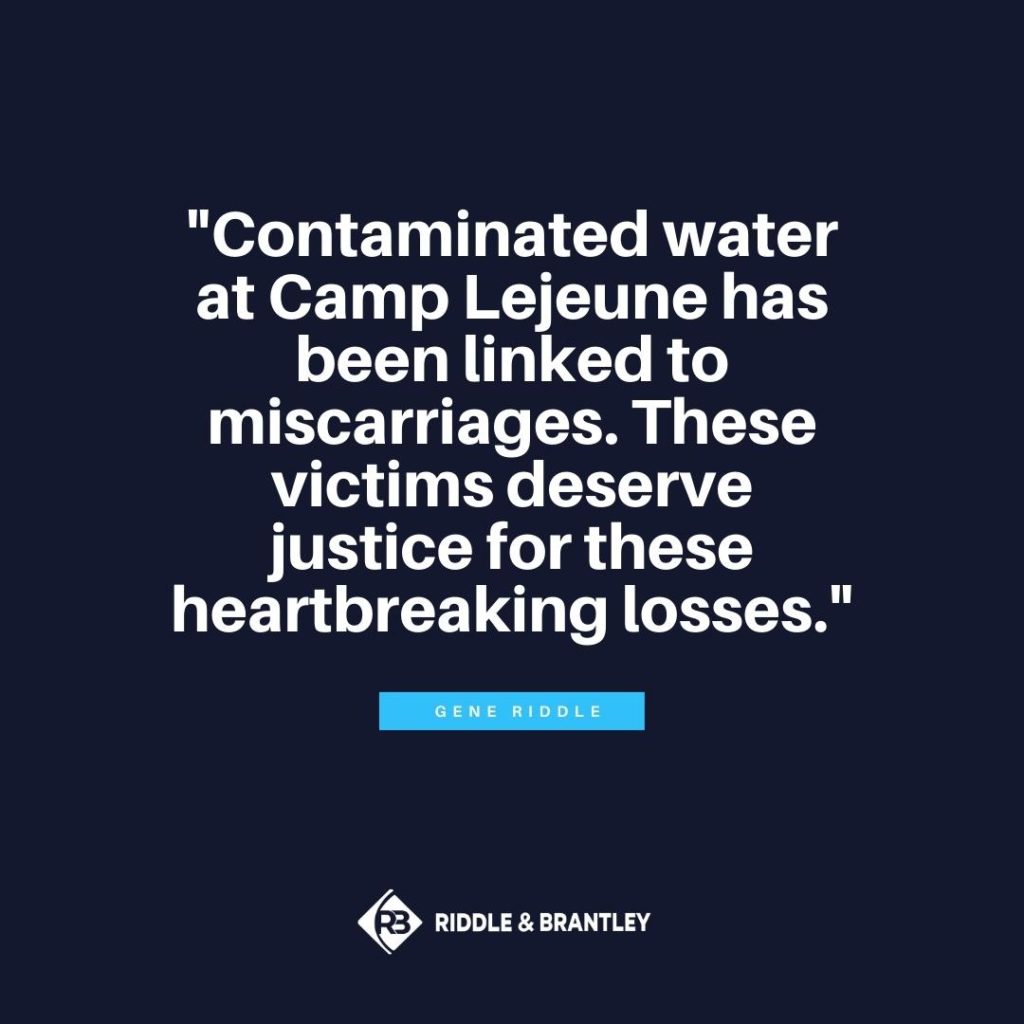 In 2022, the Department of Defense finally acknowledged that there was a risk of exposure to contaminated water at Camp Lejeune in North Carolina. An outbreak of miscarriages and birth defects is now being linked to the water contamination at US Marine Corps Base Camp Lejeune between 1953 and 1987. As part of the investigation, water samples were taken from eight locations at the base and tested for chemical contaminants.
The results showed that the water was contaminated with trichloroethylene (TCE) and benzene, among other toxic substances. TCE is a common solvent used in industry and may leach into groundwater when improperly disposed of. Benzene is used as a fuel additive and in plastic production and can contaminate drinking water supplies when released into the environment. While research into these chemicals is ongoing, they may still be associated with an increased risk of miscarriage.
In addition to the detrimental health effects on pregnant women, the chemicals found in the water at Camp Lejeune may have lasting effects on their children. More research needs to be conducted before firm conclusions can be drawn, but given the interest in Camp Lejeune miscarriage claims and lawsuits, we anticipate that more evidence will be uncovered and released in the months ahead.
Chemicals in the Water at Camp Lejeune and Their Potential Link to Miscarriages and Birth Defects
TCE and Miscarriage
Trichloroethylene (TCE) is an industrial solvent that has been used throughout the world for decades. It can be found in everything from paint strippers to dry-cleaning agents, and it's often used in manufacturing plastics and other materials. Unfortunately, TCE is also a known human carcinogen.
It can cause cancer of the bladder, liver, and lungs, as well as leukemia. In addition to its known carcinogenic properties, trichloroethylene has also been linked to miscarriage in certain cases.
The exact mechanism by which trichloroethylene is linked to miscarriage remains unclear, but many believe that it interferes with the placenta's ability to provide oxygen and nutrients to a developing fetus. TCE exposure can lead to miscarriage or birth defects such as heart defects or spina bifida.
Because of these risks, pregnant women should avoid exposure to trichloroethylene at all costs. If you suspect that you or your unborn baby may have been exposed to trichloroethylene at Camp Lejeune or elsewhere, seek immediate medical attention so that you can receive treatment and ensure the safety of your developing baby.
Our firm is actively investigating miscarriage and birth defect claims associated with the toxic water at Camp Lejeune. Please call 1-800-525-7111 for a free, no-obligation consultation concerning a potential Camp Lejeune miscarriage lawsuit or claim. Our attorneys are ready to help at a moment's notice.
Benzene and Miscarriage
Benzene is a clear, colorless liquid used as a solvent in many products, including paint and gasoline. It can also be found in some household products and cigarette smoke. Benzene in jet fuel may have contributed to the water contamination at Camp Lejeune and increased the risk of miscarriage and birth defects.
Small amounts of benzene aren't dangerous, but high levels can cause birth defects. One study showed that exposure to benzene is linked to a "significant" elevated risk of miscarriage in people who were trying to get pregnant.
What is a Miscarriage?
When an embryo or fetus dies before the 20th week of pregnancy, this is called a miscarriage. They usually happen in the first trimester of pregnancy. Despite the name, having a miscarriage doesn't mean the individual did anything wrong — most are beyond our control.  
Types of Miscarriages
Miscarriages may result in emotional distress and grief, but they are not uncommon. An estimated 10-20% of pregnancies end in miscarriage. There are several types of miscarriage, including:
Threatened miscarriage– During a threatened miscarriage, the cervix stays closed despite vaginal bleeding. If the bleeding stops, the pregnancy may continue normally. However, sometimes miscarriages become inevitable and end in pregnancy loss.
Inevitable miscarriage– When bleeding increases and the cervix doesn't open, a miscarriage is inevitable. Once the cervix opens, there's no chance for a pregnancy to continue.
Complete miscarriage– A complete miscarriage means the pregnancy tissue is expelled from the uterus.
Incomplete miscarriage– When some tissue remains, this is an incomplete miscarriage. Follow-up treatment may be needed to remove it.
What Causes Miscarriage?
Many factors may contribute to or cause miscarriage:
Age
Infection
Exposure to disease
Exposure to toxic chemicals
Autoimmune disorders
Unmanaged diabetes
Thyroid disease
Improper implantation of the egg
TCE exposure
If you experienced a miscarriage that could have been caused by the toxic water at Camp Lejeune, you might be eligible to receive compensation for your loss. Call 1-800-525-7111 today for a FREE case review with an experienced Camp Lejeune miscarriage attorney.
How to File a Camp Lejuene Miscarriage Claim or Lawsuit
Anyone who was exposed to the chemicals in the water at Camp Lejeune for a period of at least 30 days between 1953 and 1987 may now seek justice under the Camp Lejeune Justice Act. Prior to this law being passed, the Navy denied all claims related to water contamination at the Marine Corps base, in part due to North Carolina's statute of repose for environmental pollution cases, but now victims can seek compensation for injuries they may have suffered — including miscarriages or birth defects.
Anyone who meets the following criteria may be eligible to file a Camp Lejeune lawsuit:
Were exposed to contaminated water at Camp Lejeune for 30 or more days between August 1, 1953, and December 31, 1987
Were diagnosed with one of the following conditions:

Miscarriage
Leukemia (various types)
Rectal cancer, colorectal, and colon cancer
Renal toxicity
Immune disorders
Nerve damage
Neurobehavioral effects
Camp Lejeune Attorneys in Jacksonville, NC Ready to Help
You might be able to seek compensation in a Camp Lejuene miscarriage lawsuit or claim if you suffered a miscarriage after being exposed to contaminated water at Camp Lejeune. Riddle & Brantley can help determine your best available legal options in a free consultation. Call 1-800-525-7111 today to speak with a Camp Lejuene miscarriage claim attorney today.
Local to Jacksonville, NC and Camp Lejeune, Serving Clients Nationwide
We have offices in Jacksonville, North Carolina just miles down the road from Camp Lejeune, and have been serving veterans, their family members, and civilian workers in the area since 1985. Many of our attorneys and staff have close family ties to the military and we are proud to fight for those who served and sacrificed for us.
Our Results
We have recovered over $665 million for our injury victims since 2000 (see disclaimer below). We're proud of the results we've secured for our clients, and are also honored by the way our clients speak about their experience:
"By far the best law firm that actually cares about helping veterans."
–B.F., Riddle & Brantley client
Award-Winning Trial Attorneys
Our Camp Lejeune miscarriage lawyers have also been recognized by many prestigious memberships and awards (see disclaimer below), including:
Multi-Million Dollar Advocates Forum
Super Lawyers
The National Trial Lawyers Top 100
The National Trial Lawyers Top 40 Under 40
Super Lawyers "Rising Stars"
The National Association of Distinguished Counsel
AV Preeminent Rating by Martindale-Hubbell
The Litigator Award
Call 1-800-525-7111 or fill out the short and simple form below for a free consultation with a skilled Camp Lejeune litigation lawyer about a potential miscarriage lawsuit or claim.
You won't pay any attorney fees unless you receive compensation, and there is no obligation.
"This settlement changed me and my family's lives."
–Linda B., Riddle & Brantley client
We're ready to assist you in any way we can, so give us a call at 1-800-525-7111. We would love to help you get the justice and compensation you deserve.
Justice Counts for our veterans, their family members, and civilian workers who suffered miscarriages or birth defects potentially due to contaminated water at Camp Lejeune. Let us help however we can.
---
*** Disclaimer: The results mentioned are intended to illustrate the type of cases handled by the firm. These results do not guarantee a similar outcome, and they should not be construed to constitute a promise or guarantee of a particular result in any particular case. Every case is different, and the outcome of any case depends upon a variety of factors unique to that case.
*** Disclaimer: An attorney must meet certain requirements to join these organizations or receive these awards. For more information on Membership Criteria for Million Dollar Advocates Forum, Multi-Million Dollar Advocates Forum, Super Lawyers, Super Lawyers "Rising Star" designation, The National Trial Lawyers Top 100, The National Trial Lawyers Top 40 Under 40, The National Association of Distinguished Counsel, AV Preeminent designation by Martindale-Hubbell, the Litigator Award, and other memberships, awards, and accolades, please visit our Membership Criteria page. These awards and memberships should not be construed as a promise or guarantee of a similar result. Each case is different and must be evaluated separately.