Camp Lejeune Myelodysplastic Syndrome (MDS) Claims & Lawsuits
Camp Lejeune Myelodysplastic Syndrome Claims Due to Toxic Water
You might be eligible for a Camp Lejeune MDS lawsuit if you or a loved one was diagnosed with myelodysplastic syndrome (also known as MDS) after exposure to contaminated water at the US Camp Lejeune Marine Corps base in North Carolina between 1953 and 1987.
If you or a loved one developed MDL after being exposed to contaminated water at Camp Lejeune, contact Riddle & Brantley at 1-800-525-7111 to speak with one of our experienced Camp Lejeune lawsuit and claim attorneys.
Thanks to the Camp Lejeune Justice Act — passed on August 2, 2022 — veterans, their family members, and civilian military contractors can finally seek the justice they deserve. We want to help you evaluate your options and give you the best chance of winning compensation for your Camp Lejeune MDS claim or lawsuit. Please call 1-800-525-7111 and let's see how we can help.
"By far the best law firm that actually cares about helping veterans."
–B.F., Riddle & Brantley client
What are Myelodysplastic Syndromes?
Myelodysplastic syndromes, or MDS, refer to a group of blood disorders, including various types of leukemia and myelodysplasia. MDS occurs when the bone marrow does not produce enough normal blood cells, resulting in low numbers of blood cells and low blood counts. MDS can cause symptoms associated with anemia, such as:
fatigue,
weakness,
and shortness of breath.
MDS may also refer to a specific type of MDS that results from a genetic mutation that prevents the formation of red blood cells and platelets. These mutations are often found in older people and those who have had certain types of cancer treatment.
Did Water Contamination at Camp Lejeune Cause MDS?
Between 1953 and 1987, trichloroethylene (TCE), perchloroethylene (PCE), vinyl chloride, benzene, and other contaminants were detected in the water at US Marine Corps Base Camp Lejeune in Jacksonville, North Carolina. The contamination is thought to have come from a local dry-cleaning business and believed to be linked to a variety of health issues service members, their families, and civilian contractors at Camp Lejeune later developed.
These chemicals may be associated with an increased risk of certain cancers, including blood-born cancers like leukemia. Currently, several studies link exposure to TCE, PCE, and benzene with an increased risk of myelodysplastic syndromes, supporting the allegation that water contamination at Camp Lejeune caused MDS.
Evidence that Camp Lejeune Water Caused Myelodysplastic Syndrome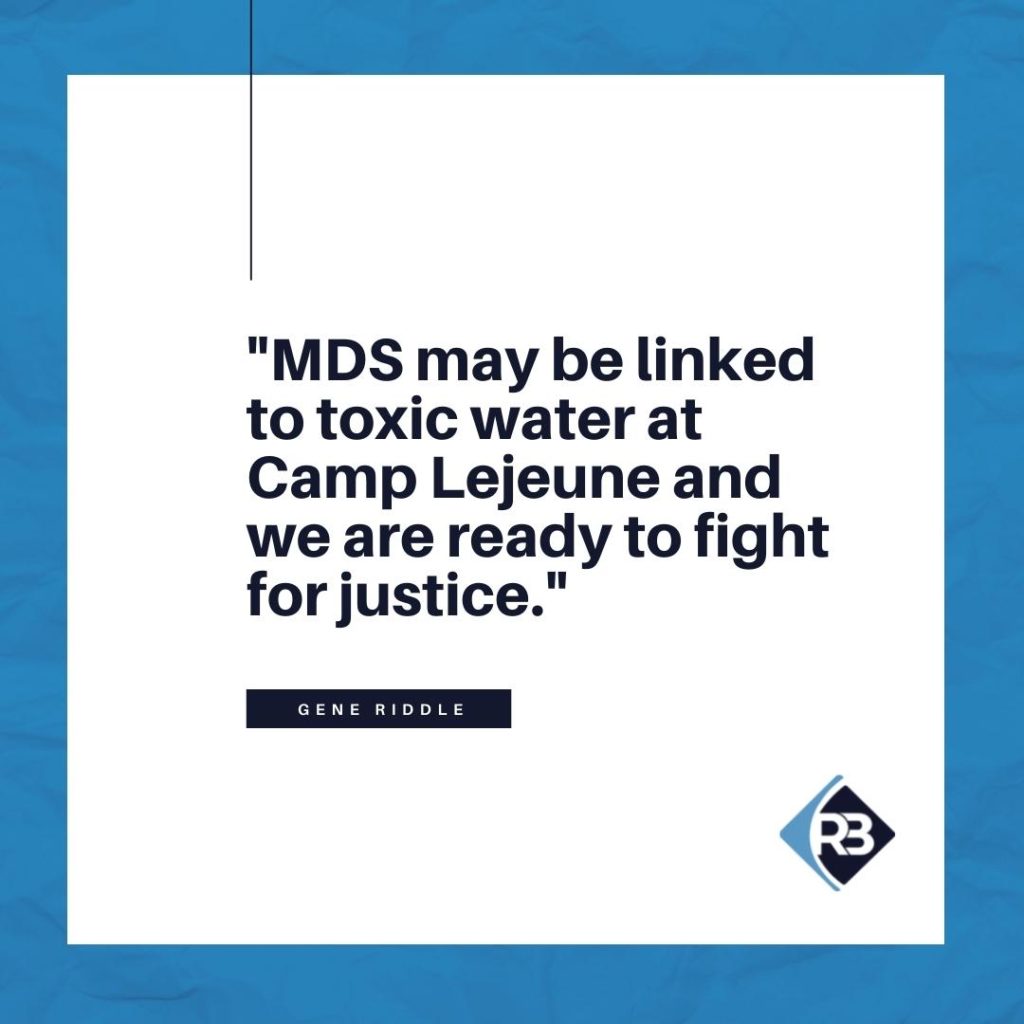 Several studies have explored the relationship between myelodysplastic syndromes and exposure to volatile organic compounds (VOCs). The strongest link found has been exposure to benzene in industrial applications, where workers are regularly exposed to the chemical in small to large doses.
A study published in the Journal of the National Cancer Institute found that petroleum workers who were regularly exposed to benzene had a higher chance of developing MDS than the general public.
Another study published in the Internation Journal of Cancer examined multiple chemical exposures and their association with an increased risk of myeloid leukemia and myelodysplastic syndromes. This study also found that benzene exposure was associated with an increased risk of MDS, especially for workers who were exposed regularly in their workplace.
The CDC also found that benzene exposure was associated with myelodysplastic syndromes and aplastic anemia, another blood disorder.
While studies are still ongoing, the overall conclusion by scientists has been that regular benzene exposure may put people at higher risk for MDS. For workers and service people at Camp Lejeune, this may mean that regular exposure to water contaminated with benzene put them at risk for MDS later in life.
How to File a Camp Lejeune MDS Claim or Lawsuit
If you served at Camp Lejeune and were later diagnosed with MDS or other health issues, you may qualify for a Camp Lejeune MDS lawsuit or claim.
To file a Camp Lejeune claim for toxic water exposure, you must meet the following criteria:
Were exposed to contaminated water at Camp Lejeune for 30 or more days between August 1, 1953, and December 31, 1987
Were diagnosed with one of the following conditions:

MDS (myelodysplastic syndrome)
Uterine cancer
CNS cancer (central nevous system cancer)
Leukemia (various types)
Renal toxicity
Neurobehavioral effects
Hepatic steatosis
Even previously denied claims may be eligible for re-filing, thanks to the Camp Lejeune Justice Act, which expands the ability of Camp Lejeune victims to come forward with their cases.
Why Riddle & Brantley for Your MDS Claim?
Riddle & Brantley can help veterans seeking compensation for injuries they suffered due to contaminated water at Camp Lejeune. We can assist you in determining the best legal course of action, reviewing your Camp Lejeune myelodysplastic syndrome claim, and filing it on your behalf.
Please give us a call at 1-800-525-7111 for a free, no-obligation consultation so we can assist you with the complicated legal framework and get you the compensation you need.
We have offices in Jacksonville, NC, just down the road from Camp Lejeune, and have been handling cases in the Eastern District of North Carolina (where these claims must be filed) since 1985.
We are dedicated to helping veterans, their loved ones, and civilian military contractors get the justice they deserve. While we're always proud of the settlements we've won for our clients, we're even more proud of how our clients describe their treatment by our skilled attorneys and staff:
"You'll walk in the front door as a client but leave as family. They're the absolute best."
–Susan S., Riddle & Brantley client
Contact us today to learn more about Riddle & Brantley's Camp Lejeune myelodysplastic syndrome attorneys and how they can help you. Call 1-800-525-7111 or fill out the simple form below for your FREE consultation.
You won't be charged any attorney fees unless you receive compensation, so reach out and let's discuss your claim. We'd love to help however we can.
---
*** Disclaimer: The results mentioned are intended to illustrate the type of cases handled by the firm. These results do not guarantee a similar outcome, and they should not be construed to constitute a promise or guarantee of a particular result in any particular case. Every case is different, and the outcome of any case depends upon a variety of factors unique to that case.
*** Disclaimer: An attorney must meet certain requirements to join these organizations or receive these awards. For more information on Membership Criteria for Million Dollar Advocates Forum, Multi-Million Dollar Advocates Forum, Super Lawyers, Super Lawyers "Rising Star" designation, The National Trial Lawyers Top 100, The National Trial Lawyers Top 40 Under 40, The National Association of Distinguished Counsel, AV Preeminent designation by Martindale-Hubbell, the Litigator Award, and other memberships, awards, and accolades, please visit our Membership Criteria page. These awards and memberships should not be construed as a promise or guarantee of a similar result. Each case is different and must be evaluated separately.