TVM Ban: FDA Prohibits Sale of Transvaginal Mesh
The FDA has banned the sale of all transvaginal mesh (TVM) products in the United States. In issuing the pelvic mesh ban on April 16, 2019, Dr. Jeffrey Shuren, director of the FDA's Center for Devices & Radiological Health, said the decision was made after "we couldn't assure women that these devices were safe and effective long term."
The two companies that currently manufacture transvaginal mesh — Boston Scientific and Coloplast — were required to submit plans within 10 days to withdraw their TVM products from the market.
What is TVM?
Surgical mesh has been used to treat hernias since the 1950s, and transvaginal mesh (also called pelvic mesh) was first used to treat pelvic organ prolapse (POP) in the 1970s. Mesh was first approved by the FDA for transvaginal repair of POP in 2002.
The procedures are relatively common: approximately 12% of women will require surgery to repair pelvic organ prolapse at some point in their lives. In 2010 alone, the FDA reported that more than 300,000 women received transvaginal mesh implants.
Transvaginal Mesh Lawsuits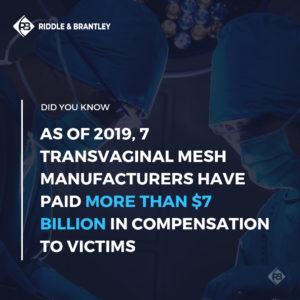 Despite its routine use, transvaginal mesh has been the subject of numerous FDA warnings.
TVM products have long been associated with injury in women being treated for pelvic organ prolapse.
Transvaginal mesh injuries include:
infection
vaginal bleeding or discharge
pelvic and/or groin pain
organ perforation
pain during intercourse (dyspareunia)
urinary problems
vaginal scarring
As a result, thousands of injured patients have filed transvaginal mesh lawsuits against TVM manufacturers.
The legal action ranks as one of the most expensive mass tort cases in U.S. history. According to the New York Times, more than 100,000 women have filed claims and seven TVM manufacturers have already paid more than $7 billion in compensation.
Have You Been Injured by a Defective or Dangerous Medical Device?
TVM lawsuits have recently settled and Riddle & Brantley can no longer accept new cases.
However, our defective medical device attorneys are ready to help if you've suffered injury after using another type of medical device. Our North Carolina personal injury and product liability lawyers have more than 220+ years in combined experience.
We have convenient locations in Raleigh, Goldsboro, Kinston, and Jacksonville, and would love to see if we can help. Call us at 1-800-525-7111 or complete the form below for a free consultation.
There are no attorney fees unless we win your case and recover financial compensation for you.