Johnson & Johnson Aims for Dismissal of Talcum Powder Lawsuits
***IMPORTANT UPDATE: A federal judge has ruled that baby powder cancer lawsuits against Johnson & Johnson can proceed. 
---
A Kentucky jury has rejected claims that Johnson & Johnson talc-based baby powder contained asbestos and caused a woman's mesothelioma.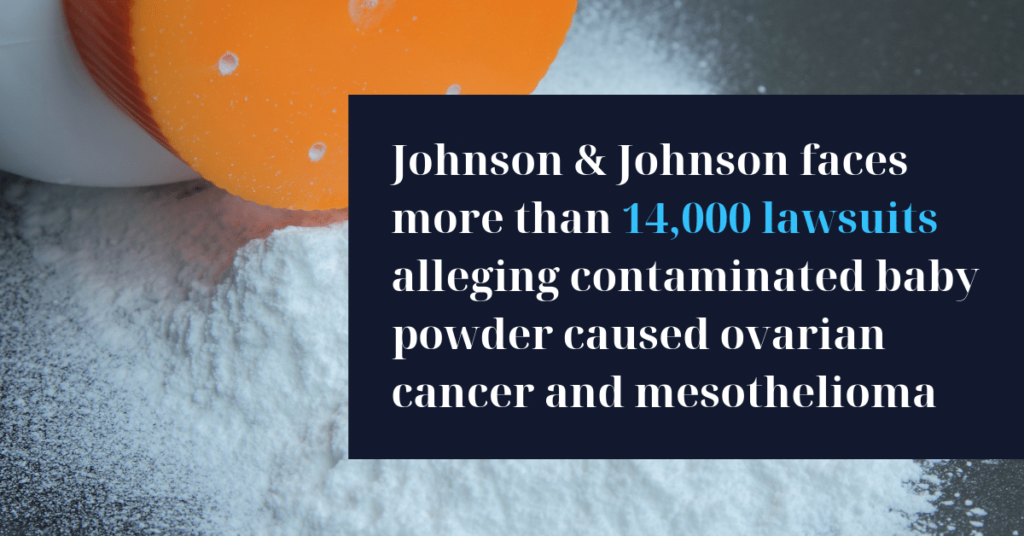 This is the sixth straight win for Johnson & Johnson in court in recent months, and a spokeswoman for the company said it is "pleased" with the decision.
According to reports, the jury reached its decision within 30 minutes following a trial that lasted two weeks.
Johnson & Johnson faces more than 14,000 lawsuits alleging that the company's popular talc-based baby powder was contaminated by asbestos and caused ovarian cancer and mesothelioma.
Both types of cancer are extremely aggressive and often deadly.
Not all juries have ruled in favor of Johnson & Johnson.
In 2018, a St. Louis jury decided against the company, ordering Johnson & Johnson to pay $4.69 billion to 22 plaintiffs. The company also recently lost verdicts awarding $325 million and $25 million to other alleged victims.
The baby powder cancer lawsuits represent some of the highest profile and closely watched mass tort cases in recent memory.
Will Johnson & Johnson baby powder cases be dismissed?
Johnson & Johnson hopes that the thousands of remaining lawsuits will be dismissed. A hearing to determine whether or not plaintiffs' expert evidence can be used in court recently concluded, and a judge's decision is expected soon.
In what is known as a "Daubert" hearing, J&J argued that the scientific evidence presented by plaintiffs has not been properly tested and cannot be considered reliable.
U.S. District Judge Freda Wolfson's decision will almost certainly have a tremendous impact on the company's bottom line — and thousands of plaintiffs' shot at compensation for their claims.
According to a report in The Wall Street Journal, a lawyer for Johnson & Johnson said "there's nowhere for these cases to go" if the judge rules in favor of the company.
Johnson & Johnson continues to deny that its talcum powder was contaminated with cancer-causing asbestos, calling its most recent court victory "consistent with the decades of clinical evidence and scientific studies by medical experts around the world that support the safety of Johnson's Baby Powder."
***IMPORTANT UPDATE: A federal judge has ruled that baby powder cancer lawsuits against Johnson & Johnson can proceed. 
Do you qualify for a J&J baby powder / talcum powder lawsuit?
If you've been exposed to Johnson & Johnson's talc-based Baby Powder and diagnosed with ovarian cancer or mesothelioma, you may have an injury claim for compensation — and you deserve justice.
You may qualify if you meet the following criteria:
Must have used Johnson & Johnson Baby Powder or Shower-to-Shower talcum powder for 4+ years continuously in the general area
Must be diagnosed with ovarian cancer, mesothelioma, or endometroid ovarian cancer
Must have been diagnosed in 2009 or later
Must have used talcum powder before menopause
Our North Carolina talcum powder attorneys are actively evaluating these cases and would love to see if we can help you.
For a FREE consultation, please call 1-800-525-7111 or complete the short form below.
If you decide to hire us, there is no upfront cost and no attorney fee unless we win your case and you receive financial compensation.
If you've been injured due to the negligence of another person or company, you deserve justice.
"Negligent companies whose actions result in injury should be held accountable." -Gene Riddle
We'd love to see if we can help.
Call 1-800-525-7111 today and let's talk.
Justice Counts.