3M Earplug Lawsuit $55 Million Verdict Slashed to $21.7 Million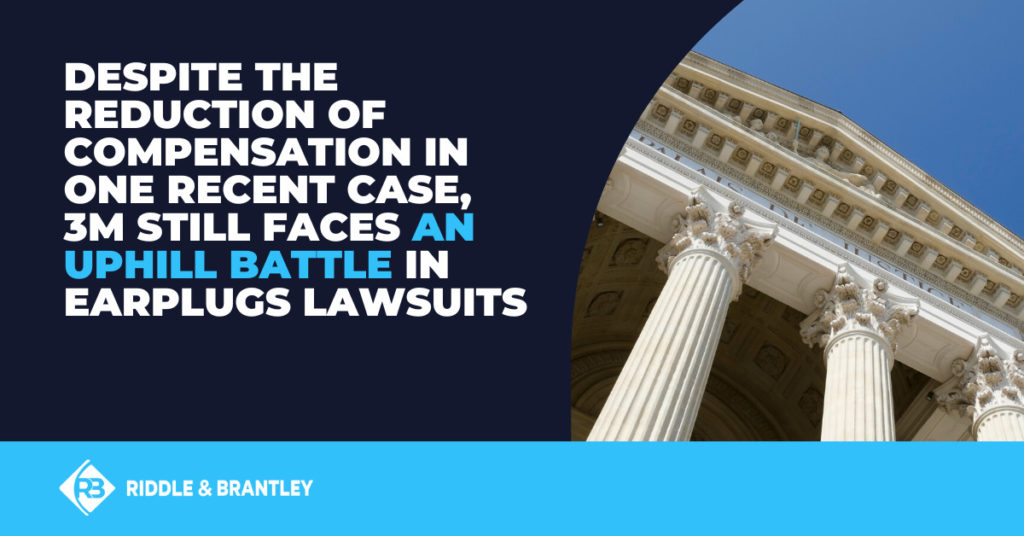 A federal judge has slashed a $55 million jury award given to a U.S. Army veteran William Wayman in a 3M earplugs lawsuit victory over combat earplugs manufacturer 3M to $21.7 million. The original $55 million award was given to the plaintiff after a jury found that 3M was responsible for a design flaw in their Combat Arms earplugs that were distributed to the U.S. military between 2003 and 2015 that caused the earplugs to not block noise effectively, resulting in hearing damage to the wearer.
The judge cited jury award limits in Colorado that cap how much in non-economic damages can be awarded by a jury as the reason for the award reduction. Because of this, the compensatory damages that were initially awarded to the plaintiff were reduced from $15 million to $7.2 million.
A Colorado law also states punitive damages cannot be more than actual damages; however, they can be increased if a defendant was found to have "engaged in bad faith conduct." The federal judge wrote that the punitive damages would only be reduced to $14.5 million because the jury demonstrated this in their findings.
Recent Verdicts in 3M Earplug Lawsuits 
Along with William Wayman, Ronald Sloan was also awarded $55 million in damages in the same trial against 3M. Currently, his award amount has not been reduced as he does not live in Colorado like Mr. Wayman.
A jury also just awarded another U.S. Army servicemember $77.5 million for hearing damages suffered after wearing 3 M's earplugs during his time in the service.
These trials are part of massive litigation against 3M, with more than 290,000 claims currently filed against them in a Pensacola court, making this the largest multi-district litigation (MDL) in U.S. history. These current trials are part of a series of bellwether trials that will hopefully help determine whether 3M will settle this massive collection of claims. So far, plaintiffs have prevailed in 10 cases, while 3M has won in six.
And 3M's legal troubles don't stop there. In 2021, they were also forced to settle a whistleblower lawsuit filed under the False Claims Act with the Department of Justice. This required them to pay out $9.1 million to the U.S. government over the earplug defect. Under the settlement terms, 3M did not have to admit any fault or liability.
What's Wrong with 3M Military Earplugs?
The Combat Arms earplugs were designed for U.S. military service members to protect their ears from loud, damaging noises while still allowing them to hear spoken commands. However, unknown to the servicemembers, an alleged design flaw in the earplugs could cause them to loosen or not fit properly when inserted and then allow damaging sound levels to penetrate. This is alleged to have caused long-term, irreversible hearing damage among thousands of service members.
What's Next for 3M Lawsuits?
The final bellwether trials have now concluded, and with the plaintiffs winning the majority of cases, there will now be significant pressure on 3M to settle the remaining pending cases. If no agreement is reached, the trials will proceed in groups of 50 claimants, which could take years to process. There's no indication yet of how 3M will respond to the outcome of the bellwether trials, but we can be sure that plaintiffs are watching closely for any sign that 3M is ready to settle.
Do You Have a Claim?
There is still time to file a 3M earplugs lawsuit but the clock is ticking. If you've served in active combat 2003-2015 and were diagnosed with hearing loss or tinnitus, you may qualify for a claim. Please call 1-800-525-7111 and let's review your case.
"By far the best law firm that actually cares about helping veterans."
–B.F., Riddle & Brantley client
We believe Justice Counts for military service members and are ready to help you however we can. Call 1-800-525-7111 and let's review your claim.