Is Zantac Dangerous?
On April 1, 2020 the Federal Drug Administration (FDA) requested all manufacturers withdraw all prescription and over the counter (OTC) ranitidine drugs (Zantac and others) from the market immediately. This was due to the presence of a contaminant known as N- Nitrosodimethylamine (NDMA). When this contamination was first recognized, it caused the FDA, doctors and patients to wonder: "Is Zantac dangerous?"
NDMA in Zantac is potentially dangerous. Zantac is a toxic carcinogen that may cause disease and cancer in certain organs.
Zantac (ranitidine) is often used to treat:
Heartburn (acid reflux)
Peptic ulcer disease
Stress-induced ulcers
Gastroesophageal reflux disease (GERD)
Zollinger-Ellison syndrome
Hives (off label use)
Anaphylaxis (secondary treatment)
Ranitidine (also known as Zantac, sold by the drug company Sanofi) is available OTC and by prescription.
Zantac and ranitidine belong to the class of drugs known as H2 (histamine-2) blockers. OTC ranitidine is often used to relieve and prevent heartburn. Prescription strengths are used to prevent more serious ulcers in the stomach and intestines. There are multiple companies that sell the generic versions of the OTC Zantac and prescription products.
Is Zantac dangerous?
FDA testing and evaluation prompted by information from third-party laboratories confirmed that NDMA levels increase in ranitidine even under normal temperatures and storage conditions. However, NDMA has been found to increase heavily in samples stored at higher temperatures, including temperatures the product could be exposed to during handling and distribution.
The testing also showed that the older the ranitidine product becomes the higher the amount of NDMA is found in the product. These conditions could raise the level of NDMA to what the FDA has called an "unacceptable" daily intake limit.
"I take Zantac. What should I do?"
The FDA has ordered manufacturers to stop selling Zantac and ranitidine and is advising consumers who take OTC ranitidine to discontinue taking it. Other FDA approved OTC medications are available to treat heartburn or acid reflux. All people taking prescription ranitidine should speak to their doctor about alternatives before stopping the medication.
For those taking prescription Zantac or higher dose ranitidine, the FDA advises that they talk with their doctor immediately. There are Zantac alternatives available that do not contain NDMA contaminants.
So, Is Zantac dangerous?
The risks are clear: Zantac and ranitidine medications are contaminated with NDMA, a known cancer-causing chemical.
A Warning to Manufacturers
The FDA is asking all companies that manufacture ranitidine and similar medications (both H2 blockers, the class of drugs that ranitidine belongs, and proton-pump inhibitors, or PPI's – a different class of drugs which is used for the same conditions), to test their products using heat closer to that of normal body heat in order to determine if these drugs are dangerous.
The FDA is likely recommending these tests as a precaution. As of now, there is no indication these other products are affected.
***UPDATE: As of April 2020, the FDA has ordered Zantac and ranitidine manufacturers to stop selling these products immediately due to potential cancer risk associated with NDMA contamination.
IMPORTANT: A federal judge recently ruled against lawsuits concerning generic Zantac. At this point, we can only accept cases concerning use of brand-name Zantac OR "mixed" use of brand-name Zantac and generic equivalents.
What is NDMA?
NDMA is a semi-volatile organic chemical known to be toxic and cancer-causing to the liver as well as other organs. Even small amounts may be linked to liver damage. It is an environmental contaminant found in water, meat, dairy, vegetables and grilled meat. It is classified as a B2 carcinogen, meaning it is a probable human carcinogen.
Exposure to large amounts of NDMA is thought to cause stomach cancer or colorectal cancer, according to the World Health Organization. In fact, NDMA has been used to create cancer in rats in lab testing.
Many other cancers may potentially be linked to NDMA-contaminated Zantac.
Beyond the cancer dangers linked to Zantac or ranitidine, NDMA may pose other dangers. In animals and humans, exposure has led to liver damage and in larger amounts, even death.  There is also reason to believe that NDMA may harm a human fetus. When pregnant mice were fed NDMA, their babies were either born dead or died shortly after birth.
Is generic Zantac dangerous, too?
Many questions remain about how much NDMA is in ranitidine. Last year 90% of the drugs sold in the United States were generic. Of those generic drugs, 80% were at least partly made overseas, where labor costs are much lower. Many times, insurance companies only cover the least expensive version of a medication, so the demand for generics is high.
Keeping the cost of medications low may come with a price. It may mean less quality control, says David Gortler, PharmD, a pharmacology expert and former FDA medical officer. "There's a problem endemic in generic drugs manufactured overseas, particularly in countries like China and India," he says. "There really should be no risk of cancer-causing impurities with ranitidine, when the drug is produced correctly. The NDMA content is at least 30 orders of magnitude over what it should be in one test. Other lots could be higher or lower than that, but nobody is testing these cheap generic drugs, including the FDA."
It is important to note that if you have heartburn or acid reflux there are other medications you can use. These medications do not include ranitidine and may be safer to use. Be sure to talk to your doctor about other medications that are available.
"I took Zantac and developed cancer. Do I have a claim for compensation?"
FEBRUARY 2023 UPDATE: Due to recent developments in the litigation, our firm is no longer accepting Zantac claims. Please stay tuned to our website for the latest information and updates.
The medication sold as Zantac (ranitidine) has been connected to high levels of the cancer-causing impurity NDMA and has been recalled. If you developed cancer following long-term use of the brand-name drug, you could have legal options for Zantac compensation.
IMPORTANT: A federal judge recently ruled against lawsuits concerning generic Zantac. At this point, we can only accept cases concerning use of brand-name Zantac OR "mixed" use of brand-name Zantac and generic equivalents.
Riddle & Brantley is an experienced firm that has been holding drug companies accountable for decades. We can help consumers who have used brand-name Zantac and have been diagnosed with a qualifying cancer, provided they meet certain other criteria.
You may qualify for a Zantac lawsuit if you meet the following criteria:
Used brand-name Zantac only
Suffered from at least one of the following cancers:
Must have used brand-name Zantac after October 1984
Must have used brand-name Zantac for a minimum of one year
Must have used brand-name Zantac once per week for a minimum of six months
Must have been diagnosed with a qualifying cancer within 20 years of last dose
Must not have been a smoker in the past 20 years if diagnosed with lung cancer
Must be 64 years of age or younger at the time of diagnosis if diagnosed with prostate cancer
Certain other criteria may apply. For a FREE, no-obligation consultation with an experienced Zantac lawsuit attorney, please call 1-800-525-7111.
PLEASE NOTE: At this time, the federal MDL has limited the Zantac claims we can accept to bladder, esophageal, stomach, liver, and pancreatic cancers only. We understand that other cancers may be linked, but we are unfortunately unable to assist with these claims at this time due to evidence and recent court rulings.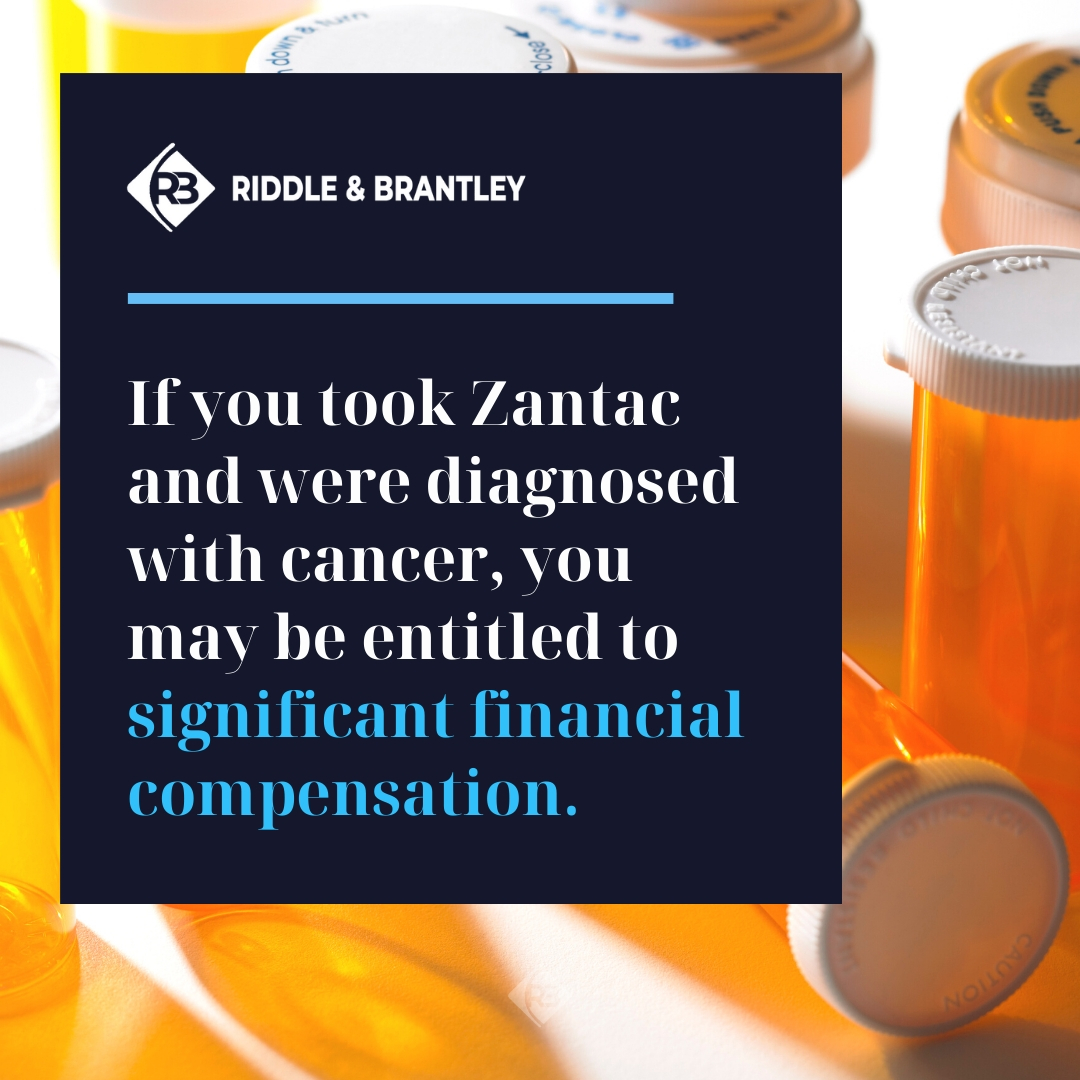 Please call 1-800-525-7111 or fill out the quick form below for a free, no-obligation consultation with a Zantac cancer lawyer today.
The consultation is FREE with no obligation and there are no upfront costs.
We will not get paid unless we recover compensation for you. Let one of our dangerous drug attorneys help you. Victims of negligence committed by drug companies deserve justice, and Riddle & Brantley has been fighting for injured clients since 1985.
You deserve a law firm that cares. When you come to Riddle & Brantley with your Zantac case, you'll get more than 220+ years combined legal experience.
We are a supportive law firm that truly cares for our clients, and we strive to treat each client like family. We will carefully listen to you, so we understand your needs, questions and goals.
If you or a loved one has been diagnosed with cancer after taking brand-name Zantac (or a combination of brand-name Zantac and generic Zantac), please call 1-800-525-7111 or fill out the quick form below for a FREE, no-obligation consultation with a Zantac lawsuit attorney at Riddle & Brantley.
You don't have to go through this alone. We are here to help. Please call 1-800-525-7111 today to speak with a Zantac cancer lawyer who can help.
You may be entitled to significant financial compensation.
We believe Justice Counts for victims of dangerous drugs and we would love to help you if we can.
Please call 1-800-525-7111 today and let's review your case.
***Disclaimer: No settlement agreement has been reached in any litigation regarding ranitidine (ZANTAC®), including in the Multidistrict Litigation in the United States District Court for the Southern District of Florida (case no. 20-MD-2924).