What Compensation is Available in a Zantac Lawsuit?
As Zantac lawsuits heat up across the country, many are asking, "What compensation is available in Zantac cancer lawsuits?"
Zantac, the brand name for the generic drug ranitidine, is contaminated with NDMA, which has been identified as a probable human carcinogen. It may have put thousands at risk for developing dangerous cancers due to Zantac use.
Compensation may be available to those who file or join a Zantac lawsuit alleging that Zantac or ranitidine caused their cancer.
If you have taken Zantac and later developed cancer, you may be entitled to compensation in a Zantac cancer lawsuit. Call 1-800-525-7111 today or fill out our convenient form for a FREE, no-obligation consultation to review your eligibility for a potential Zantac cancer lawsuit.
An estimated 15 million Americans have taken prescription ranitidine (the generic name for Zantac) and are now at risk for developing many different forms of cancer.
People who have taken Zantac and have later developed cancer may be entitled to financial compensation and we're often asked:
"What compensation is available in a Zantac lawsuit?"
In this blog post, we'll review the claims against Zantac and discuss what kind of compensation victims might anticipate in a potential Zantac lawsuit or cancer claim.
What Kind of Zantac Compensation is Available? 
IMPORTANT: There are never any guarantees concerning the outcome of a potential claim or lawsuit. Every case is different and the outcome / potential compensation will depend on the unique facts and circumstances of the case.
If a particular case with multiple plaintiffs settles, how much compensation you could potentially receive in a Zantac cancer lawsuit depends on a variety of factors, such as:
the final amount of the settlement
the severity of each claimant's damages
other legal factors
In anticipating potential Zantac cancer lawsuit settlements, we can also look to history.
Recent, high-profile dangerous drug settlements include:
Infant's Tylenol (2020)
In January of 2020, Johnson and Johnson agreed to settle with a class-action claimants for a total of $6.3 million in damages. The settlement was based on the marketing materials being used for Infant's Tylenol being misleading to consumers to believe that the product was specially formulated for infants, when in fact, the product contained no less acetaminophen than Children's Tylenol.
Risperdal (2019)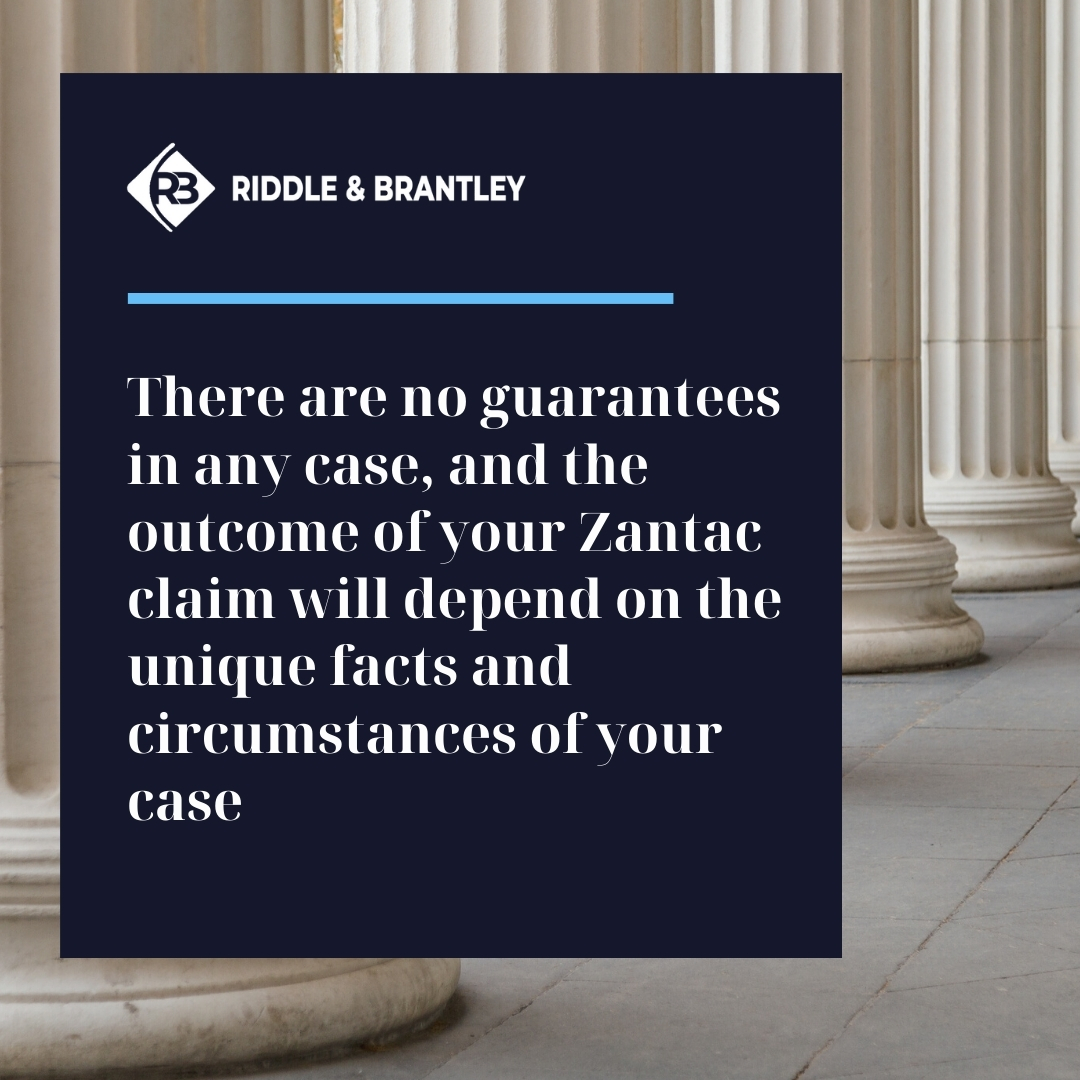 In 2019, a judge awarded $8 billion in punitive damages to plaintiffs who claimed that Johnson & Johnson illegally marketed and sold the drug Risperdal, an anti-psychotic drug, which also caused the growth of female breast tissue in boys.
How much each claimant received in each of these cases depended on a variety of factors such as the extent of their individual damages and other factors, however, these are just some of the types of settlement packages that may be achieved in dangerous drug cases where individuals are subject to undue harm.
This alleged harm can be caused by the companies that market and manufacture drugs with dangerous side-effects or misleading claims.
If you have developed any type of cancer after taking Zantac, you may qualify for a Zantac claim or lawsuit.
If you or someone you know has taken Zantac and been diagnosed with cancer, please give us a call today at 1-800-525-7111 for a FREE, no-obligation consultation.
As always, there is no obligation and you won't pay any attorney fees unless we win your case and you receive financial compensation.
Justice Counts for victims of cancer due to potentially dangerous drugs like Zantac and ranitidine.
Call 1-800-525-7111 today for a FREE consultation with an experienced Zantac lawsuit attorney. In more than three decades, we've recovered millions of dollars in compensation for our deserving clients (see disclaimer below).
"This settlement changed me and my family's lives."
–Linda B., Riddle & Brantley client
"How Much Compensation in a Zantac Lawsuit Can I Expect to Receive?" 
There are never any guarantees and not every case even results in compensation being awarded. The amount of compensation each individual may receive in a potential settlement is based on a variety of factors such as:
Total amount of the settlement
Severity of individual damages
Proof of individual damages
Individuals have received a wide variety of compensation amounts in dangerous drug case settlements.
In addition to the examples listed above, in 2000, the American Home Products Corporation agreed to pay $3.75 billion in damages to customers who were injured by taking the popular diet pill combination fen-phen.
Individual claimants who had sustained a heart valve injury in these cases qualified for as much as $1.5 million in settlement compensation.
"I've taken Zantac and believe I may qualify for a Zantac lawsuit. What should I do?"
If you were not at elevated risk due to other factors and have developed any of these cancers after taking Zantac…
Colorectal cancer
Uterine cancer
Testicular cancer
Thyroid cancer
Throat/nasal cancer
Leukemia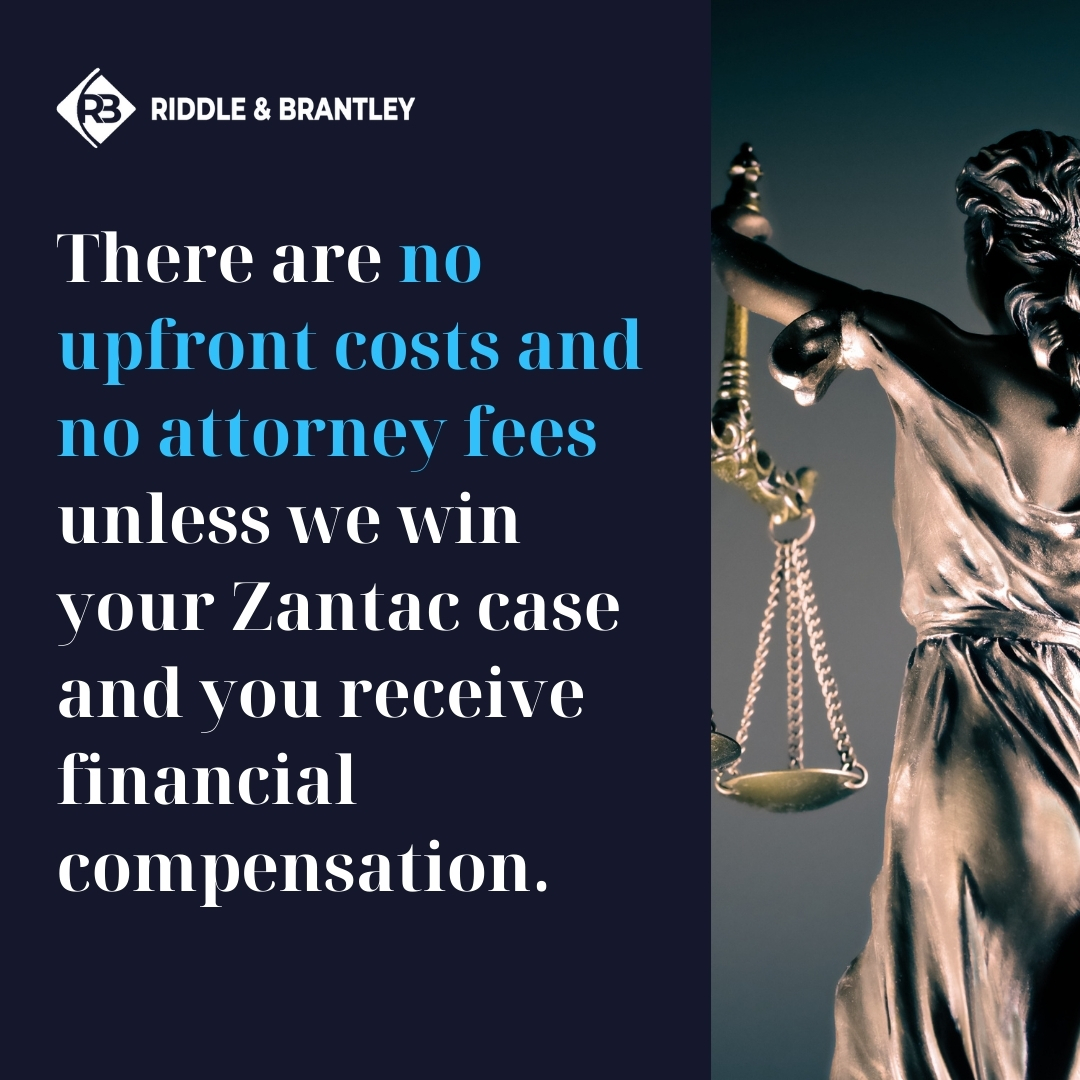 …you may be entitled to compensation and you deserve justice. Call 1-800-525-7111 today for a FREE, no-obligation consultation regarding a potential Zantac cancer claim or lawsuit.
The team of Zantac cancer lawyers at Riddle and Brantley is experienced helping bring to justice those whose negligence has resulted in injury.
Our attorneys have more than 225 years of combined legal experience fighting for the rights of our clients against potentially negligent parties, and we can evaluate your case and advise you on your best legal options.
"They made a hard time in my life easier to endure."
–Melissa C., Riddle & Brantley client
Call 1-800-525-7111 today or fill out the convenient form below so we can review your eligibility for potential compensation in a Zantac cancer lawsuit.
There are no upfront costs or attorney fees unless you receive compensation.
Please call 1-800-525-7111 and let's review your claim. Our Zantac lawyers are ready to help. We understand what you're going through and are committed to doing anything we can to help you get the justice you deserve.
Justice Counts.
---
*** Disclaimer: The results mentioned are intended to illustrate the type of cases handled by the firm. These results do not guarantee a similar outcome, and they should not be construed to constitute a promise or guarantee of a particular result in any particular case. Every case is different, and the outcome of any case depends upon a variety of factors unique to that case.