What Kind of Cancer Does Zantac Cause?
The Federal Drug Administration (FDA) has ordered all ranitidine medications, sold under the brand name Zantac, taken off store shelves. This order is tied to concerns that Zantac could contain a cancer-causing chemical called NDMA. The FDA has ordered Zantac and generic ranitidine manufacturers to stop selling all prescriptions and over-the-counter varieties of this medication. Many patients are wondering "What kind of cancer does Zantac cause?"
Kinds of Cancer Potentially Caused by Zantac
While it is not entirely known what cancers NDMA-contaminated Zantac may cause — a research study is currently underway at Sloan Kettering Memorial Cancer Center — the following cancers may potentially be caused by Zantac:
Colorectal
Uterine
Throat/nasal
Thyroid
Testicular
Leukemia
Non-Hodgkins lymphoma
Multiple myeloma
What Kind of Cancer Does Zantac Cause: Research Continues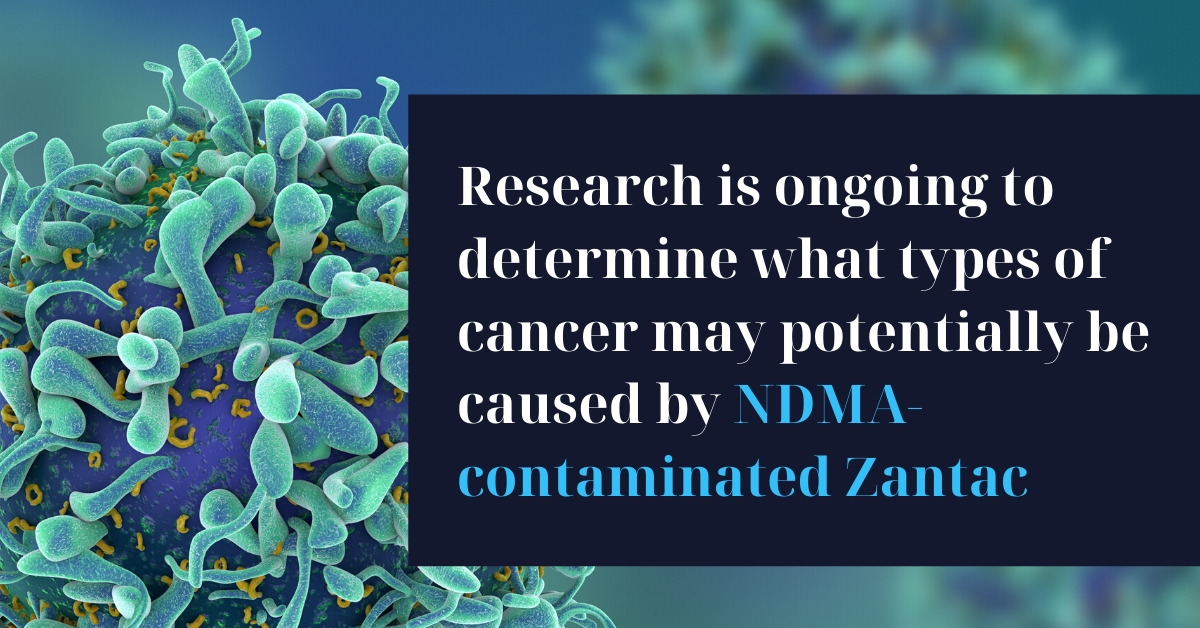 Zantac may cause other cancers due to its potential NDMA contamination. We will continue to update this page as more information becomes available.
If you've taken Zantac and been diagnosed with any of the cancers listed above, you may have a case for financial compensation.
For a FREE consultation with a Zantac cancer lawsuit lawyer, please call 1-800-525-7111 or complete the short form below.
There is no obligation and you won't pay any attorney fees unless we win your case and you receive financial compensation.
What is Zantac?
Zantac is a popular over the counter (OTC) medication used to prevent and treat heartburn, or acid reflux. This type of medication is also called an antacid. The generic substitute for Zantac is ranitidine.
Zantac and other antacids work by reducing the production of acid in the stomach.
Heartburn, or acid reflux, is one of the most common medical conditions in the United States.  The American College of Gastroenterology reports that 60 million Americans have heartburn at least once a month. Millions have taken Zantac for heartburn, potentially placing them at risk for NDMA-contaminated Zantac cancer.
Zantac (ranitidine) is used to treat:
Heartburn (acid reflux)
Peptic ulcer disease
Stress-induced ulcers
Gastroesophageal reflux disease (GAR)
Zollinger-Ellison syndrome
Hives (off label use)
Anaphylaxis (secondary treatment)
In October 2019 the Food and Drug Administration (FDA) issued a warning that Zantac and certain other generic formulations of ranitidine are contaminated with NDMA (N- nitrosodimethylamine) – a dangerous chemical that potentially causes cancer.
This warning was followed by the FDA recall of Zantac and other ranitidine-containing medications.
What is NDMA?
NDMA is a semi-volatile organic chemical known to be toxic and cancer-causing to the liver as well as other organs.  Even small amounts may be linked to liver damage. It is an environmental contaminant found in water, meat, dairy, and vegetables. It is classified as a B2 carcinogen, meaning it is a probable human carcinogen.
Exposure to large amounts of NDMA is thought to cause gastric or colorectal cancer, according to the World Health Organization. In fact, NDMA has been used to create cancer in rats in lab testing.
The medication sold as Zantac (ranitidine) has been connected to high levels of a cancer-causing impurity and has been recalled.  If you developed cancer following long-term use of Zantac or generic ranitidine, you could have legal options for compensation.
The Zantac lawsuit lawyers at Riddle & Brantley may be able to help. We can help consumers who have used Zantac and have been diagnosed with any of the following cancers:
Colorectal
Pancreatic
Testicular
Uterine
Lung (if you've never smoked)
Leukemia
Non-Hodgkins lymphoma
Multiple myeloma
Please call 1-800-525-7111 or fill out the quick form below for a FREE consultation regarding a potential Zantac lawsuit.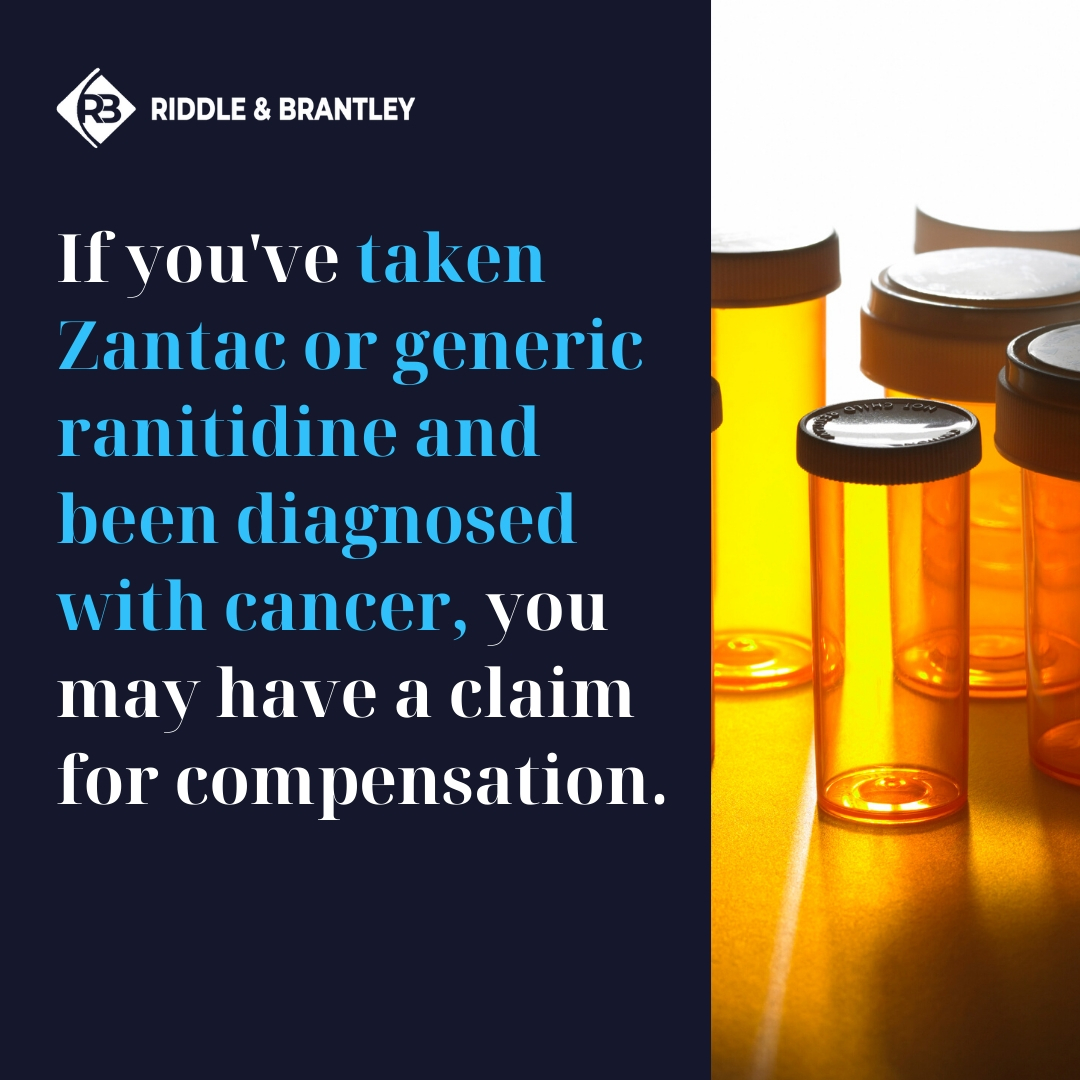 We are here to help. The consultation is FREE with no obligation and there are no upfront costs. We will not get paid unless we recover compensation for you.
Let one of our dangerous drug attorneys help you.
Victims of negligence committed by drug companies deserve justice, and Riddle & Brantley has been fighting for injured clients since 1985.
Please call 1-800-525-7111 to speak with a Zantac lawsuit attorney today.
Beyond the cancer danger of Zantac or ranitidine, NDMA poses other dangers. In animals and humans, exposure has led to liver damage and in larger amounts, even death. There is also reason to believe that NDMA may harm a human fetus. When pregnant mice were fed NDMA, their babies were either born dead or died shortly after birth.
Generic Zantac: What Are the Cancer Risks of Ranitidine?
Last year 90% of the drugs sold in the United States were generic. Of those generic drugs, 80% were at least partly made overseas, where labor costs are much lower. Many times, insurance companies only cover the least expensive version of a medication, so the demand for generics is high.
Keeping the cost of medications low may come with a price.
It may mean less quality control, says David Gortler, PharmD, a pharmacology expert and former FDA medical officer.
"There's a problem endemic in generic drugs manufactured overseas, particularly in countries like China and India," says Gortler. "There really should be no risk of cancer-causing impurities with ranitidine, when the drug is produced correctly. The NDMA content is at least 30 orders of magnitude over what it should be in one test. Other lots could be higher or lower than that, but nobody is testing these cheap generic drugs, including the FDA."
It is important to note that if you have heartburn or acid reflux there are other medications you can use.  These Zantac alternative medications do not include ranitidine and may be safer to use.
Be sure to talk to your doctor about other medications that are available.
Why Riddle & Brantley?
You deserve a law firm that cares. When you hire Riddle & Brantley for your Zantac case, you'll get more than 200 years of combined legal experience working on your behalf.
We are a supportive law firm that truly cares for our clients. We will carefully listen to you, so we understand your needs, questions, and goals.
"Drug companies whose negligence results in injury or death must be held accountable."
–Gene Riddle, managing partner at Riddle & Brantley
If you or a loved one has been diagnosed with cancer after taking Zantac or generic ranitidine, please call 1-800-525-7111 or fill out the quick form below for a FREE, no-obligation consultation with a Zantac lawsuit attorney at Riddle & Brantley. 
If you decide to hire us, we will work tirelessly on your case and answer any questions you have. We care about our clients and their families. We want to take the stress off your shoulders so you can get back to your life.
Please call 1-800-525-7111 today to speak with a Zantac cancer lawsuit attorney. We will evaluate your case and advise you on your best legal options for seeking compensation.
"The settlement changed me and my family's lives."
-Linda B., Riddle & Brantley client
Justice Counts for you and your loved ones.