Is There a Safe Alternative to Zantac?
Safe Zantac Alternatives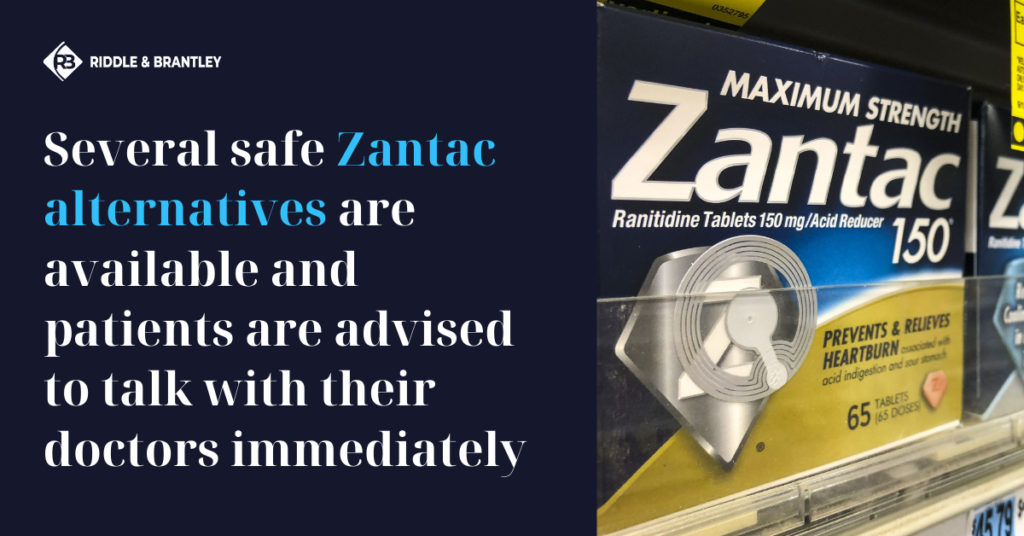 In the wake of the FDA's urgent warning that Zantac may cause cancer, many heartburn sufferers are wondering about Zantac alternatives. In particular, "Are there any safe alternatives to Zantac?" And if so, "What is the best alternative to Zantac?"
WARNING: The FDA has ordered manufacturers to stop selling Zantac and generic ranitidine due to potential cancer associated with possible NDMA contamination. If you take prescription Zantac, talk with your doctor immediately. Those taking over-the-counter Zantac and other ranitidine medications are encouraged by the FDA to stop taking it immediately and seek Zantac alternatives.
Potential Zantac Alternatives
Zantac is one of the most common medications for treating heartburn in the United States. More than 15 million people are estimated to take prescription Zantac in the U.S., and millions more take the over-the-counter (OTC) version or other generic equivalents containing ranitidine.
The FDA and scientific researchers have warned that Zantac and other ranitidine-containing medications are contaminated with "unacceptable" levels of NDMA — a potentially cancer-causing chemical.
If you take prescription Zantac, over-the-counter Zantac or generic ranitidine, the FDA advises you and your doctor to consider Zantac alternatives.
Two classes of drugs may be appropriate alternatives to Zantac and generic ranitidine:
Proton pump inhibitors (PPIs)
H2 histamine receptor antagonists
Proton Pump Inhibitor Zantac Alternatives
The following proton pump inhibitors are FDA-approved and may be appropriate, safe Zantac alternatives for treating heartburn, depending on the advice of your doctor:
Esomeprazole (Nexium), lansoprazole (Prevacid), and omeprazole (Prilosec) are PPIs (proton pump inhibitors). According to a report by MedTruth, PPIs are a "class of drug that work by irreversibly blocking the secretion of acid into the stomach by specific enzymes.
H2 Histamine Receptor Antagonist Zantac Alternatives
Zantac belongs to a class of medications called H2 histamine receptor antagonists. These medications work "by blocking histamine from activating he stomach lining cells that create and secrete acid into the stomach," according to MedTruth.
While Zantac has been linked to NDMA contamination which may cause cancer, the contamination appears to be present only in ranitidine.
Two other H2 histamine receptor antagonists may be appropriate Zantac and generic ranitidine alternatives:
It is important to note that while these medications are generally tolerated well by patients, but certain H2 histamine receptor antagonists like cimetidine (Tagamet) have been linked to certain, potentially dangerous side effects.
"What Does the FDA Recommend as a Zantac Alternative?"
Following the recall of Zantac due to NDMA contamination and associated cancer risk, the US Food & Drug Administration (FDA) listed several Zantac alternatives in its initial press release. These alternate medications may be a suitable replacement for Zantac, but as with all medications listed above, you should check with your doctor.
FDA-Recommended Zantac Alternatives
Famotidine (Pepcid)
Cimetidine (Tagamet)
Esomeprazole (Nexium)
Lansoprazole (Prevacid)
Omeprazole (Prilosec)
According to the FDA's press release, "Patients taking prescription ranitidine should speak with their health care professional about other treatment options before stopping the medicine, as there are multiple drugs approved for the same or similar uses as ranitidine that do not carry the same risks from NDMA," including the drugs listed above.
"I take Zantac. Now what?"
The FDA advises those taking Zantac or generic ranitidine over-the-counter (OTC) to stop taking these drugs and seek potential alternatives. Those taking prescription Zantac or generic equivalents are advised to consult with their prescribing physician immediately. There are a variety of safe ranitidine alternatives available and your physician can help you make an informed decision.
The medications listed above are often effective in treating heartburn, which is a symptom of gastroesophageal reflux disease, or GERD. They may be appropriate alternatives to Zantac, but your specific circumstances may warrant different treatment.
IMPORTANT: As always, patients seeking Zantac alternatives are advised to consult with their doctor immediately for professional advice.
Have you taken Zantac and been diagnosed with cancer?
If you've taken brand-name Zantac and been diagnosed with certain types of cancer, NDMA in Zantac may be responsible and you may be entitled to significant financial compensation in a Zantac lawsuit.
IMPORTANT: A federal judge recently ruled against lawsuits concerning generic Zantac. At this point, we can only accept cases concerning use of brand-name Zantac OR "mixed" use of brand-name Zantac and generic equivalents.
You may qualify for a Zantac lawsuit if you meet the following criteria:
Used brand-name Zantac only
Suffered from at least one of the following cancers:

Bladder cancer
Liver cancer
Stomach cancer
Esophageal cancer
Pancreatic cancer

Must have used brand-name Zantac after October 1984
Must have used brand-name Zantac for a minimum of one year
Must have used brand-name Zantac once per week for a minimum of six months
Must have been diagnosed with a qualifying cancer within 20 years of last dose
Must not have been a smoker in the past 20 years if diagnosed with lung cancer
Must be 64 years of age or younger at the time of diagnosis if diagnosed with prostate cancer
Certain other criteria may apply. For a FREE, no-obligation consultation with an experienced Zantac lawsuit attorney, please call 1-800-525-7111.
PLEASE NOTE: At this time, the federal MDL has limited the Zantac claims we can accept to bladder, esophageal, stomach, liver, and pancreatic cancers only. We understand that other cancers may be linked, but we are unfortunately unable to assist with these claims at this time due to evidence and recent court rulings.
For a FREE consultation with a Zantac lawsuit attorney, please call 1-800-525-7111 or complete the short form below.
There is no obligation and there are no upfront costs or attorney fees unless we win your case and you receive financial compensation.
Riddle & Brantley has been fighting for victims of negligence by drug companies for more than three decades, and since 2000 alone, we've recovered more than $600 million in total compensation for victims of others' negligence (see disclaimer below).
Our team is led by attorney Gene Riddle, who has been recognized as a member of The National Trial Lawyers Top 100, Million Dollar Advocates Forum and Multi-Million Dollar Advocates Forum and Super Lawyers. He has a prestigious AV Preeminent rating from Martindale-Hubbel and is the recipient of the 2014 Litigator Award (see disclaimer below).
Our dangerous drug attorneys fight tirelessly for justice and compensation for our deserving clients, and we are actively investigating cases involving these potential cancers caused by Zantac:
For a FREE, no-obligation consultation regarding a potential Zantac cancer lawsuit, please call 1-800-525-7111 today and let's review your case.
We believe Justice Counts for those potentially injured due to alleged negligence by drug manufacturers and we are ready to help however we can. Consult with a Zantac lawyer at Riddle & Brantley for free and at no obligation today.
Please call 1-800-525-7111 today and let's talk. You deserve justice and you may be entitled to financial compensation if you've been diagnosed with cancer after taking Zantac.
---
***Disclaimer: No settlement agreement has been reached in any litigation regarding ranitidine (ZANTAC®), including in the Multidistrict Litigation in the United States District Court for the Southern District of Florida (case no. 20-MD-2924). 
*** Disclaimer: An attorney must meet certain requirements to join these organizations or receive these awards. For more information on Membership Criteria for Million Dollar Advocates Forum, Multi-Million Dollar Advocates Forum, Super Lawyers, The National Trial Lawyers Top 100, AV Preeminent from Martindale-Hubbell, or the Litigator Award, please visit our Membership Criteria page. These awards and memberships should not be construed as a promise or guarantee of a similar result. Each case is different and must be evaluated separately.
*** Disclaimer: The results mentioned are intended to illustrate the type of cases handled by the firm. These results do not guarantee a similar outcome, and they should not be construed to constitute a promise or guarantee of a particular result in any particular case. Every case is different, and the outcome of any case depends upon a variety of factors unique to that case.