Should You Take Zantac While Pregnant?
***WARNING: The FDA has issued an urgent warning that levels of NDMA contamination in Zantac presents a dangerous risk of cancer. The FDA advises those taking prescription Zantac or ranitidine to consult with their doctor immediately, and those taking over-the-counter OTC Zantac or other ranitidine-containing products to stop taking the medication and seek Zantac alternatives. Those taking Zantac while pregnant are cautioned to follow this advice and talk with their doctor immediately.
The New York Times reports that as many as half of expectant mothers experience heartburn while pregnant. For many of these pregnant women, Zantac is a preferred treatment.
Zantac is a popular treatment for heartburn and has been taken by millions of Americans over the past several decades. It was originally approved by the FDA IN 1950. However, taking Zantac while pregnant may be dangerous.
Why is Zantac dangerous for pregnant women?
Zantac may be especially dangerous for pregnant women.
In April 2020, the FDA confirmed a study published by an independent lab that Zantac contains elevated levels of NDMA — a dangerous, potentially cancer-causing chemical that occurs naturally in certain foods and water, but can cause cancer at higher levels.
The FDA announced that it had requested all Zantac and ranitidine manufacturers to immediately stop selling the popular drugs. Pharmacies like Walgreens, CVS and RiteAid had already pulled Zantac from their shelves.
While it is unknown exactly which cancers Zantac may potentially cause, these cancers are thought to be associated:
Uterine cancer
Testicular cancer
Leukemia
Non-Hodgkins lymphoma and other lymphomas
Multiple myeloma
Thyroid cancer
Throat and nasal cancer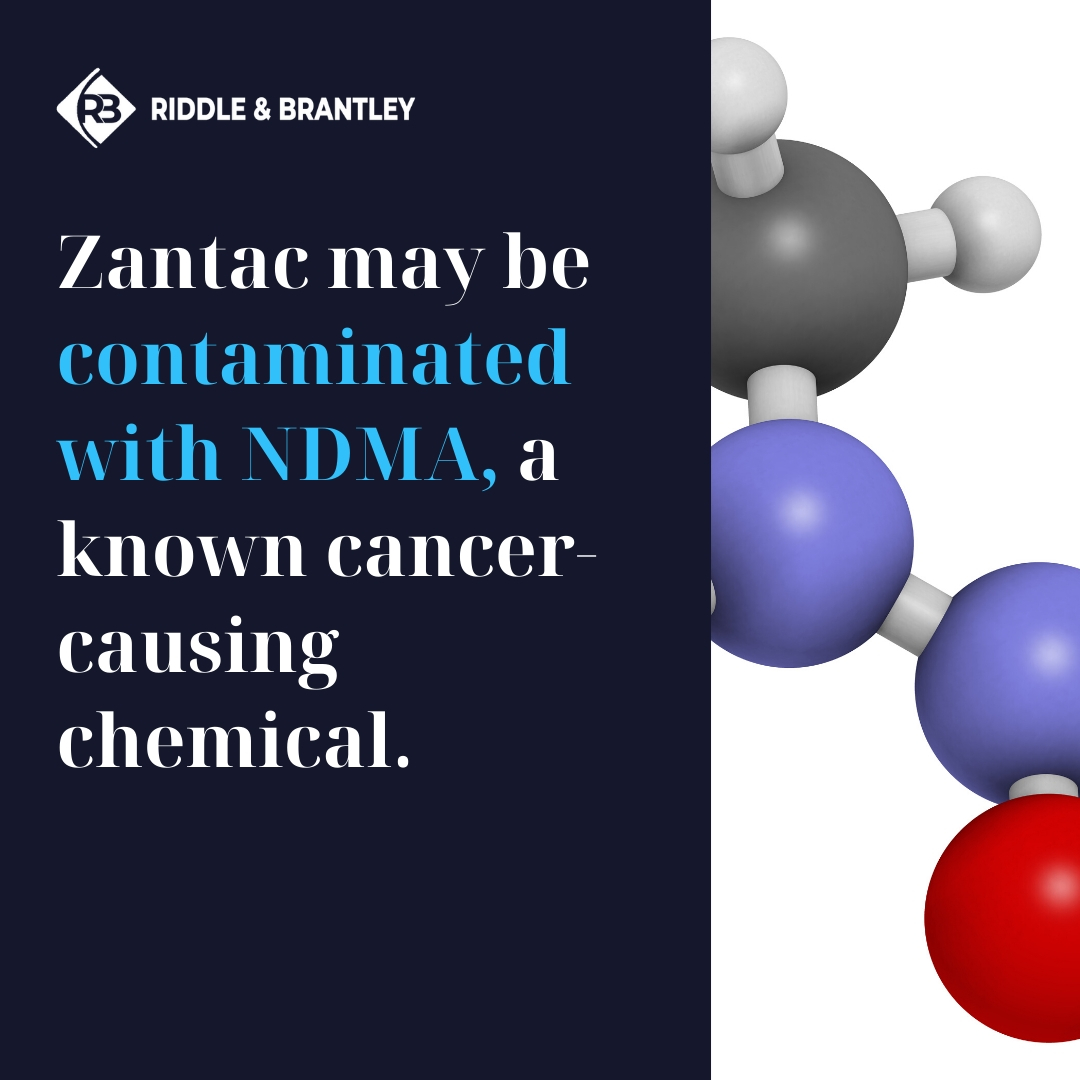 In addition to the dangers presented by Zantac to the general population, it may be especially dangerous to take Zantac while pregnant.
Women who are pregnant are especially susceptible to acid reflux, which causes "heartburn." According to the New York Times, "It's believed that pregnancy hormones, such as progesterone, can relax the muscular valve in the stomach, which usually closes to prevent stomach acids from backflowing into the esophagus."
Because pregnant women and fetuses can be particularly sensitive to environmental and chemical changes, it is especially important that women not take Zantac while pregnant.
"I'm pregnant and have been taking Zantac. Should I be worried?"
For those women who have been taking Zantac while pregnant, Dr. Nicole Smith, a maternal-fetal medicine specialist at Brigham and Women's Hospital in Boston, advises the risk is "small" but that women should heed the FDA's warning and seek alternatives.
IMPORTANT: If you are pregnant and taking Zantac, the FDA has cautioned that Zantac may be contaminated with NDMA and potentially cause cancer. It is recommended that you talk with your prescribing doctor immediately and stop taking Zantac or generic ranitidine immediately if you are taking the medication in its over-the-counter formulations.
Have you taken Zantac and been diagnosed with cancer?
Zantac class action lawsuits are being filed in order to hold manufacturers accountable for potential cancers linked to Zantac.
You may qualify for a Zantac lawsuit if you meet the following criteria:
Used brand-name Zantac only
Suffered from at least one of the following cancers:

Bladder cancer
Liver cancer
Stomach cancer
Esophageal cancer
Pancreatic cancer

Must have used brand-name Zantac after October 1984
Must have used brand-name Zantac for a minimum of one year
Must have used brand-name Zantac once per week for a minimum of six months
Must have been diagnosed with a qualifying cancer within 20 years of last dose
Must not have been a smoker in the past 20 years if diagnosed with lung cancer
Must be 64 years of age or younger at the time of diagnosis if diagnosed with prostate cancer
PLEASE NOTE: At this time, the federal MDL has limited the Zantac claims we can accept to bladder, esophageal, stomach, liver, and pancreatic cancers only. We understand that other cancers may be linked, but we are unfortunately unable to assist with these claims at this time due to evidence and recent court rulings.
Certain other criteria may apply. For a FREE, no-obligation consultation with an experienced Zantac lawsuit attorney, please call 1-800-525-7111.
For a FREE, no-obligation consultation with an experienced Zantac lawsuit lawyer, please call 1-800-525-7111 or complete the short form below.
There is no obligation and there are no attorney fees unless we win your case and you receive compensation.
Please call 1-800-525-7111 today to speak with an attorney handling Zantac cancer lawsuits today.
IMPORTANT: A federal judge recently ruled against lawsuits concerning generic Zantac. At this point, we can only accept cases concerning use of brand-name Zantac OR "mixed" use of brand-name Zantac and generic equivalents.
Why Riddle & Brantley?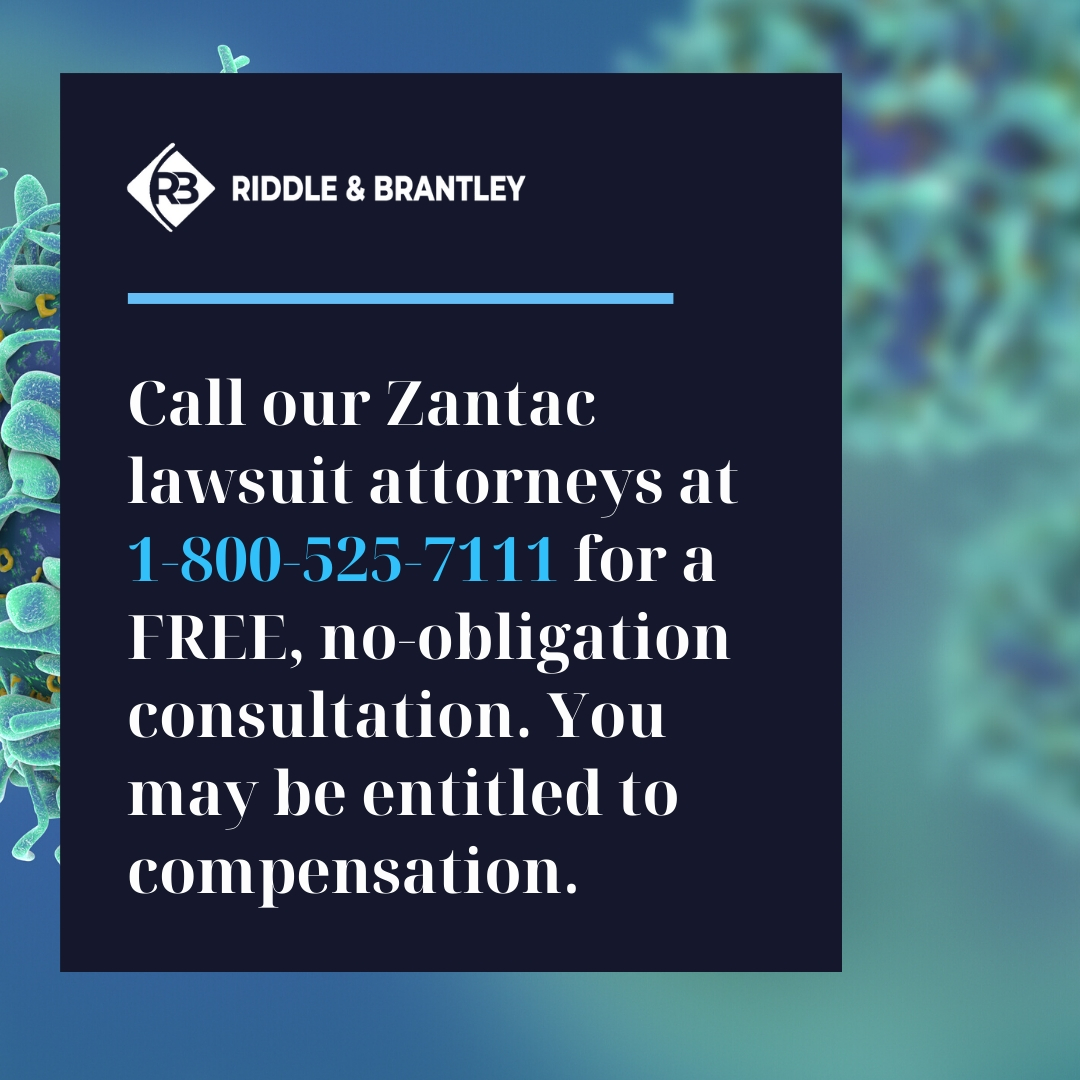 Riddle & Brantley has been fighting for those injured by dangerous drugs for more than three decades. Together, our attorneys have more than 220+ years of combined legal experience and are committed to seeking justice for our deserving clients.
Our team is led by attorney Gene Riddle, who is a member of Million Dollar Advocates Forum, Multi-Million Dollar Advocates Forum, Super Lawyers, and The National Trial Lawyers Top 100. He is also the recipient of the 2014 Litigator Award and has earned the prestigious AV Preeminent rating from Martindale-Hubbell (see disclaimer below).
"This settlement changed me and my family's lives."
-Linda B., Riddle & Brantley client
We expect thousands of Zantac lawsuits to be filed and now is the time to file your claim. Call 1-800-525-7111 or complete the short form below to speak with an experienced Zantac attorney today.
Justice Counts for those injured due to dangerous drugs and we would love to help you and your loved ones however we can.
***Disclaimer: No settlement agreement has been reached in any litigation regarding ranitidine (ZANTAC®), including in the Multidistrict Litigation in the United States District Court for the Southern District of Florida (case no. 20-MD-2924). 
*** Disclaimer: An attorney must meet certain requirements to join these organizations or receive these awards. For more information on Membership Criteria for Million Dollar Advocates Forum, Multi-Million Dollar Advocates Forum, Super Lawyers, The National Trial Lawyers Top 100, AV Preeminent by Martindale-Hubbell, and the Litigator Award, please visit our Membership Criteria page. These awards and memberships should not be construed as a promise or guarantee of a similar result. Each case is different and must be evaluated separately.