Zantac Lawsuit Payout: What Can Victims Expect?
Many potential plaintiffs may be wondering, "What kind of Zantac lawsuit payout may be on the horizon?"
It is estimated that over 15 million Americans have taken prescription ranitidine, know popularly under the brand name Zantac, which the FDA has identified as a probable carcinogen. Millions may be at risk of developing cancer due to NDMA-contaminated Zantac and generic ranitidine.
To be clear, there are never any guarantees and every case is different. The specific outcome of any Zantac claim or litigation will depend on the unique facts and circumstances of that case.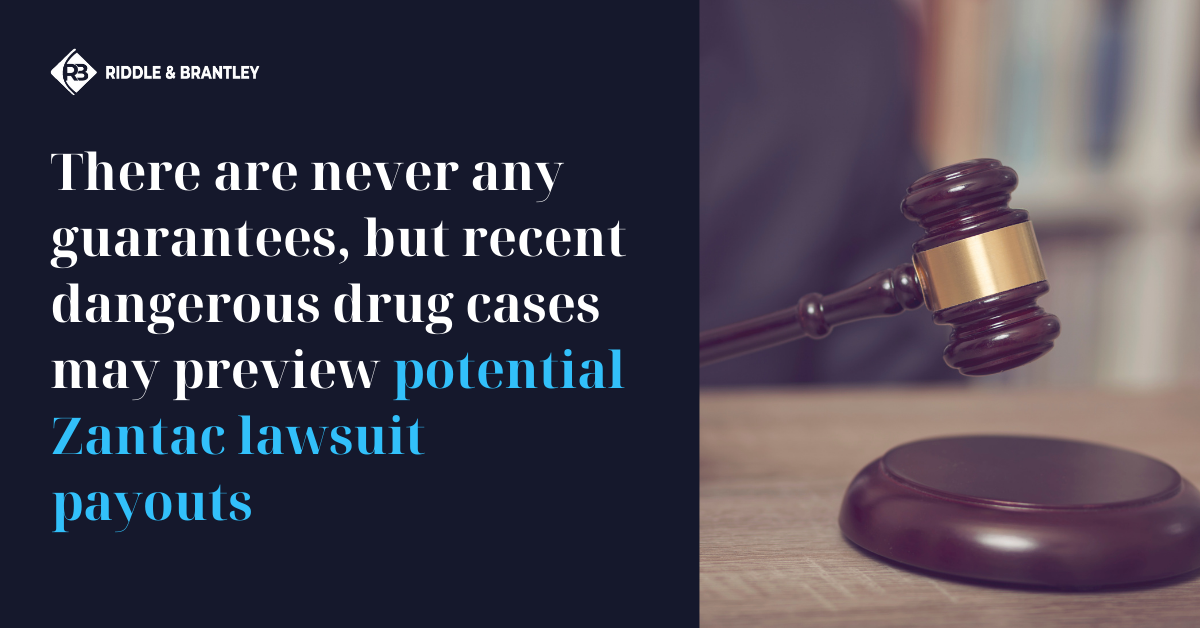 That said, legal analysts anticipate that Zantac cancer lawsuits may result in significant settlements or verdicts against large manufacturers, potentially resulting in millions of dollars in total compensation paid to victims.
IMPORTANT: If you or a loved one have developed cancer after taking Zantac or generic ranitidine, you may qualify for a Zantac class action lawsuit. Victims deserve justice.
Call 1-800-525-7111 today or fill out our convenient form for a FREE consultation with one of Riddle & Brantley's experienced Zantac lawyers who will review your case to see if you qualify for compensation.
What is Zantac?
Zantac is a popular drug has been used to treat acid-related problems, from heartburn to serious stomach and intestinal issues such as ulcers. Zantac was one of the most popular medications prescribed in the United states until 2019.
In April 2020, the FDA issued a removal request for all prescription and over-the-counter (OTC) ranitidine products. The FDA requested that Zantac and generic ranitidine medication be removed from drugstore shelves due to the presence of a probable human carcinogen known as N-nitrosodimethlamine (NDMA) detected in independent and FDA lab tests.
Exposure to NDMA has been associated with a higher risk of developing a wide variety of cancers, including stomach, liver, and lung cancers.
IMPORTANT: To see if your type of cancer may qualify you for a Zantac lawsuit, please visit our FAQ article, "What kind of Zantac does cancer cause?"
What Kind of a Payout Can Zantac Victims Expect?
With any dangerous drug lawsuit, the final payout amount that each victim receives is based on a variety of factors, including:
Evidence supporting each plaintiff's claims
Number of plaintiffs involved
Final settlement amount
Severity of each plaintiff's damages
It is impossible to estimate what type of Zantac lawsuit payout may be available to victims. However, many similar dangerous drug lawsuits have reached settlements that may foreshadow Zantac lawsuit payouts.
Recent Dangerous Drug Lawsuit Results
Takeda (2015)
In April 2015, pharmaceutical manufacturer Takeda agreed to pay out $2.5 billion to settle thousands of lawsuits brought against it that claimed its diabetes medication Actos was linked to an increased risk of bladder cancer. In one case, a judge in Louisiana ordered that Takeda pay $9 billion in punitive damages due to the court's determination that "Takeda had hidden the cancer risks."
Bayer (2019)
Since 2012, Bayer has been inundated with lawsuits that claim the company downplayed the risk of blood clots and stroke associated with its popular birth control drug Yasmin, potentially resulting in thousands of serious injuries. As of 2019, it was reported that Bayer had set aside over $262.5 million to settle lawsuits associated with Yasmin.
Every Claim is Unique and Results Are Not Guaranteed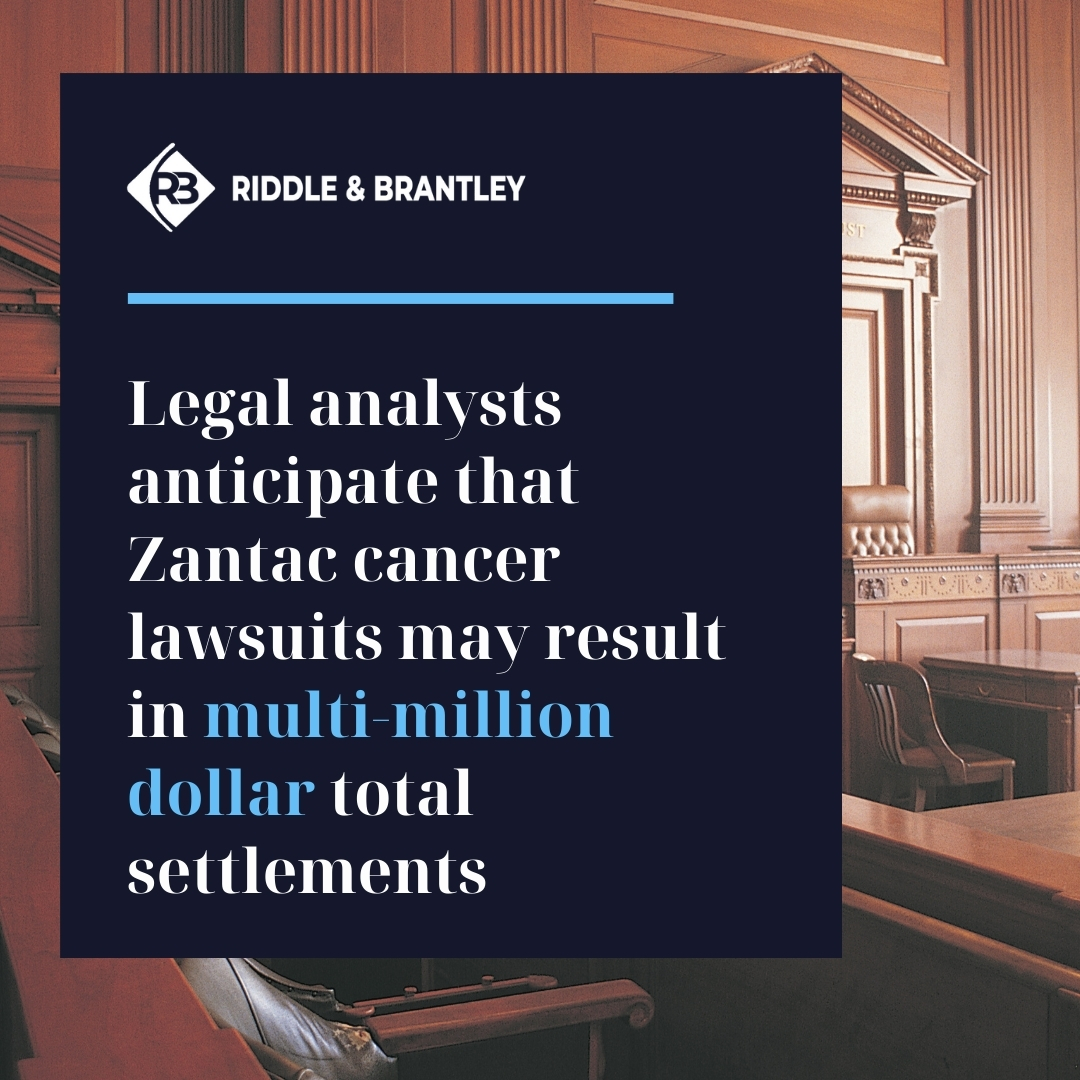 In any of these cases, the settlement each claimant receives varies depending on a variety of factors, including the severity of their injuries and evidence supporting their claims. In any dangerous drug lawsuit, compensation is never guaranteed.
However, if you've potentially suffered cancer due to Zantac or generic ranitidine, our experienced team at Riddle & Brantley can fight to protect your right to justice.
If you or a loved one has taken Zantac and has later suffered from cancer, call us today at 1-800-525-7111 for a FREE, no-obligation consultation.
You may be entitled to a potential Zantac lawsuit payout in the form of financial compensation and you deserve justice.
"Do I Qualify for a Zantac Lawsuit?"
To qualify for a Zantac lawsuit, you must:
Have taken Zantac or another ranitidine product for at least 6 months prior to cancer diagnosis
Have taken at least 300mg of Zantac or ranitidine per week
Been diagnosed with cancer within 10 years of taking Zantac
Have been diagnosed with one of the following cancers:

Colorectal cancer
Uterine cancer
Testicular cancer
Thyroid cancer
Throat/nasal cancer
Leukemia
"It was nice to see Riddle & Brantley put me and my needs first."
–R. Colley, Riddle & Brantley client
"I Believe I Qualify for a Zantac Lawsuit, What Should I Do Next?"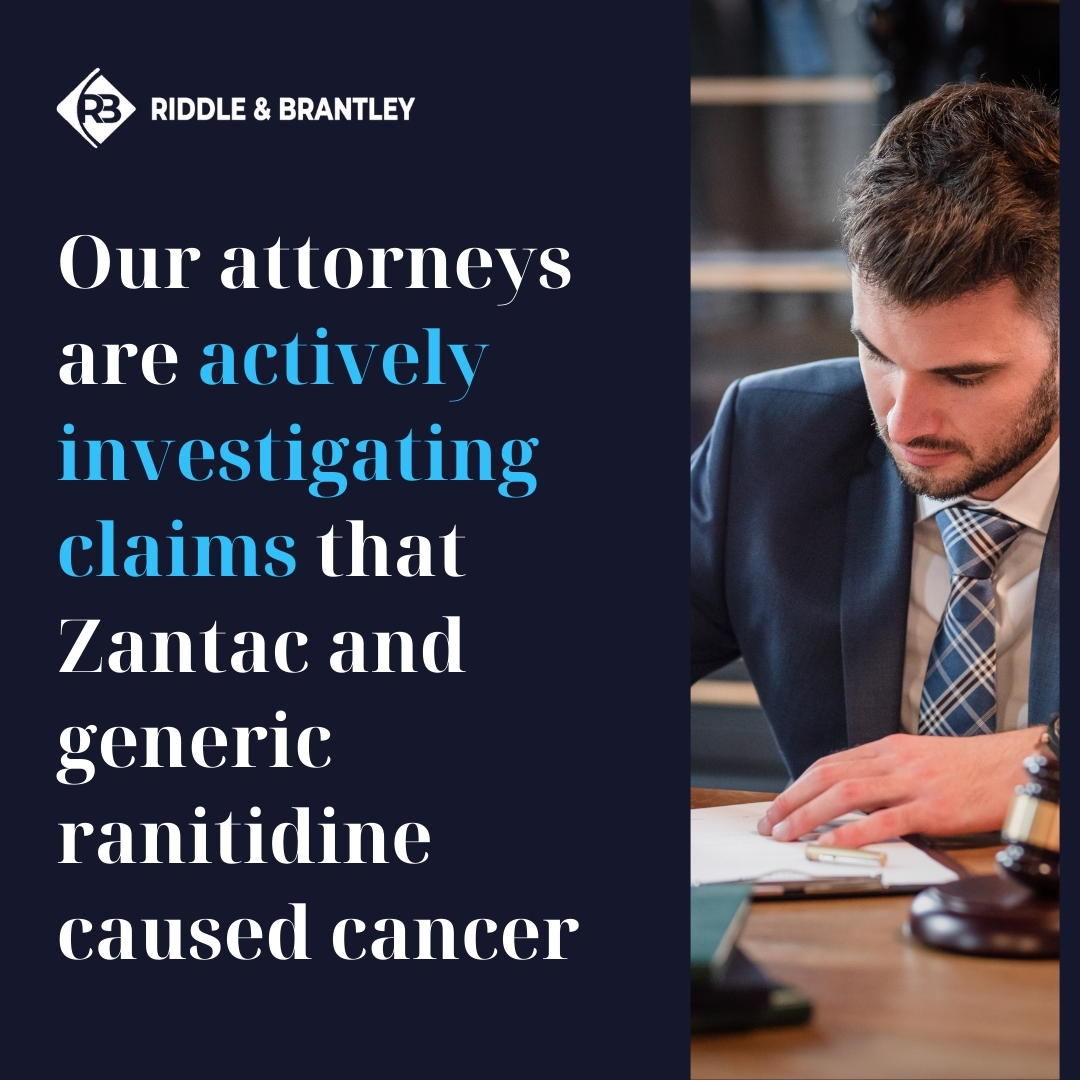 Pharmaceutical companies routinely retain high-dollar legal teams so that they can deny responsibility for injuries and suffering potentially caused by possibly dangerous drugs and defective medical devices. 
You deserve an experienced team on your side experienced in fighting for the rights of their clients against potentially negligent manufacturers.
At Riddle & Brantley, our attorneys have over 225 years of combined experience fighting against dangerous drug manufacturers, and have recovered more than $600 million for our clients in the last 20 years alone.
You've been through enough. You deserve a legal team that fights for your rights, so you can focus on healing and improving your quality of life.
"This settlement changed me and my family's lives."
–Linda B., Riddle & Brantley client
At Riddle & Brantley, you won't pay any attorney fees unless we win compensation for you. 
Call us today at 1-800-525-7111 or fill out our convenient form below to speak with one of our experienced Zantac lawyers and find out if you may be entitled to compensation.
At Riddle & Brantley, we are dedicated to showing each and every one of our clients that Justice Counts.