Did Philips Know Its CPAP Machines Might Cause Cancer and Other Health Problems?
A recent investigation by the United States Food and Drug Administration (FDA) has uncovered evidence that medical device manufacturer Philips may have been aware of cancer and health risks associated with their now-recalled CPAP machines.
Did Philips Hide Complaints About Defective CPAP Machines?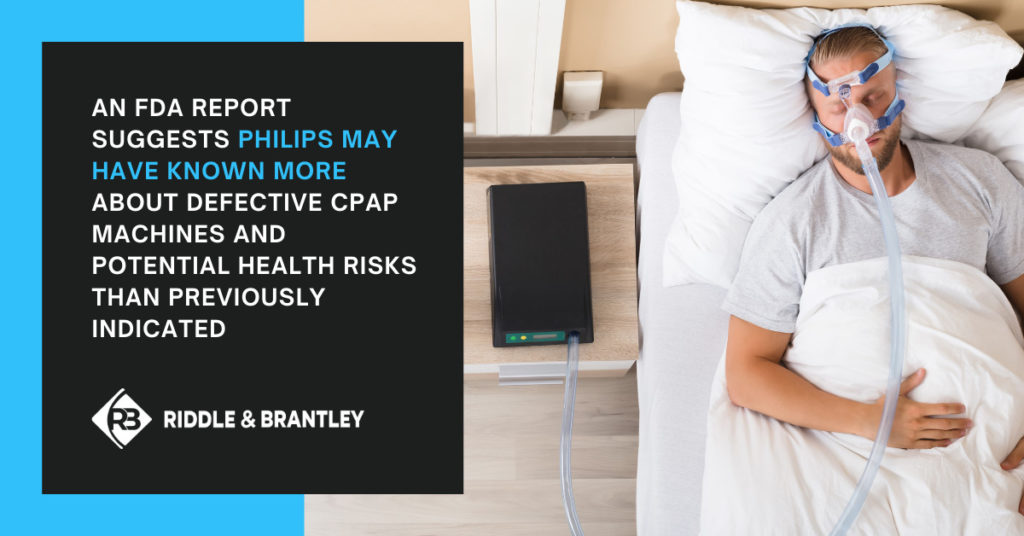 The FDA investigation revealed that over 220,000 complaints had been made with the company since 2008, which included critical keywords related to the failure of the polyester-based polyurethane foam component such as "particles," "foam," "airways," and "black."
The FDA's findings suggest that Philips was perhaps aware of the risk for CPAP machine failure in this critical foam component, and potentially knew the health risks it may be exposing users to in the event of that failure.
The FDA also found that while Philips' internal tests revealed that the foam could degrade during use, the company "made no attempt to change the design."
These findings will certainly bolster recently filed CPAP lawsuits that have been brought against Philips since the company's recall of many CPAP and Bi-Level PAP machines beginning in mid-2021.
IMPORTANT: If you've been diagnosed with a qualifying form of cancer (see list below) or other health problem after using a recalled Philips CPAP machine, Bi-Level PAP machine, or ventilator, you may be entitled to compensation in a CPAP lawsuit. Call 1-800-525-7111 for a free, no-obligation consultation with an experienced product liability attorney at Riddle & Brantley.
What Are the Risks Associated with Recalled Philips CPAP Machines?
According to the voluntary recall that Philips filed with the U.S. Food and Drug Administration in 2021, many of the company's CPAP machines include a polyester-based polyurethane sound abatement foam component (PE-PUR) that "may degrade into particles which may enter the device's air pathway and be ingested or inhaled by the user, and the foam may off-gas certain chemicals."
The degraded particles can cause obstructions and other health issues, but the "off-gassed" chemicals may be an even greater concern for many consumers. These chemicals are associated with various health risks, potentially including cancer. Patients who inhale these toxic substances may be at increased risk of lung cancer, liver cancer, kidney cancer, and others, as well as various respiratory problems and even recurrent pneumonia.
What is particularly troubling about these findings is that the design of these Philips CPAP machines allows moisture to pass over the PE-PUR parts and that moisture is what contributes to the breakdown of the sensitive foam. As noted by the FDA's summary, Philips allegedly made no effort to change the design of the devices to prevent this moisture from coming into contact with the PE-PUR parts.
How is Philips Responding?
As of January 2022, Philips has denied any liability and/or wrongdoing associated with the defective medical devices and potentially linked health risks.
On November 14, 2021, Philips posted a statement on its website responding to the FDA's report. The company outlined what it said was its compliance with the investigation and the next steps they intend to take.
Most notably, Philips pointed out that "an FDA investigator's list of inspection observations does not constitute a final FDA determination of whether any condition is in violation of the Federal Food, Drug, and Cosmetic Act or any of its implementing regulations."
However, the company went on to mention that it has been "conducting a comprehensive test and research program on the PE-PUR foam to better assess and scope potential patient health risks, with support from appropriately qualified third-party experts."
Philips' recent efforts have been viewed as too little, too late by some consumers, though, with hundreds of CPAP lawsuits continuing to move forward against the company in multi-district litigation (MDL) consolidated in federal court in Pennsylvania.
What Lawsuits Have Been Filed Against Philips?
Philips is currently facing two kinds of lawsuits related to its defective CPAP devices. The first is a class-action lawsuit brought by CPAP and ventilator users seeking reimbursement for replacement machines and other associated costs. The second is a group of personal injury claims which allege that defective Philips CPAP or Bi-Level PAP machines caused cancer and other health problems.
If you believe that your use of a recalled Philips CPAP machine, Bi-Level PAP machine, or ventilator caused your cancer or another qualifying health problem, call 1-800-525-7111 for a FREE consultation concerning a potential CPAP lawsuit.
Our attorneys are ready to help however they can.
You may qualify for a CPAP lawsuit if you used a recalled Philips machine and suffered from one of the following cancers or other health problems.
IMPORTANT: Due to developments in the multi-district litigation, we can no longer accept kidney or liver cancer claims related to Philips CPAP machines. Other cancers and health problems may still qualify. Please call 1-800-525-7111 for a free case review.
Cancers including:
Rectal cancer
Brain cancer
Stomach cancer
Testicular cancer
Nasal cancer
Throat cancer
Laryngeal cancer
Thyroid cancer
Papillary cancer
Various types of leukemia
Non-Hodgkin's lymphoma
Multiple myeloma
Other health problems including:
Severe ear, eye, nose, throat, sinus, or oral cavity inflammation and injury including nodules, cysts, and tumors
Respiratory problems, including:

Reactive Airway Disease (RAD)
Acute Respiratory Distress Syndrome (ARDS)
Recurrent pneumonia
New or or worsening asthma

Lung damage / lung disease
Kidney damage/ kidney disease
Liver damage / liver disease
Heart problems
Sudden respiratory failure leading to heart attack
Certain other criteria may apply. Call 1-800-525-7111 today and let's review your claim.
Justice Counts.