Cary Personal Injury Lawyer
Cary Personal Injury Lawyer
Live in or around Cary, NC and need a personal injury lawyer?
If you've been injured and believe another person or company is responsible, we can help.
Riddle & Brantley's personal injury attorneys are committed to Cary and the Triangle, and we will work very hard to help you get the justice and compensation you deserve. Our 12 attorneys have more than 225 years in combined legal experience, and founding partner Gene Riddle has been practicing personal injury law in North Carolina since 1985.
For a free consultation, please call 1-800-525-7111 or complete the form below. There is absolutely no obligation, and there are no attorney fees unless we win your case and get you compensation.
Injuries in Cary
Cary is one of the fastest-growing cities in North Carolina, and was recently ranked by Money Magazine as the #5 Best Place to Live in the United States. Cary's in-city population is around 170,000 residents which places it in the number 7 position in North Carolina.  Cary is located in two counties, mostly Wake county but a small portion in Chatham county.  It is surrounded by some dangerous roads including I-40, US 64, US 55, US 54 and US 1. Unfortunately, with all that growth and popularity comes more traffic, more construction, and more accidents and injuries.
Whether you've been injured in an auto accident, a slip and fall, workplace accident, or some other incident, a personal injury lawyer with experience in Cary can help determine whether or not you have a case for a claim or lawsuit.
Here are just a few of the many things an experience injury attorney can help with:
Investigating the accident location and collecting evidence
Locating witnesses and obtaining statements
Preparing you to give statements to law enforcement and insurance companies
Filing a personal injury lawsuit
Court filings
Negotiating with the insurance company
Mediation or arbitration
Setting up trusts for long-term care
Pre-trial litigation
Trial
An injury lawyer and his or her staff can even assist with finding you the best medical care possible, and help manage your medical bills.
When you retain a Riddle & Brantley attorney, you'll also get a case manager and support staff dedicated to your success.
How much does it cost to hire a personal injury lawyer?
Riddle & Brantley operates on a contingency basis, which means that there is no upfront cost — and no attorney fees unless you recover financial compensation.
The initial consultation is free and there is no obligation.
For a free case review, please call 1-800-525-7111 or fill out the form below.
Any attorney fees are ultimately taken out of your recovery, which is the financial compensation you are awarded through a settlement or judgment.
Here are just a few recent settlements and judgments Riddle & Brantley has won for personal injury clients:
Truck Accident & Workers Compensation | $1.8 million — When a dump truck crossed the center line and hit his vehicle head-on, our client suffered serious injuries including the eventual loss of his left leg below the knee. Attorney Gene Riddle negotiated settlements with both the worker's compensation carrier and the truck insurance carrier, for total compensation of $1.8 million.
Motorcycle Accident | $1.05 million — Our client was a passenger on a motorcycle when the driver lost control on an S-curve, resulting in serious injuries including traumatic brain injury, memory loss, and multiple fractures. Prior to filing a suit, attorney Gene Riddle negotiated with the insurance company and obtained the maximum coverage amount, resulting in a total recovery of $1.05 million.
Workers Compensation | $622,000 — Attorneys Gene Riddle & Christopher Brantley represented a client who was injured at work when his hands were caught in a piece of logging equipment. The case was settled through mediation, in which we won a settlement of $622,000 on behalf of the client.
Personal Injury | $100,000 — When a cat bite resulting in several injuries and complications, our client contacted attorney Gene Riddle, who obtained a settlement of $100,000 — the policy maximum — during negotiations.
*** Disclaimer: The results mentioned are intended to illustrate the type of cases handled by the firm. These results do not guarantee a similar outcome, and they should not be construed to constitute a promise or guarantee of a particular result in any particular case. Every case is different, and the outcome of any case depends upon a variety of factors unique to that case.
For more settlements and judgments won by attorneys, please see our Riddle & Brantley case reviews.
"We're committed to justice for the people of Cary and the surrounding Triangle." -Gene Riddle
What to do if you've been injured in an accident
***Before you do anything else, be sure to call 911 and seek immediate medical attention for any injuries.
In addition to ensuring your health, safety, and well-being, this is important for a potential personal injury case as the medical records will likely play a significant role in you case.
After seeking medical attention, take the following steps:
Obtain contact information — get the names, email addresses, and phone numbers of anyone involved in the accident.
Take photographs — take photos of any injuries and the crash or accident scene, and be sure to document any evidence such as skid marks, debris, or missing signage.
Complete any necessary forms or reports — if you're injured at work or on a business' property, file a formal report. For injuries at work, you must complete Form 18 and your employer must complete Form 19 and submit both to the North Carolina Industrial Commission (NCIC).
Talk with the police officer — if a police officer is on the scene, answer their questions honestly, keeping in mind that anything you say can and will be used against you. Following the accident, obtain the police report.
Talk with potential witnesses — talk with and collect contact information from any potential witnesses.
Do NOT give a statement to an insurance company — before giving any recorded statement, consult with a personal injury lawyer.
Contact a personal injury lawyer — if you have a potential case, the actions you take immediately following the accident can have a significant impact on the outcome. Talk with an experienced attorney right away in order to protect your legal rights and start building your case.
Need a personal injury lawyer in Cary?
There are hundreds of lawyers serving the Cary area, so before you choose an attorney for your case, get the facts.
Does the attorney have experience representing injury victims?
What kinds of case results has the lawyer obtained for clients?
How long has the attorney practiced personal injury law?
Is the attorney familiar with the Cary NC area?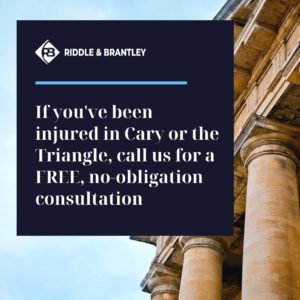 At Riddle & Brantley, our lawyers have been handling personal injury cases in Cary and the Triangle since 1985. Our 12 attorneys are committed to Cary and greater North Carolina, and we specialize in fighting for injury victims.
Our personal injury lawyers have more than 225 years of collective legal experience. We know the law in Cary and North Carolina, and will work tirelessly to get you the justice and compensation you deserve.
No matter what kind of accident you've been involved in, we may be able to help.
Contact us today for a FREE consultation — there is no obligation and no attorney fees unless we win your case and you receive financial compensation. Call 1-800-525-7111 or complete the form below.
You deserve justice, and we would love to help.