Gardasil Primary Ovarian Insufficiency (POI) Lawsuits
Gardasil's POI and POF Lawsuits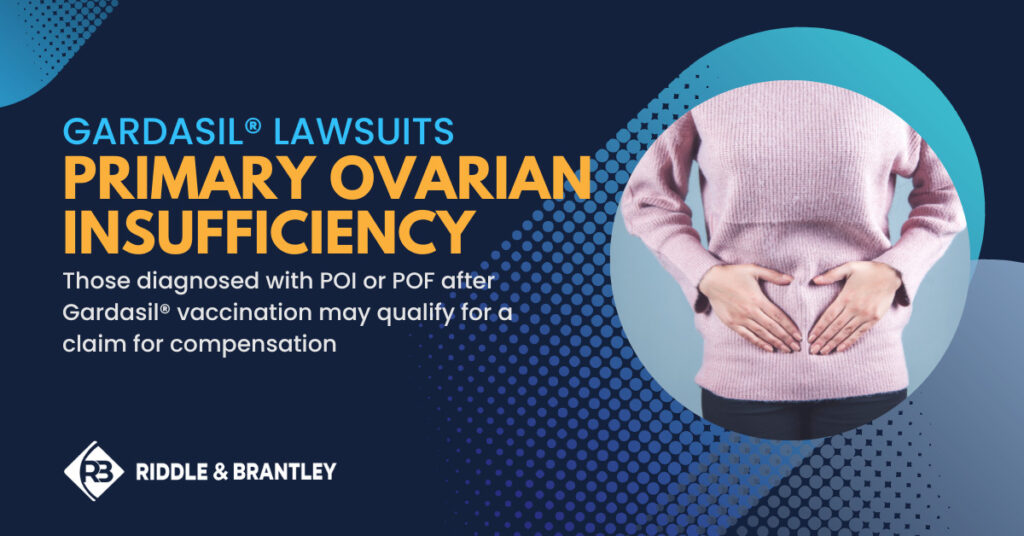 Gardasil is a vaccine used to prevent various types of human papillomavirus (HPV), an infection that often goes undetected but can lead to cancer. The vaccine, which is often administered to children before they enter their teens, was approved by the U.S. Food and Drug Administration in 2006 and has been used widely to reduce the risk of the sexually transmitted disease and its side effects.
Despite the Gardasil vaccine's effectiveness, there have been reports of serious side effects, including Primary Ovarian Insufficiency or Failure (POI or POF). POI and POF refer to the same condition: when a person's ovaries stop working normally, leading to infertility before they reach 40 years old.
The Gardasil HPV vaccine was developed and manufactured by Merck & Co., which has denied any liability or wrongdoing in cases alleging potential liability. While evaluation of supporting evidence is ongoing regarding claims of POI and other serious side effects, dozens of lawsuits have been filed against Merck in recent years. As of 2022, many of these cases have been consolidated into a multi-district litigation (MDL) to centralize all current and future litigation under one judge.
"Can I File a Gardasil POI Lawsuit?"
If you have suffered from POI or POF and believe it may have been caused by the Gardasil HPV vaccine, you could qualify for a Gardasil POI lawsuit.
Call 1-800-525-7111 for a FREE, no-obligation case review. There are no guarantees that Gardasil POI or other claims will lead to settlements, but with Riddle & Brantley you never pay unless we win and you receive compensation.
What is Primary Ovarian Insufficiency (POI)?
POI is a condition that causes a person's ovaries to stop working normally before they reach 40 years old. The condition is also known as Primary Ovarian Failure (POF), although many medical professionals only refer to it as POI because people who suffer from it can still get occasional periods and may even get pregnant.
POI can lead to a range of symptoms, including:
Irregular or missed periods
Difficulty or inability to get pregnant
Hot flashes
Night sweats
Vaginal dryness
Dry eyes
Mood changes
Difficulty concentrating
Decreased libid
POI shares many symptoms and is often confused with premature menopause. While the two conditions are similar, some people with POI may still get irregular periods and can even get pregnant, while people with premature menopause stop getting periods altogether and cannot get pregnant.
IMPORTANT: If you believe you are suffering from POI, it is important to seek medical care. If you have POI, your ovaries will stop producing normal amounts of the hormone estrogen, which can lead to serious complications like osteoporosis and heart disease.
Status of Current Gardasil Lawsuits
Gardasil lawsuits for a variety of potential side effects, including POI, were consolidated into MDL in August 2022. Lawyers representing the plaintiffs in the consolidated cases allege that Merck failed to warn about potential Gardasil-related risks, took steps to downplay those risks, and was negligent in its clinical trial process.
As of March 2023, the MDL included 80 cases. Currently, the court is selecting 16 lawsuits for bellwether trials that will likely begin in 2024.
In April 2023, the judge overseeing the Gardasil MDL approved a request from the plaintiffs' lawyers requiring Merck to turn over all data and documents pertaining to reports of adverse side effects. This information will be important in proving liability and could ultimately prove to be a deciding factor in the Gardasil MDL.
It is also important to note that several studies have explored the potential association between Gardasil and a number of adverse side effects, including POI, in recent years. A recent analysis of all current scientific evidence, published in January 2023, found no risk of HPV vaccine-induced POI. To date, most scientific evidence points toward little or no association between the Gardasil HPV vaccine and POI, however, research is ongoing and we expect that further studies will be conducted in light of developments in the Gardasil litigation.
Do You Have a Gardasil POI Claim?  
You may qualify for a Gardasil Primary Ovarian Insufficiency (POI) or Failure (POF) lawsuit if you meet the following criteria:
You received the Gardasil or Gardasil 9 HPV vaccine.
You experienced Primary Ovarian Insufficiency or another qualifying condition
You can demonstrate that your side effects are directly linked to the Gardasil vaccine.
An experienced dangerous drug attorney can help you compile the necessary evidence to build the strongest case possible. If you think you may qualify for a Gardasil lawsuit, call us today for a FREE case review with one of our expert attorneys.
Call 1-800-525-7111 to speak with a Gardasil POI lawyer at Riddle & Brantley. Your case review is 100% free, and you never pay unless we win and you receive compensation.
Justice Counts.