Gardasil Postural Orthostatic Tachycardia Syndrome (POTS) Lawsuits
Gardasil POTS Claims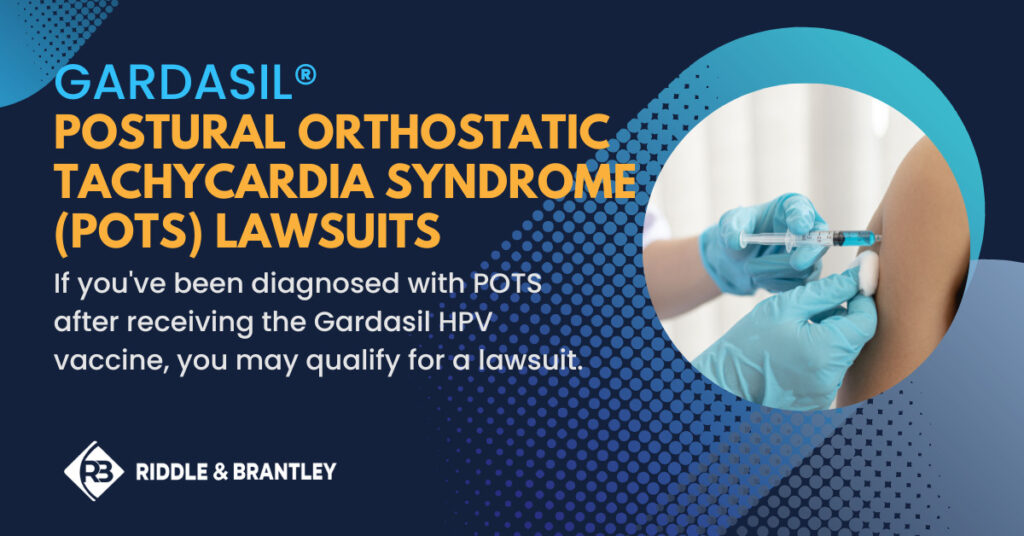 Gardasil, a vaccine developed by Merck & Co., is designed to prevent the human papillomavirus (HPV), which can lead to certain types of cancers and genital warts. While the vaccine has been administered to millions of people worldwide, it has also become the subject of numerous lawsuits alleging that it has caused serious side effects, including Postural Orthostatic Tachycardia Syndrome (POTS).
If you believe you've suffered from Postural Orthostatic Tachycardia Syndrome (POTS) potentially due to the Gardasil HPV vaccination, you may qualify for a Gardasil POTS lawsuit and be entitled to compensation. Call 1-800-525-7111 or fill out the fast and easy form below for a FREE, no-obligation case review.
Merck, the manufacturer of Gardasil, has denied any liability and/or wrongdoing in these cases. There are no guarantees that Gardasil POTS or other claims will result in settlements or verdicts favorable to plaintiffs. Call 1-800-525-7111 today and let's see how we can help with a potential Gardasil side effects lawsuit.
What is Postural Orthostatic Tachycardia Syndrome (POTS)?
POTS is a condition that affects circulation (blood flow). It involves the body's response to standing upright, where the heart rate becomes abnormally high — a condition known as tachycardia. This can lead to a wide range of symptoms, including:
Light-headedness or fainting
Rapid heartbeat or palpitations
Chest discomfort or pain
Shortness of breath
Headaches
Fatigue
Insomnia
Abdominal discomfort and bloating
Nausea
Sweating abnormalities
Tremors
Weakness
IMPORTANT: If you've experienced any of these symptoms, contact a physician immediately. Your health is the #1 priority.
The Potential Gardasil-POTS Connection: Research and Lawsuits
Over the years, several patients and their families have filed lawsuits against Merck, the manufacturer of Gardasil, alleging that Gardasil caused or contributed to the development of POTS. These lawsuits claim that Merck failed to adequately warn the public and medical community about the potential risks associated with the vaccine.
Does Gardasil Cause Postural Orthostatic Tachycardia Syndrome (POTS)?
One of the most significant pieces of evidence brought forth in these Gardasil POTS lawsuits is a study published in 2015 in the European Journal of Neurology. The research found a potential link between HPV vaccines, like Gardasil, and the onset of POTS. This finding has fueled ongoing debate in the scientific community, with many researchers disputing the findings and arguing that there is no significant correlation between Gardasil and POTS.
Many health organizations, including the World Health Organization and the Centers for Disease Control and Prevention, maintain that the vaccine's benefits outweigh its potential risks.
Current Status of POTS Gardasil Lawsuits
As of now, Gardasil lawsuits are still in progress — and our firm is actively investigating claims that Gardasil vaccination may cause POTS. These cases are complex and require extensive medical and scientific evidence to prove causality. The plaintiffs allege that they were not adequately warned about the potential risks associated with Gardasil, and as a result, suffered from POTS.
The ongoing litigation continues to raise questions about the safety of Gardasil, and more specifically, about the potential link between the HPV vaccine and POTS. Despite these concerns, health authorities continue to recommend Gardasil for its effectiveness in preventing HPV-related diseases.
In the end, the goal of these Gardasil lawsuits is not only to seek compensation for those who believe they've been harmed by Gardasil but also to ensure that vaccines are safe, thoroughly tested, and properly labeled with their potential side effects.
Do You Have a Gardasil POTS Claim?
You may qualify for a Gardasil Postural Orthostatic Tachycardia Syndrome Gardasil lawsuit if you meet the following criteria:
Received the Gardasil or Gardasil 9 HPV vaccine.
Experienced severe and debilitating side effects or complications after receiving the vaccine, such as Postural Orthostatic Tachycardia Syndrome (POTS), Guillain-Barré Syndrome (GBS), Complex Regional Pain Syndrome (CRPS), autoimmune disorders like Multiple Sclerosis (MS), Primary Ovarian Insufficiency (POI) or Failure (POF), or another qualifying condition.
Can demonstrate that the side effects you experienced are directly linked to the Gardasil vaccine (an experienced Gardasil lawsuit attorney can help you compile evidence to build the strongest case possible)
Suffered significant damages as a result of these side effects, such as medical expenses, loss of income, ongoing treatment costs, or emotional distress.
For a FREE case review by an experienced dangerous drugs lawyer at Riddle & Brantley, call 1-800-525-7111 or complete the convenient form below. There are no attorney fees unless we win your case and you receive financial compensation. Call today and let's see how we can help.
Why Riddle & Brantley for Your Gardasil Claim?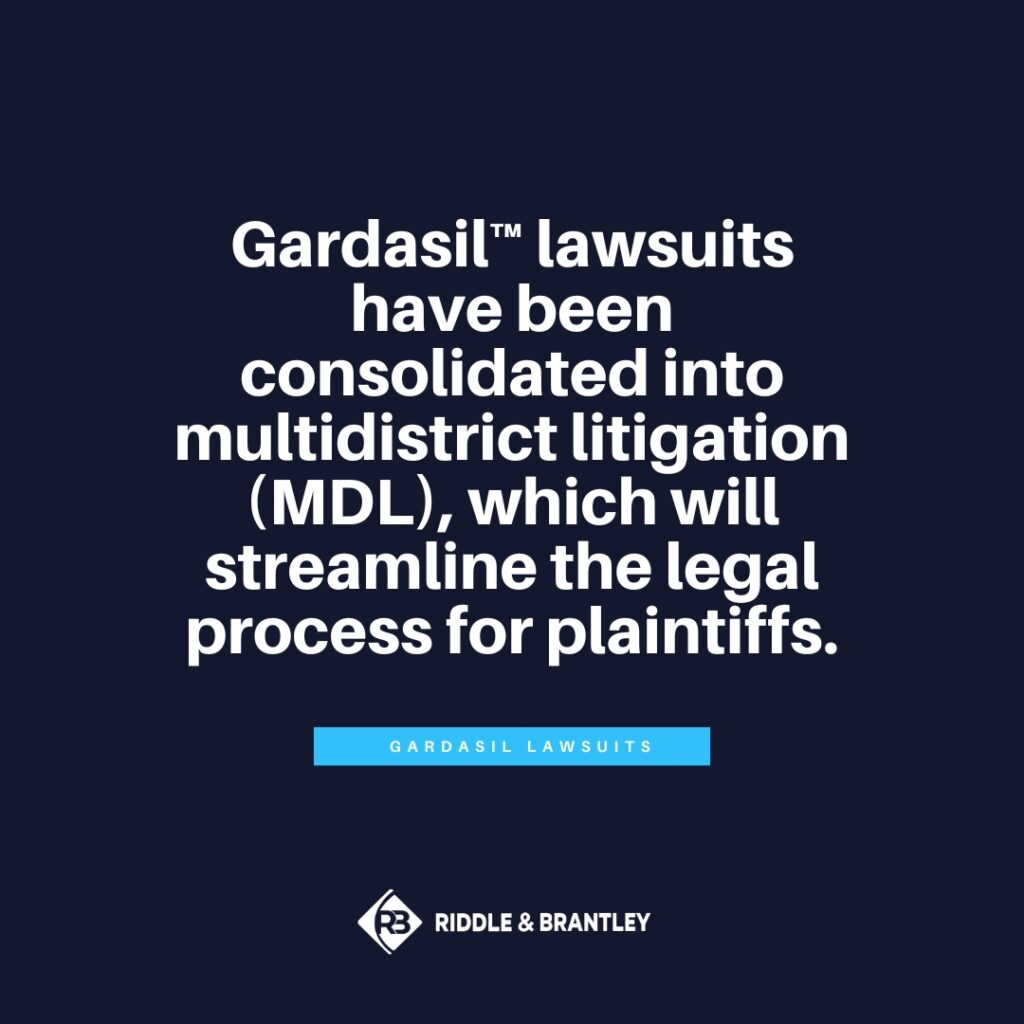 Our dedicated team of experienced attorneys is ready to listen to your story, answer your questions, and help you understand your legal rights and options. You can reach us by calling 1-800-525-7111. The case review is entirely free, and we operate on a contingency basis, which means we only get paid if we recover compensation for our clients.
Since 2000, Riddle & Brantley attorneys have recovered over $700 million for our clients (see disclaimer below). We are committed to seeking justice and fair compensation for those who may have been harmed due to potential medical negligence or inadequate warnings about potential risks.
"This settlement changed me and my family's lives."
–Linda B., Riddle & Brantley client
Your health and well-being matter. You do not have to navigate the complexities of a potential Gardasil POTS lawsuit alone. Trust our team at Riddle & Brantley to stand by your side, providing you with the guidance, support, and representation you need during this challenging time. We are here for you. Call 1-800-525-7111 today and see why at Riddle & Brantley, Justice Counts.