Chapel Hill Personal Injury Lawyer
If you've suffered injury in an accident due to someone else's negligence, you deserve justice — and you may be entitled to compensation.
Are you considering a Chapel Hill personal injury lawyer?
A personal injury lawyer can help you navigate all aspects of your injury claim or lawsuit. Riddle & Brantley's injury attorneys have extensive experience serving clients in Chapel Hill.
Whether you've been injured in a car or truck accident, motorcycle accident, workplace accident, dog bite, sexual assault, or some other traumatic event, we are dedicated to helping you get the justice and compensation you need and deserve.
For a FREE consultation with a personal injury lawyer at Riddle & Brantley with experience in Chapel Hill, please call 1-800-525-7111 or complete the form below. There is never any upfront cost, and there are no attorney fees unless we win your case and you receive financial compensation.
Seeking Justice in Chapel Hill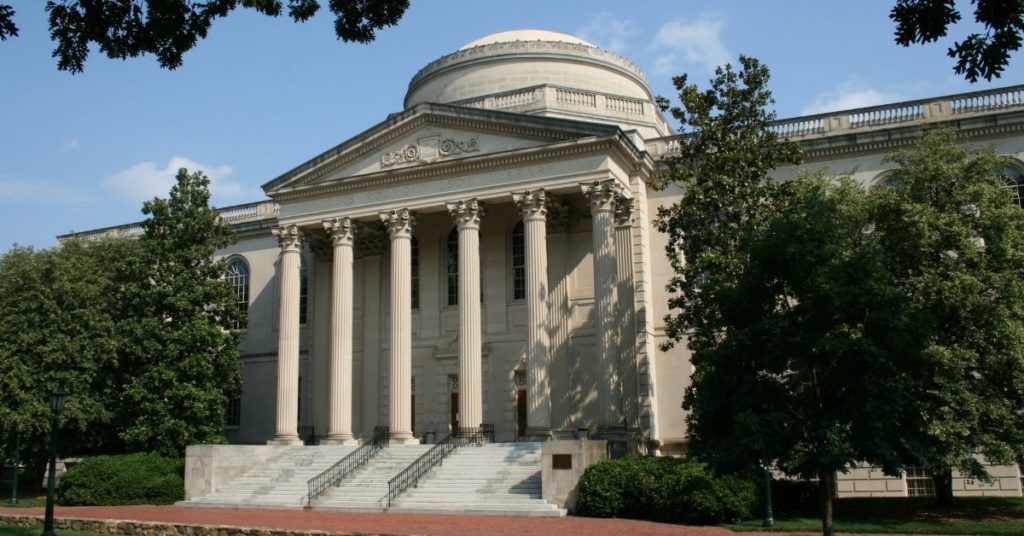 Chapel Hill, North Carolina, is home to the University of North Carolina at Chapel Hill and its amazing academic and athletic programs, especially basketball.  Chapel Hill has always been a second home to Gene Riddle since he attended school there from 1977 to 1981.  Both of his  daughters are students there.
The town of more than 50,000 people is located in Orange County, just west of Durham and Raleigh, and is consistently ranked as one of the best places to live in the United States. Chapel Hill was ranked as one of the 50 Best Places to Live by Money Magazine in 2018, and Livability.com included the town in its Top 100 Best Places to Live in the same year.
Chapel Hill, Durham and Raleigh together form the Research Triangle, a geographical area known for advanced science, technology, and health care. More than 2 million people call the Triangle area home, and Chapel Hill and the surrounding communities are crisscrossed by some of the busiest roadways in North Carolina. Interstate 40 and Highway 501 can be particularly treacherous, and car, truck, motorcycle, and pedestrian accidents are common.
"My family and many of our attorneys have close ties to Chapel Hill and we're committed to seeking justice for anyone injured in the area." -Gene Riddle
Since 1985, Riddle & Brantley attorneys have been helping Chapel Hill clients seek justice, and our personal injury lawyers can assist with more than any accident or injury claim, including:
Car accidents
Truck accidents
Motorcycle accidents
Pedestrian accidents
Bicycle accidents
Dog bites (or other animal attacks)
Slip and fall injuries
Workplace accidents and workers' compensation claims
Wrongful death cases
Sexual assault
Nursing home abuse and neglect
Defective medical device injuries
Consumer product injuries
Prescription drug injuries
Our firm additionally represents clients in mass tort cases involving dangerous products and medicines, including 3M military earplug lawsuits, Roundup weed killer lawsuits, Johnson & Johnson talcum powder / baby powder lawsuits, and more.
If you've been injured in Chapel Hill or the surrounding area and believe another person or company is responsible, contact us for a FREE consultation — call 1-800-525-7111 or complete the form below.
There is no obligation, no upfront cost, and no attorney fee unless we win your case and you receive financial compensation.
How can a personal injury lawyer help?
All cases are different, but whether a case results in a settlement or trial, a personal injury lawyer familiar with Chapel Hill and North Carolina law can guide you through your entire injury claim or lawsuit from start to finish.
When you hire Riddle & Brantley, you'll be represented by an experienced personal injury attorney who can help you navigate all aspects of your case, including:
Collecting evidence at the accident scene
Expert accident investigation and reconstruction
Interviewing witnesses
Connecting you with appropriate medical care and helping make medical bill payment arrangements
Helping prepare you for statements to the insurance company or authorities
Filing a lawsuit
Filing legal briefs and court documents
Negotiating with the insurance company
Negotiating at mediation or arbitration
Trial
And much, much more…
Filing a personal injury claim or lawsuit can be complicated, stressful, and time-consuming. You do not need to go it alone — an experienced personal injury lawyer can manage the entire process for you, and help you win the best possible settlement or judgment.
Choosing the right lawyer for your Chapel Hill injury case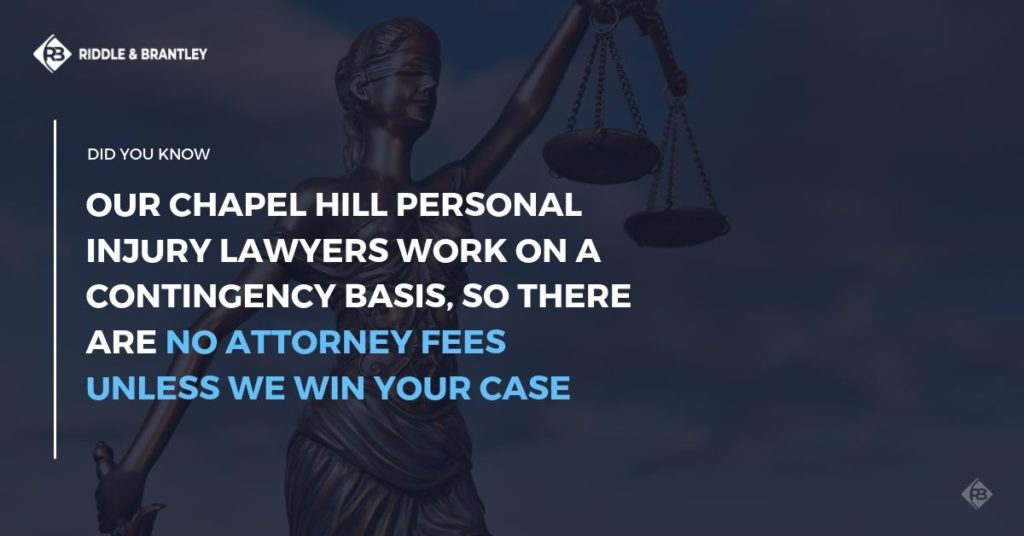 There are many factors to consider when choosing the right attorney for your case, and ultimately the decision is a personal one. However, you'll probably want to look for a law firm with experience representing victims in similar situations, and one with experience in Chapel Hill and the Triangle.
Riddle & Brantley has been serving Chapel Hill clients for decades. Founding partner Gene Riddle graduated from UNC in 1981 and then Wake Forest Law School in 1985, and our attorneys have more than 225 years of collective legal experience. Some of our attorneys are even members of Million Dollar Advocates and Multi-Million Dollar Advocates, recognizing their work obtaining significant settlements and judgments (see disclaimer).
Here are just a few of our recent case results:
Truck Accident / Wrongful Death | $5.45 million — Attorneys Gene Riddle and Kurt Dixon filed suit on behalf of relatives of a family of four killed in a tractor trailer accident after our extensive investigation determined the truck driver had been negligent. Prior to trial, the case was successfully resolved through mediation, in which Riddle and Dixon secured $5.45 million in compensation for the victims' family. We continue to pursue litigation against a pavement marking company that was also involved.
Workers' Compensation | $2.5 million — When our client suffered disabling injury falling from a platform while on the job, Riddle & Brantley attorneys Gene Riddle, Christopher Brantley, and Jonathan Smith worked tirelessly on his behalf. After several mediations and extensive negotiations, the client was awarded a settlement of $2,475,000. Additionally, our attorneys worked to establish trusts and a Guardianship in order to ensure quality long-term care for the injured client.
Personal Injury | $1.93 million — Our client was hit and seriously injured by a cement truck while crossing a parking lot and turned to Riddle & Brantley for help. Managing partner Gene Riddle and late partner Gene Jenkins oversaw and extensive accident investigation and reconstruction that ultimately determined the truck driver to have been negligent. A settlement of $1.93 million was awarded following litigation.
Auto Accident | $375,000 — Attorney Christopher Brantley represented a client who suffered a serious back injury while moving heavy items at work. After filing a workers' compensation claim, Brantley negotiated at mediation, winning a $375,000 award for the client.
*** Disclaimer: The results mentioned are intended to illustrate the type of cases handled by the firm. These results do not guarantee a similar outcome, and they should not be construed to constitute a promise or guarantee of a particular result in any particular case. Every case is different, and the outcome of any case depends upon a variety of factors unique to that case.
Learn more about other settlements and judgments won by Riddle & Brantley for our clients on our case results page.
Of course, our results are not just demonstrated in the judgments and settlements we obtain, but in the words of our clients.
Here are just a few things Riddle & Brantley clients are saying about us:
"They went to battle for me. My attorney was tough, thorough, and tenacious and won my case. I don't know where I would be without Riddle & Brantley." – Gary B.
"You not only showed concern about the case, but you showed concern and compassion for us as people." – T & C Bynum
"A very special 'Thank You' to a wonderful attorney and compassionate human being. I'm so proud to tell everyone about you and Riddle & Brantley." – M. Moore
Have you been injured in or around Chapel Hill NC?
The consequences of an accident can be life-changing.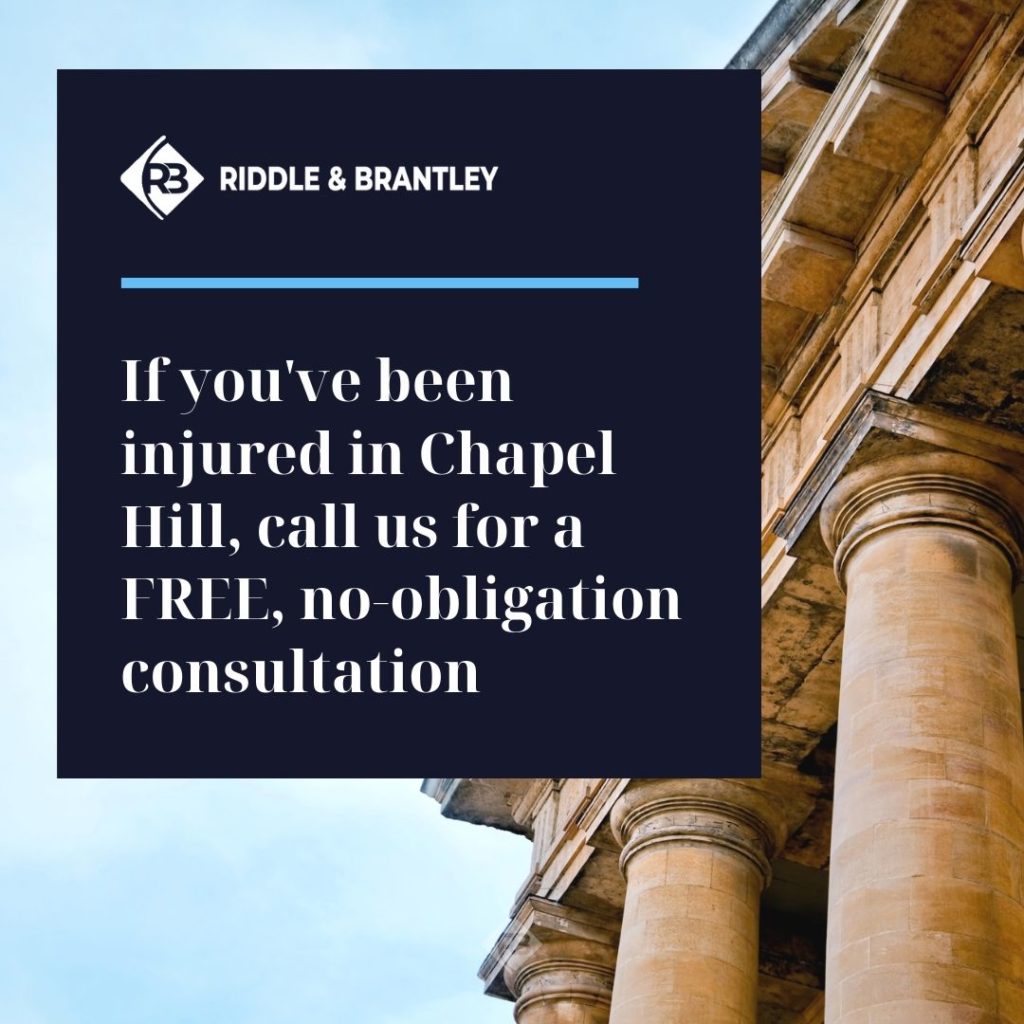 A personal injury attorney at Riddle & Brantley can help you navigate your claim or lawsuit so you can minimize stress and focus on your recovery.
With nine experienced North Carolina personal injury, workers' compensation, and wrongful death attorneys and convenient offices in the Triangle, we are ready to help.
For a FREE case review, please call 1-800-525-7111 or complete the form below. There is no obligation, no upfront cost, and no attorney fee unless we win your case and get you financial compensation.
At Riddle & Brantley our motto is Justice Counts and we mean it. We are committed to justice for all North Carolinians and would love to help if we can.
Please contact us today.
*** Disclaimer: An attorney must meet certain requirements to join these organizations or receive these awards. For more information on Membership Criteria for Million Dollar Advocates Forum and Multi-Million Dollar Advocates Forum, visit our Membership Criteria page. These awards and memberships should not be construed as a promise or guarantee of a similar result. Each case is different and must be evaluated separately.