3M Bair Hugger
How Do I File a 3M Bair Hugger Lawsuit?
NC Product Liability Attorneys Explain the Risks of Bair Huggers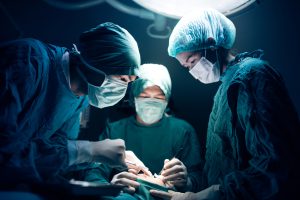 Maintaining a patient's body temperature during surgery lessens bleeding, speeds up recovery times and provides other benefits. Therefore, surgeons and medical teams use forced-air warming systems, fluid warming systems, intravenous fluid warming and/or warming blankets. The 3M Bair Hugger is a popular forced-air warming blanket; however, studies have shown that the Bair Hugger may actually make a patient more susceptible to infection during surgery, especially hip and joint replacement surgeries. The design of the device may circulate contaminants from the floor and non-sterile surfaces in the operating room. If these contaminants come into contact with the patient's surgical site, then serious complications such as a deep infection may result.
If you or a loved one suffered a surgical infection due to a defective warming blanket, then you may be entitled to compensation through a Bair Hugger lawsuit. Many of these claims have already been consolidated into a multidistrict litigation (MDL), which you might be eligible to join. At Riddle & Brantley,, our product liability lawyers are currently reviewing claims concerning 3M Bair Huggers. Even if you are unsure whether a warming blanket contributed to your injuries, we can investigate your operation and get you answers.
What Is the 3M Bair Hugger?
The Bair Hugger Forced Air Warming system is one kind of surgical warming blanket used in operating rooms across the country. It works like a forced-air heater, pushing warm air through a flexible hose into the blanket draped over a patient. During this process, warm air spreads over the patient's body and then empties under the surgical table. While this happens, a standard surgical ventilation system keeps contaminated air off the patient's body. Due to the design of these ventilation systems, the space at patient level and above should comprise only clean air, and dirty or potentially contaminated air should stay below the operating table.
However, some now believe that the Bair Hugger's air flow system may disrupt the operating room's air flow. This causes contaminated air to recirculate over that table and potentially into an open surgical site.
What are the Risks of the Bair Hugger Warming Blankets?
The result of the recirculation of contaminated air is an increase in the risk of an infection in a patient's hip or knee. As contaminated air circulates back over the patient, bacteria may settle in open surgical sites. The results may include MRSA, sepsis and other serious infections. The most serious potential side effects are joint infections that can happen during hip and knee replacements procedures.
As these infections may occur deep in the joint, they can be very difficult to treat. Potential treatment may include additional surgeries and antibiotic therapy. In the most serious cases, the infection can necessitate amputation, joint fusion and/or several revision surgeries. Thus, victims may suffer permanent disability, chronic pain and even wrongful death.
Can I File a Bair Hugger Lawsuit?
Many lawsuits have been filed against Arizant Healthcare, a subsidiary of 3M, over the Bair Hugger, on behalf of patients who developed serious infections after undergoing joint replacement surgery. These suits allege that product defects in the warming blanket substantially increase the risk of infection and serious surgical complications. At the end of 2015, the Judicial Panel on Multidistrict Litigation consolidated these product liability claims. Consolidation into a multidistrict litigation keeps each Bair Hugger lawsuit separate, but it reduces costs and discovery time by combining the initial stages of all claims.
If you or a loved one suffered a serious infection after a joint replacement or other surgery, then you may be able to obtain compensation for your medical bills and other damages. The product liability attorneys at our law firm can discover whether your procedure involved a Bair Hugger. If so, then we can explain your legal options, including potentially joining the current MDL.
Questions About a Bair Hugger Lawsuit? Contact Our NC Product Liability Lawyers Today
The North Carolina lawyers at Riddle & Brantley are currently investigating cases involving product defects in the Bair Hugger. If you or a loved one contracted an infection after a surgical procedure, then call our law firm. We have offices across North Carolina, including in Raleigh, Goldsboro, Jacksonville and Kinston and we serve the entire state. To learn more about your legal rights, contact us at (800) 525-7111 or complete a free case review form.