Medtronic Sprint Fidelis Recall
Medtronic Sprint Defibrillator Recall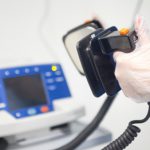 If you or a loved one has a recalled Medtronic sprint defibrillator lead device installed in your heart, please read this information.
Medtronic removed its Sprint Fidelis® heart defibrillator cardiac leads from the market after reports surfaced that linked the devices to at least five patient deaths and hundreds of malfunctions. The Medtronic Sprint Fidelis is an electrical wire that connects the implantable cardioverter-defibrillators (ICDs) to the heart. Defibrillators were designed to monitor the rhythm of the heart and deliver an electric shock directly to it if it begins beating too fast.
In its recall, the Food and Drug Administration (FDA) noted that without warning the Sprint Fidelis lead can fracture inside a patient's blood vessel and deliver a massive electrical jolt. Medtronic has reported that over 235,000 people have these Sprint Fidelis cardiac leads implanted in their heart muscles. The affected Sprint Fidelis Medtronic leads are model numbers 6930, 6931, 6948 and 6949. All of the Sprint Fidelis models affected by the recall were produced from September 2004 to October 2007.
Have Questions About the Sprint Defibrillator Recall? Call Today
If you or a loved one has a Medtronic heart device, please note what the FDA has said regarding this implant:
"Neither FDA, Medtronic, nor representatives of the Heart Rhythm Society recommend the routine surgical removal of a fractured lead because removal carries risks. Instead, physicians should weigh the benefits and risks of either continuing to use the lead with careful monitoring or capping the lead so it is no longer usable and implanting a different model."
If you have suffered because a Medtronic heart device caused you or a loved one harm or death, or if the Sprint Fidelis® heart defibrillator cardiac lead malfunctioned previously, call Riddle & Brantley at (800) 525-7111 for an evaluation of your case at no cost to you. Remember, when justice counts,® put us to work. We'll help make things right.
Sources: