Can You Get Disability for COVID-19?
As the coronavirus pandemic stretches toward the beginning of the new year with rising numbers of infections, our disability lawyers are fielding calls inquiring about whether COVID-19 disease (the illness caused by the coronavirus) could be the basis for a disability claim. Currently there is no specific disability "Listing" for COVID-19, but the symptoms and lingering effects from it could be factors that push someone over the edge from "barely functional" to "totally disabled."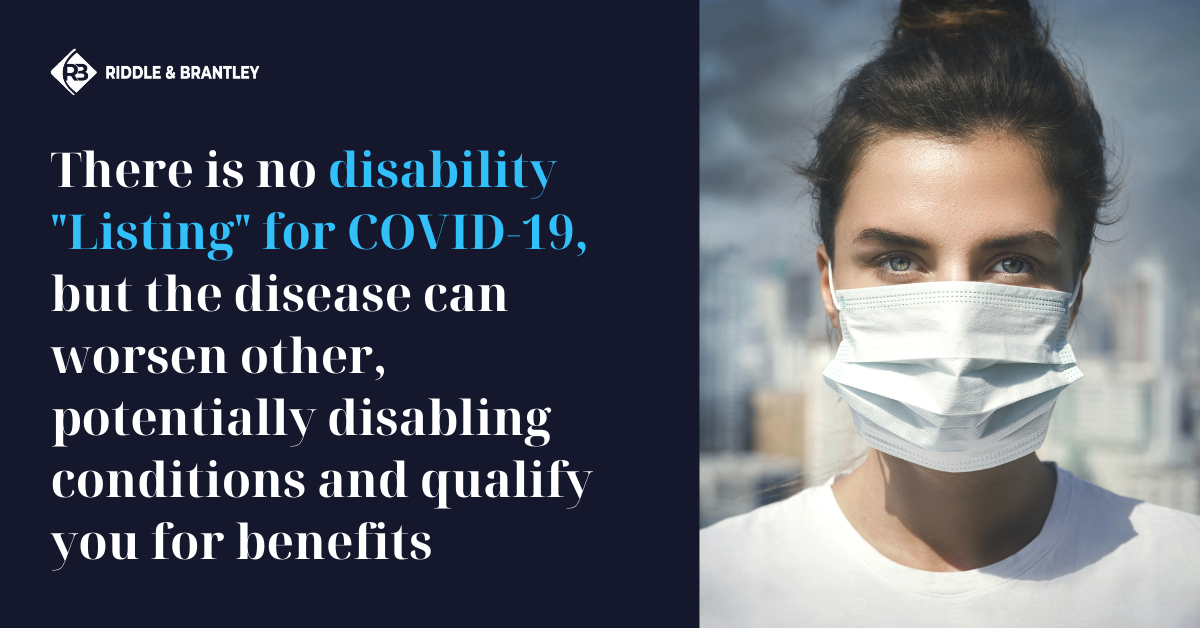 At that point, a disability claim that might not have been successful before coronavirus could now result in an award of benefits.
Bear in mind that in order to qualify for Social Security Disability (SSD) benefits from the Social Security Administration (SSA) of the federal government, you must prove that you are totally disabled from working at full-time employment. In other words, it is not enough to show that you are too sick or injured to perform the jobs you've done in the past; with few exceptions, you have to prove that you cannot do ANY full-time work, no matter how simple or easy the job.
And, as another part of the analysis of your claim, you are subject to what is called the "durational test." In order for any impairment to be "disabling" as that term is defined by the SSA, it must have already lasted, or be expected to last, for at least a year, or to result in death.
"How Can COVID-19 Affect My Disability Claim?"
So, with this background in mind, how could COVID play into your disability claim? It could make your pre-existing conditions worsen to the point of preventing you from working much, if at all, and thereby making you eligible for benefits.
We still do not know very much about the lasting effects of COVID-19 infections, but we do know that a small percentage of people who develop severe symptoms have a very difficult time recovering. They are being called "long haulers" because they take so long to recover. We have seen studies suggesting that over half of all COVID-19 sufferers still experience symptoms three months or more after onset of the disease.
COVID-19 and COPD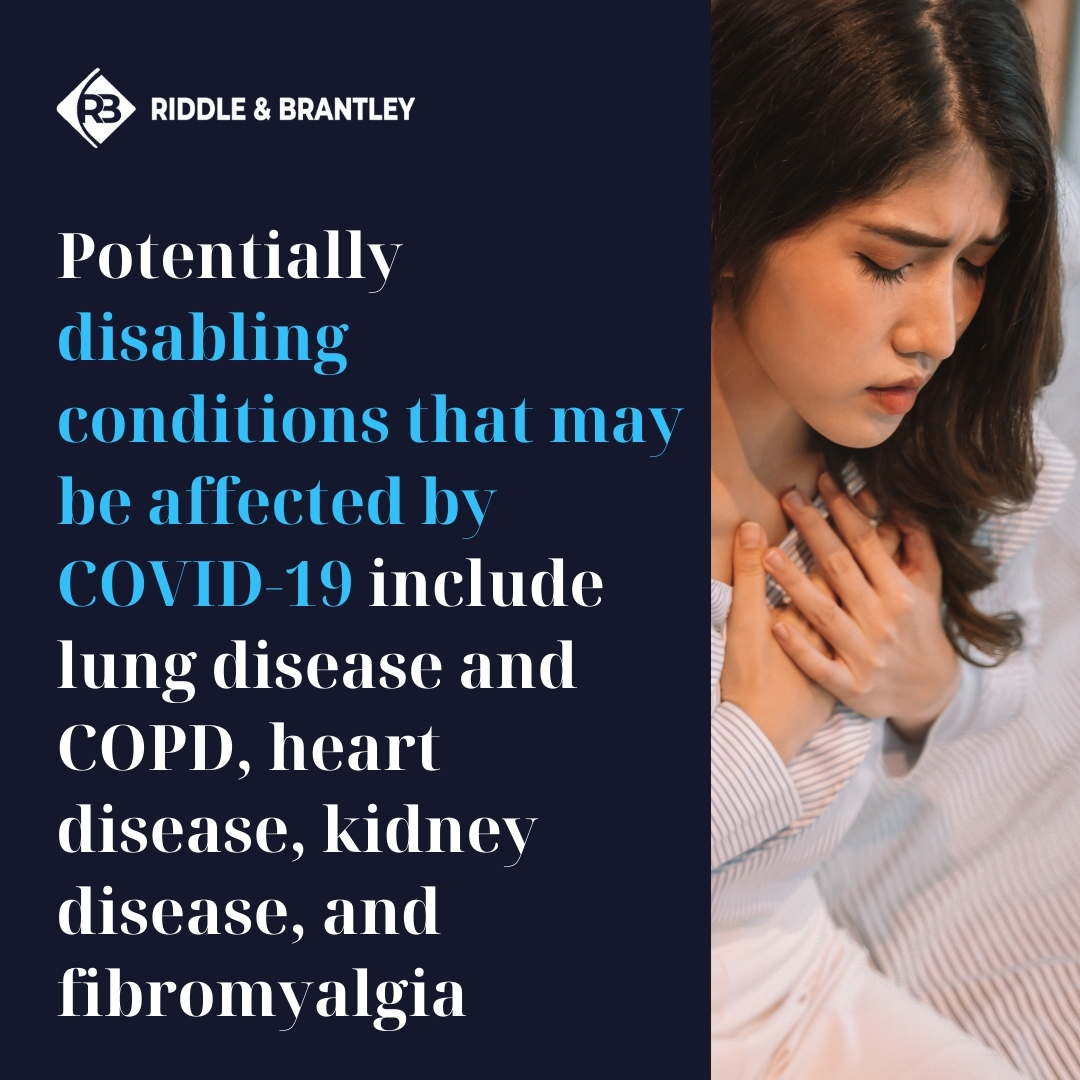 The most obvious condition that could be made disabling by a COVID infection is chronic obstructive pulmonary disease, otherwise known as COPD. This lung and breathing disorder can be anywhere from mild to severe in sufferers. COVID infections typically attack the lungs, and if your lungs are already compromised by COPD, a COVID infection could increase the severity of your case and making it disabling if your symptoms can be shown to have worsened following a COVID infection. This is likely to be the case if your COVID infection is severe enough to require you to be put on a ventilator.
COVID-19 and Fibromyalgia
Also, many "long-haulers" experience profound fatigue and inability to concentrate, two of the hallmark symptoms of fibromyalgia. If your case of fibromyalgia was not quite bad enough to be disabling, but then you contracted the coronavirus and developed COVID-19 disease that resulted in your condition getting a lot worse, you could qualify for benefits if you meet the other criteria.
Other Disabling Conditions and COVID-19
Other long-haulers experience permanent damage to their heart, kidneys, or brain that may affect their ability to function sufficiently to work, especially if they already had diseases or disorders of those organs before the pandemic.
Has COVID-19 Impacted Another Disabling Condition?
If you have developed COVID-19 and experienced a significant worsening of symptoms associated with a potentially disabling condition, you may qualify for Social Security disability benefits.
Our experienced North Carolina disability lawyers can help. Our team is led by Scott Scurfield, a Board-Certified Specialist in Social Security Disability, who has more than 30 years of experience handling complex legal matters. Scott and his team know the Social Security disability inside and out and can assist with both initial claims as well as appeals.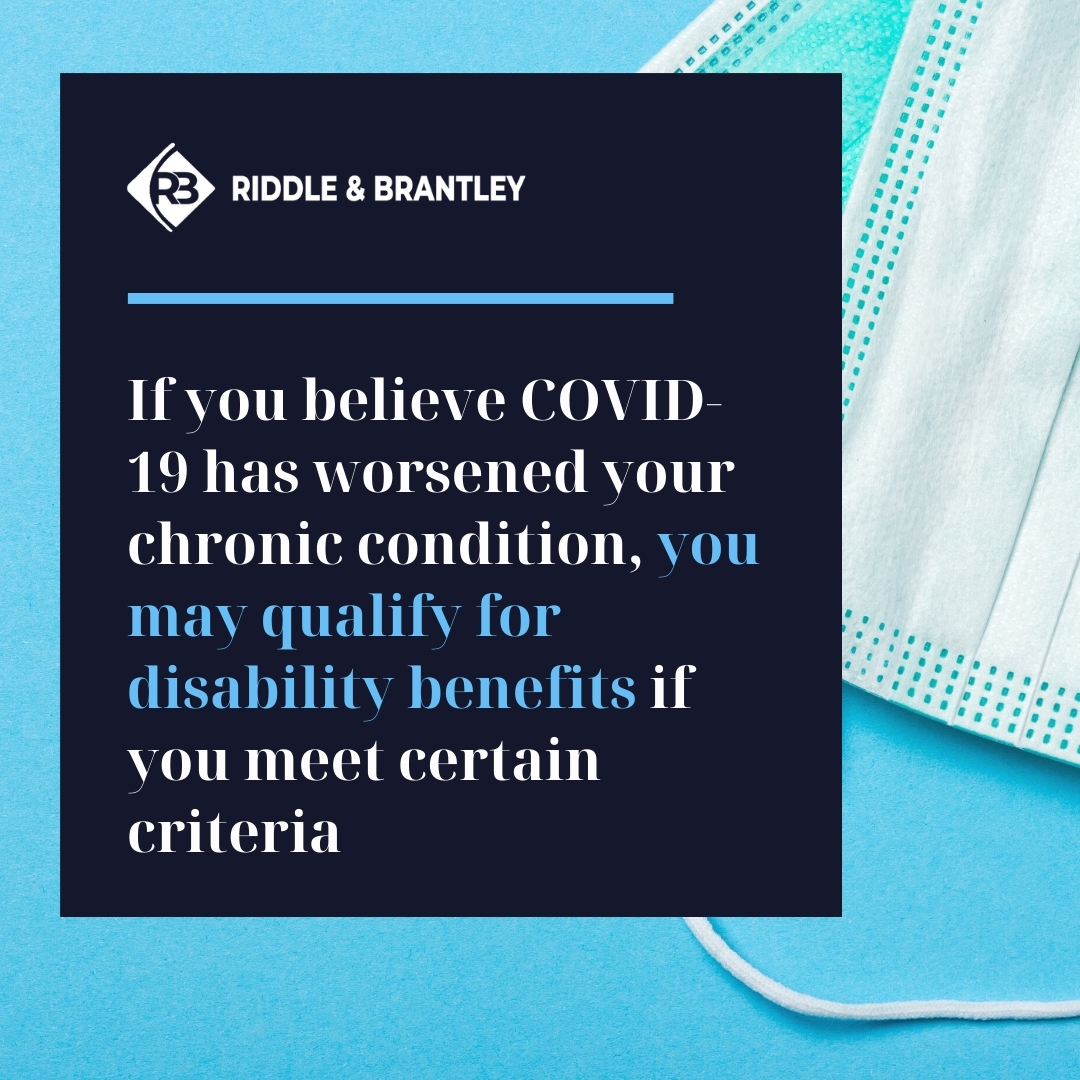 For a FREE consultation with an experienced North Carolina disability lawyer, please call 1-800-525-7111 or complete the fast and easy form below.
There is never any obligation and you won't pay any attorney fees unless we get you the disability benefits you need and deserve.
COVID-19 may increase the likelihood that your existing condition becomes disabling, leaving you unable to work. Our attorneys can consult with you and help determine your eligibility for disability benefits.
Call 1-800-525-7111 today and let's review your disability claim, and see how your COVID-19 diagnosis may affect your eligibility.
Our Social Security disability team serves clients throughout North Carolina, including those in:
For a FREE, no-obligation consultation with an experienced North Carolina disability attorney handling claims potentially impacted by COVID-19, please call 1-800-525-7111.
"I would recommend Riddle & Brantley to anyone who needs help with disability."
–B. Fields, Riddle & Brantley client
We believe Justice Counts for all North Carolinians and are committed to seeking disability benefits for those who need and deserve them.
Call 1-800-525-7111 and let's see how we can help.
Justice Counts.