Disability for Arthritis: How to Qualify
Arthritis is one of the most common chronic diseases in the United States. According to the Centers for Disease Control and Prevention (CDC), 23 percent of U.S. residents (more than 54 million people) suffer from arthritis. In some cases, arthritis can be debilitating and prevent a person from working. Do you qualify for Social Security disability for arthritis?
We normally think of "arthritis" as pain, swelling, and loss of mobility in the joints of the body. Medically, there are two forms of arthritis:
Osteoarthritis — a degenerative condition where the cartilage at the ends of the bones wears away over time)
Rheumatoid arthritis ­— an autoimmune disorder in which a person's own immune system attacks their joints).
Both types of arthritis can result in symptoms so severe that they prevent a person from working at full-time employment, especially in physically demanding jobs. If your osteoarthritis or rheumatoid arthritis has progressed to this point, you may qualify for Social Security disability for arthritis.
There are two ways to qualify for disability benefits for arthritis:
Meeting one of the Social Security Agency's "Listings" of impairments; OR
Showing that your "residual functional capacity" or "RFC" is so impaired that you could not work at any full-time job existing in significant numbers in the national economy, no matter how simple or easy.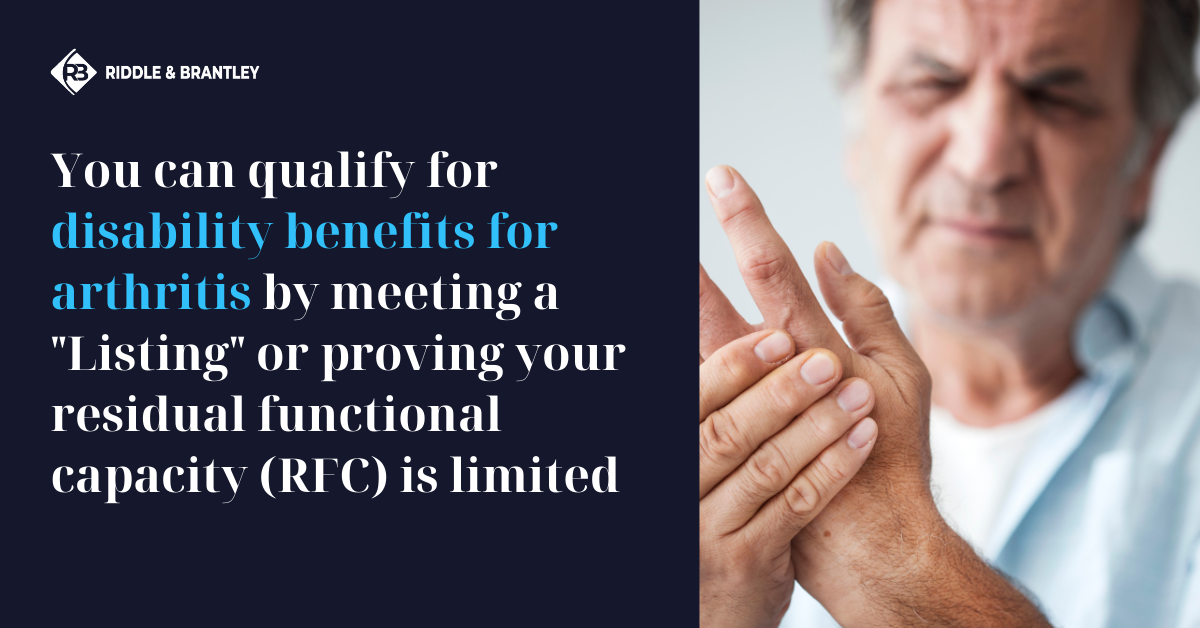 "Meeting a Listing" means that your condition meets the very specific requirements set forth in the Social Security Administration's "Blue Book," proving that you have one of the types of arthritis severe enough to automatically be considered disabling.
Disability for Osteoarthritis
For osteoarthritis, the applicable Listing is the one for spinal disorders. To meet it, you must show (via medical records) that you have a diagnosis of osteoarthritis in your spine AND that it has resulted in:
Nerve root compression; OR
Narrowing of the spinal canal; OR
Inflammation of a specific membrane in the spinal cord that makes it difficult for you to maintain certain positions for more than a short period of time due to pain
If you can prove these things, you will be found to be disabled and entitled to disability for arthritis, as long as you are otherwise eligible.
Disability for Rheumatoid Arthritis
Rheumatoid arthritis, on the other hand, has its own Listing (called "Inflammatory arthritis") and it is very complicated. There are six different variants of rheumatoid arthritis that can, if proven, meet the Listing, specifically:
Presence of the disease in the legs that causes difficulty standing and walking; OR
Presence of the disease in both arms affecting the ability to use the arms and hands effectively; OR
Joint deformity with accompanying symptoms like fatigue or involuntary weight loss; OR
A specific type of spondylitis (inflammatory defect) in the spine; OR
A different type of spondylitis that causes certain specific symptoms; OR
Repeated flare-ups of certain symptoms that cause significant limitations in your activities of daily living
Again, if at least one of these conditions can be proven by acceptable medical evidence, you will meet the Listing and be found disabled.
Arthritis and Residual Functional Capacity (RFC)
It should be apparent that it is very difficult to meet a Listing for arthritis because the requirements are so specific and so challenging. However, if you have a documented case of osteoarthritis or rheumatoid arthritis and your symptoms are debilitating, but not in the specific ways required to meet a Listing, you can still win your disability case based on your "residual functional capacity," also known as "RFC."
Beyond the specific "Listings," you can qualify for disability for arthritis if you can prove that your RFC (see definition above) is so diminished that you cannot work an 8-hour/day, 40-hour week no matter how simple or easy it may be.
To do this, you must show that your ability to do things like sitting, standing, and walking for periods of time, carrying objects, interacting with others, and paying attention to your job, is degraded to a degree that you could not work in full time employment.
To prove this level of impairment normally requires treatment records, prescription logs, and supportive letters from doctors, as well as witness statements from your friends and family. The amount and type of medication you take for pain management is also relevant. Some unfortunate arthritis sufferers must choose either debilitating pain or being medicated by opioids to a degree they cannot function at a level needed to work.
"How does age affect a disability claim for arthritis?"
Your age is a significant factor in any disability claim, and this is especially so for claims based on either type of arthritis where a Listing cannot be met. The most significant "milestone age" is 50. If your arthritis case precludes you from doing any of the work you've done for any significant time in the past 15 years (say, for instance construction work or farm labor), and it limits you to sit-down types of jobs, then you should win your case, because your RFC is so limited.
Get Help from a Disability Lawyer
Either of these two routes to a disability award for arthritis requires the gathering and presentation of large quantities of medical records and other documents to the Social Security Administration. The assistance of a knowledgeable, experienced disability lawyer (especially a Board-Certified Specialist) can be invaluable in meeting the high burden of proof required to win a disability case.
At Riddle & Brantley, our disability team is led by Scott Scurfield, an attorney and Board-Certified Specialist who has been recognized by the North Carolina State Bar for his experience and expertise handling disability cases.
In more than 30 years of practicing law, Scott has handled many disability claims for people suffering from arthritis and he would love to help you if he can.
For a FREE consultation with an experienced disability lawyer handling claims for arthritis, please call 1-800-525-7111 or complete the fast and convenient form below.
There is no obligation and you won't pay any attorney fees unless we win your case and you receive disability for arthritis.
Please call 1-800-525-7111 today and let's review your arthritis disability claim.
According to research, those who do hire an attorney are approved for disability benefits roughly 60 percent of the time, while those who do not hire an attorney are approved just 34 percent of the time.
That's a big difference — don't gamble with your potential benefits.
Our attorneys represent North Carolinians in disability claims across the state, including in:
Whether you're applying for the first time or are appealing a denial, we can help. Justice Counts for North Carolinians with disabilities and we would love to help you if we can.