Epilepsy Disability Benefits: Do You Have a Claim?
Disability benefits are available for epilepsy. If you or a loved one suffer from this disorder, epilepsy disability benefits may be available provided certain criteria are met. In this article, we'll look at how those suffering from epilepsy can claim the Social Security disability benefits they need and deserve.
IMPORTANT: If you're seeking disability for epilepsy, our Social Security disability lawyers can help with your claim or appeal. We've helped hundreds of North Carolinians get the benefits they need and deserve, and we would love to help you with your epilepsy disability claim if we can. Please call 1-800-525-7111 for a FREE, no-obligation consultation today.
What is Epilepsy?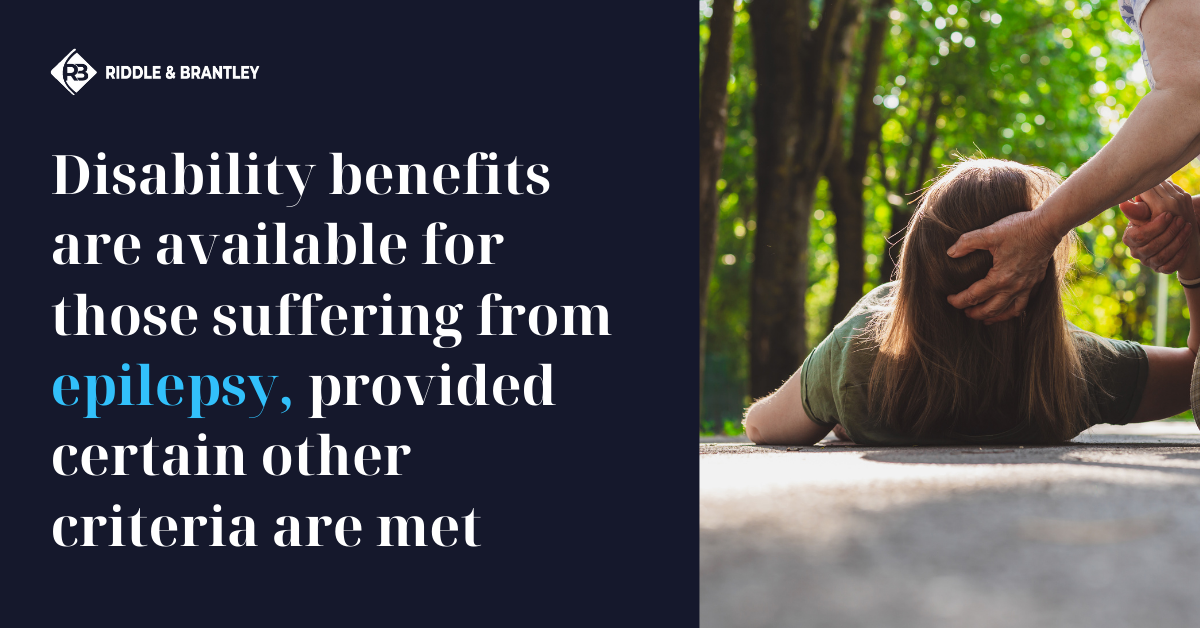 Epilepsy is a brain disorder that is characterized by seizures. Sometimes epilepsy results from other conditions like cerebral palsy or a stroke, but more often the cause of epilepsy is unknown. Somewhere in the neighborhood of 3.5 million people in the US suffer from epilepsy, making it one of the more common neurological disorders.
When most people hear the term "seizure," they think of a person violently convulsing on the floor, but there is a wide range of seizure types, from those violent ones called "grand mal" seizures to others that may look like minor staring spells. The common characteristic of all seizures is that they are an involuntary set of symptoms resulting from the brain not functioning properly.
Epilepsy Disability Benefits
Many epilepsy sufferers respond well to medication. It can greatly reduce the frequency and severity of seizures they experience. But even mild seizures are a major problem when they occur, without warning, during normal daily activities like driving. If your epileptic seizures occur frequently enough, and with enough severity, to prevent you from working, they can form the basis for a claim for Social Security Disability benefits. 
How to File a Claim for Disability for Epilepsy
When you make a claim with the Social Security Administration (SSA) for disability benefits based on epilepsy, SSA will gather your medical records to learn about the type, frequency, duration, and severity of your seizures. Having a medical diagnosis of "epilepsy" does not necessarily mean you cannot work.
To win your epilepsy disability claim, you must prove that:
you are following your doctor's orders for medication
you are not contributing to your own seizures by abusing drugs or alcohol
your seizures have persisted over a lengthy period of time even though you are doing all the right things
If you can show all of this through the proper documentation, your disability claim based on epilepsy may be successful.
For a FREE consultation with an experienced disability lawyer handling epilepsy claims, please call 1-800-525-7111 or complete the fast and convenient form below.
There is no obligation and we don't get paid unless we win your case and you receive disability benefits for epilepsy.
Please call 1-800-525-7111 today and let's review your claim for disability benefits for epilepsy.
Meeting the SSA Listing for Epilepsy
The SSA has a category in its "Listing of Impairments" specifically for epilepsy within the more general category of listings for neurological disorders. In order to qualify for benefits under the strict requirements of the Listing, you must produce medical records and witness statements proving the existence and severity of the condition.
At a minimum, your records must show:
the diagnosis itself as well as the types and frequency of your seizures
EEG test results showing the disorder
your history of medication compliance
your efforts to work despite the seizures
witness statements from third parties describing your seizures.
Qualifying for Disability for Epilepsy Based on RFC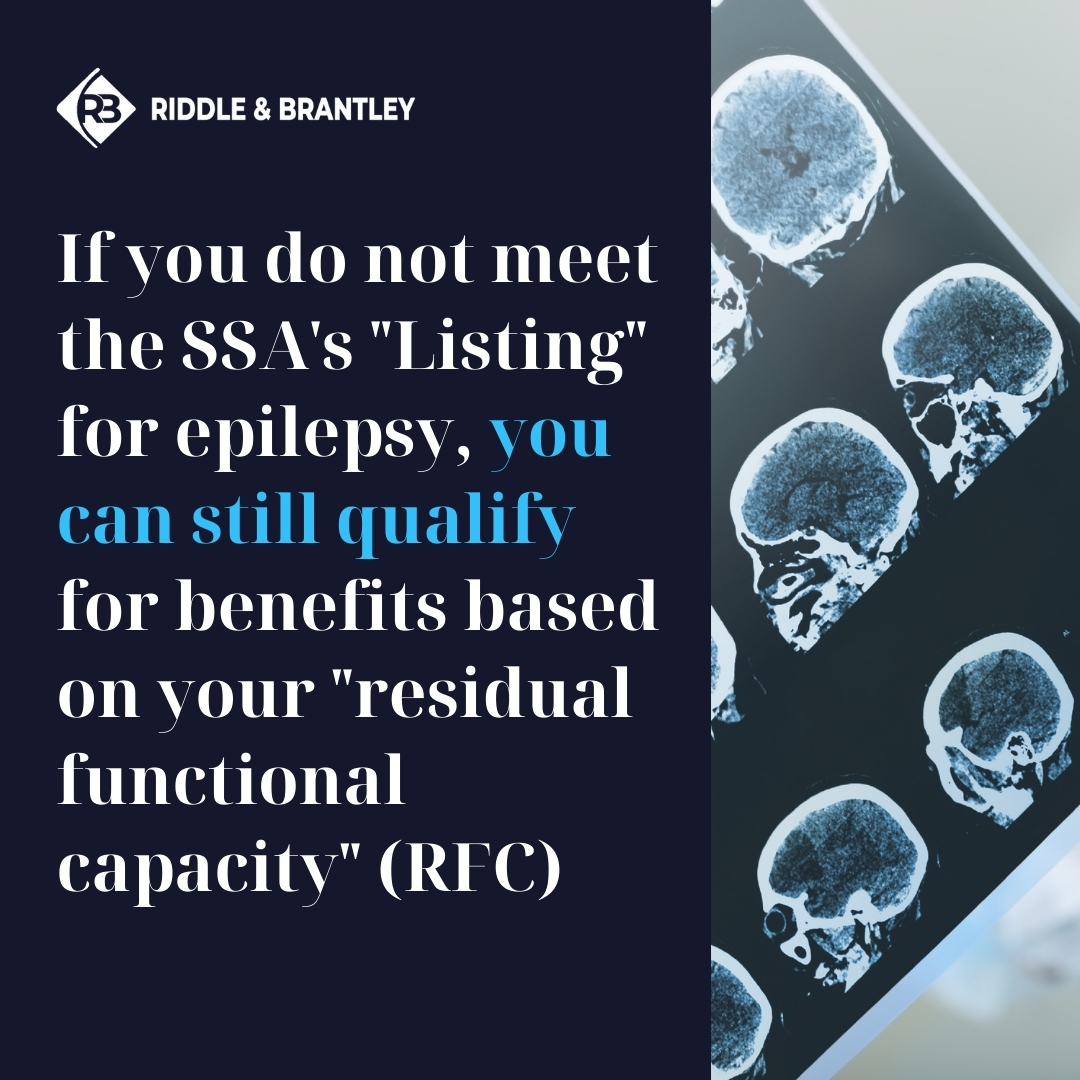 If your epilepsy does not meet the stringent requirements of the epilepsy listing, you can still qualify for benefits if your symptoms are severe enough to limit your "residual functional capacity" or "RFC" so severely that you cannot work full-time at even a very simple, easy job.
SSA will first look at your age, education, work history, and level of impairment. They will then compare your RFC to all the jobs available in the workforce to see if they think you can still perform some of them.
For instance, your epilepsy might not cause as many or as severe seizures as the listing requires, but they might result in other issues like pain, fatigue, and the inability to operate machinery, so they might be so limiting for you, given your background, that few if any jobs could accommodate you.
Your age is a major factor as well. If you are over 50 years of age, you are presumed to be less able to adjust to other types of work besides what you have done over the past fifteen years.
If these things are proven by medical evidence and testimony from friends and family, you can be approved for benefits even though you do not meet the technical requirements of the epilepsy listing.
Do You Have a Claim for Disability Benefits for Epilepsy?
If you're seeking to file an epilepsy disability claim, or you need to appeal a denial, the Social Security disability attorneys at Riddle & Brantley can help.
We serve people with disabilities across the entire state of North Carolina, including in cities such as:
Winston-Salem
Asheville
Gastonia
Kannapolis
Concord
New Bern
Our team is led by Scott Scurfield, an attorney and Board-Certified Specialist in Social Security Disability. The North Carolina Bar Association has recognized Scott for his experience and expertise handling these types of cases.
For a FREE consultation with a Board-Certified Specialist concerning your epilepsy disability claim, please call 1-800-525-7111.
The consultation is free and you won't pay any attorney fees unless we are successful and you get disability benefits for epilepsy.
"I would recommend Riddle & Brantley to anyone who needs help with disability."
–B. Fields, Riddle & Brantley client
Justice Counts for North Carolinians with disabilities and we would love to help however we can.
Please call 1-800-525-7111 today and let's review your claim.