What is the Statute of Limitations on a North Carolina Car Accident Claim?
How long do I have to file a car accident claim in North Carolina?
Like all states, North Carolina imposes a time limit, or statute of limitations, on seeking monetary reparations arising from a personal injury. In most cases in North Carolina, car accident injury claims must be filed within three years of the date of injury, and wrongful death claims for fatal car accidents must be filed within 2 years from the date of death.
States impose these deadlines to ensure that lawsuits are filed while pertinent evidence and memories remain fresh and intact.
Time Limits for Filing an Injury Case After an Auto Accident in North Carolina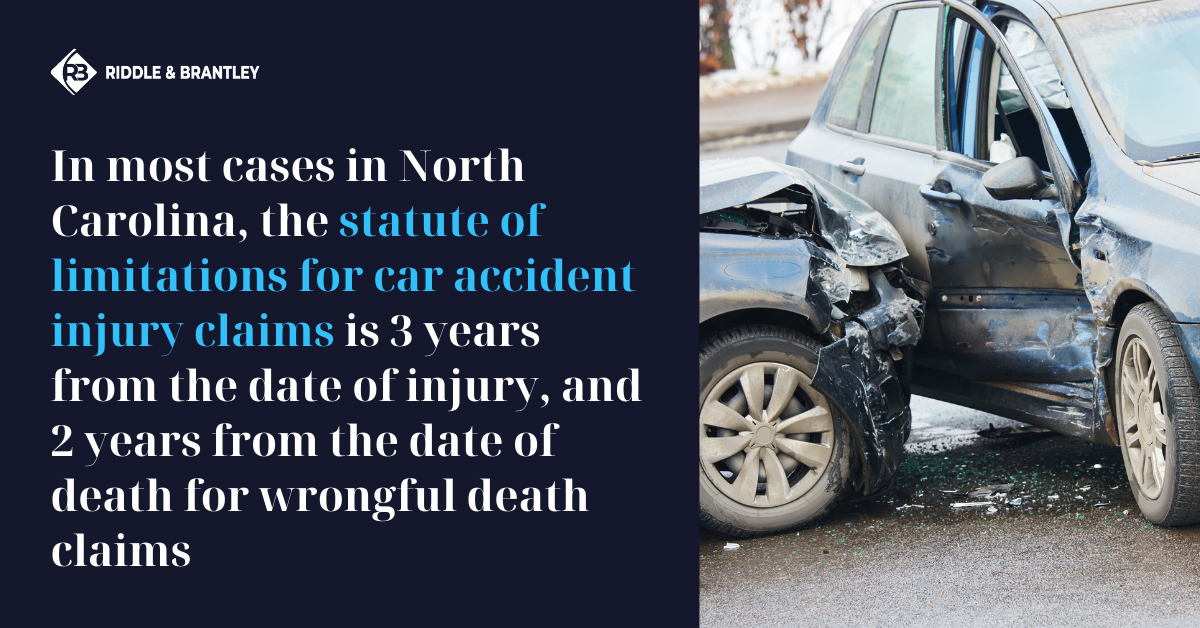 There are some exceptions to this three-year deadline, which can be clarified by an experienced North Carolina personal injury attorney at Riddle & Brantley. The case review comes with no strings attached and provides an excellent opportunity to explore your options for recovery.
Our North Carolina car accident lawyers offer results-driven advocacy on a contingency fee basis, so you won't pay any attorney fees unless we secure financial compensation for you through a settlement or verdict.
Do Statutes of Limitations Apply to Car Accident Insurance Claims?
North Carolina's statutes of limitation only apply to civil torts (lawsuits) and do not have any bearing on insurance claims. The time limits for this process will depend on your insurance carrier and policy language.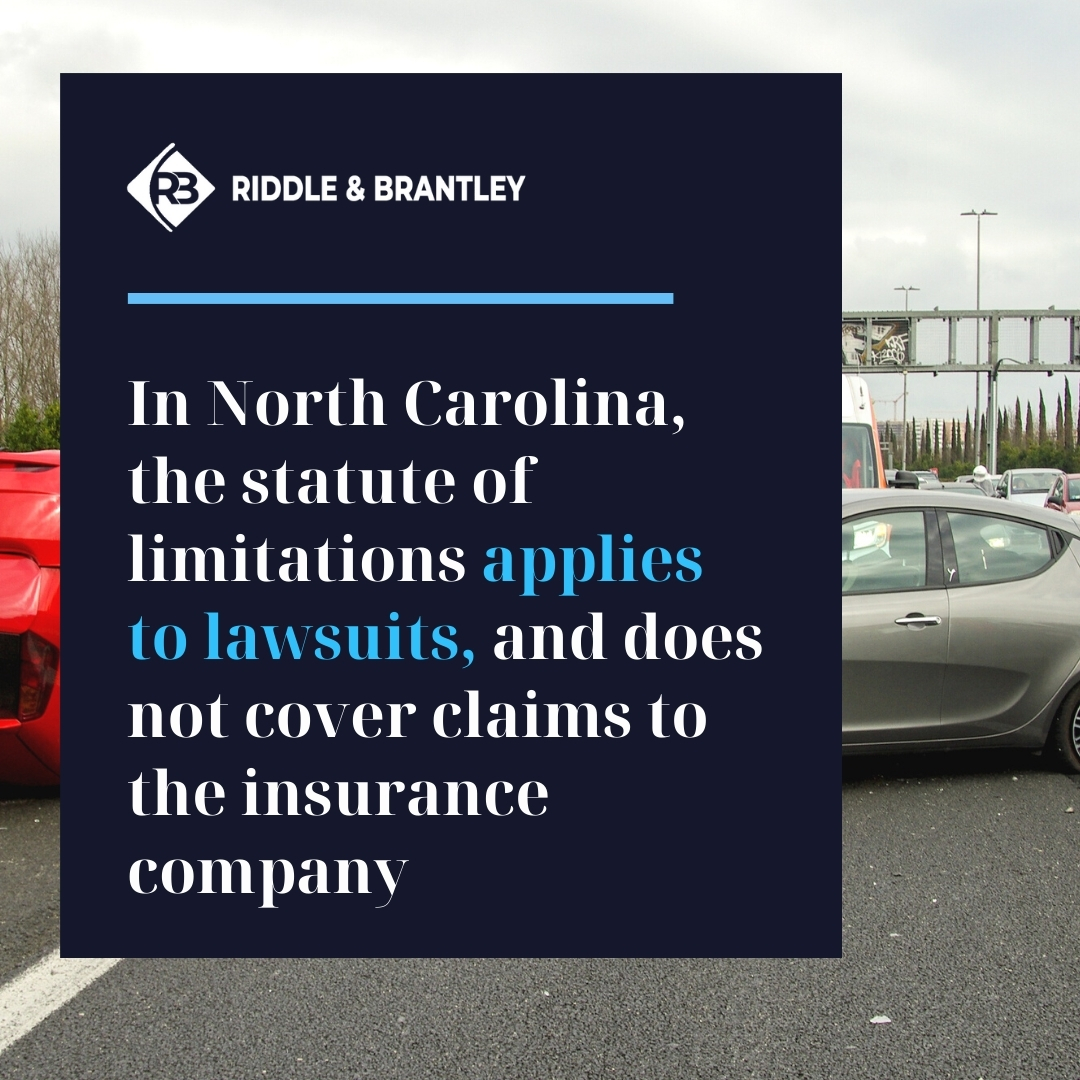 Regardless of whether you pursue an insurance claim or not, it's important to remember that the clock starts ticking the day of your accident. In this regard, it's prudent to retain a qualified car accident attorney to help you from the very beginning. A legal advocate can gather crucial evidence, speak to eyewitnesses, and present a strong case to adjustors. In the event the insurance company refuses to settle fairly, your lawyer may file an injury suit well before the statute of limitations runs out.
NC Statutes of Limitation for Accidents Resulting in Death
If the crash resulted in the death of a family member, you or a qualified representative of the deceased may bring a claim for wrongful death against the negligent party. According to NC General Statutes Section 1-53, the deadline for wrongful death actions is two years from the date of your loved one's death.
Once the statute of limitations has expired, victims are barred from bringing a legal action for injury or wrongful death, which is why it's important to consult with an experienced injury lawyer right away.
There are no upfront costs and no attorney fees unless we win your case and you receive compensation.
Exceptions That "Toll" Deadlines for Legal Action
The state's three-year statute of limitations for injury claims is "tolled" (extended) for minors who are harmed in auto accidents. In these cases, the victim has until his or her 21st birthday to file a personal injury lawsuit for damages. The deadline would also be extended for car accident victims who are mentally incompetent, or considered "disabled" and unable to participate in legal proceedings. For instance, the statute of limitations may be extended for someone who has suffered traumatic brain injury, or a senior adult with severe cognitive impairment. In these cases, the statute would go into effect once the disability has resolved completely.
Preserve Your Legal Rights for Compensation
If you've been injured in a car accident, the NC law firm of Riddle & Brantley is poised to help. Our attorneys leverage more than 220+ years of combined legal expertise, and have a proven track record of outstanding results. Recently, our attorneys procured a $2.75 million arbitration award on behalf of a client who received severe injuries to his leg, arms, and neck in a head-on collision (see disclaimer below).
"They turned a heartbreaking situation completely around."
-Tonya Taylor, Riddle & Brantley client
Put our experience, resources, and dedication to work on your injury case. To discuss your car accident and how we can obtain justice for you, contact an attorney at Riddle & Brantley for a free, no-obligation case review.
Justice Counts.
---
*** Disclaimer: The results mentioned are intended to illustrate the type of cases handled by the firm. These results do not guarantee a similar outcome, and they should not be construed to constitute a promise or guarantee of a particular result in any particular case. Every case is different, and the outcome of any case depends upon a variety of factors unique to that case.