Zantac Cancer Research Shows Link Between Ranitidine, NDMA and Cancer
What does the latest Zantac cancer research show about the potential link between Zantac (ranitidine) and cancer?
Valisure, an online pharmacy that first discovered high levels of probable human carcinogen N-Nitrosodimethylamine (NDMA) in Zantac and its generic equivalents, has rolled out new Zantac NDMA data supporting its initial findings that these popular heartburn medications put patients at increased risk for serious cancers.
In its Zantac cancer research study published in the Journal of the American Medical Association (JAMA), Valisure conducted tests to see if NDMA could form from different ranitidine products, including Zantac, under different conditions. Most notably, they looked for whether NDMA could form when Zantac or generic ranitidine was exposed to conditions inside the human body.
According to Kaury Kucera, the chief scientific officer for Valisure, "Valisure detected NDMA in every brand and every dosage form of ranitidine that we tested whether over the counter or prescription and regardless of manufacturer."
In an additional study published to MedRxiv, Valisure attempted to verify a correlation between ranitidine product use (or similar H2-blockers) and certain cancers. This study concluded that "among a cohort of cancer patients reporting use of H2-blockers or PPIs at the time of diagnosis, we found an association between ranitidine use and cancers of the breast, thyroid, bladder and prostate."
"We found an association between ranitidine [Zantac] use and cancers."
-Researchers in 2021 report
Other cancers may be caused by Zantac (ranitidine), as well (see list below).
If you've been diagnosed with cancer after using brand-name Zantac, call 1-800-525-7111 or complete the form below for a FREE consultation.
There is no obligation and you won't pay any attorney fees unless we win your case and you receive compensation.
Call 1-800-525-7111 today and let an experienced Zantac lawsuit lawyer review your claim. You may be entitled to significant compensation.
IMPORTANT: A federal judge recently ruled against lawsuits concerning generic Zantac. At this point, we can only accept cases concerning use of brand-name Zantac OR "mixed" use of brand-name Zantac and generic equivalents.
More Research Linking NDMA in Zantac to Cancer Cases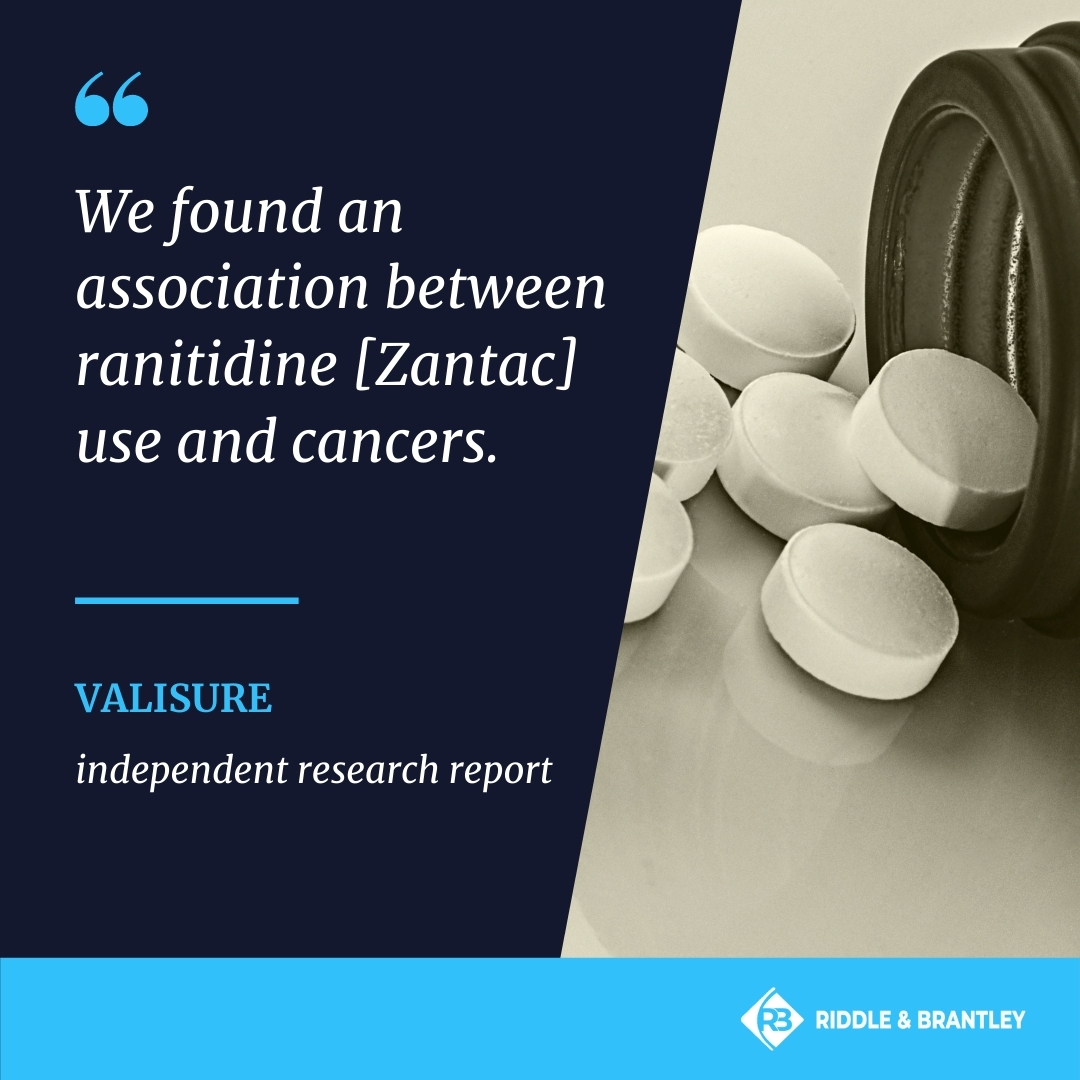 Studies dating as far back as 1991 have linked NDMA to the development of cancer, with one study published in the American Association for Cancer Research that showed that rats exposed to NDMA were more likely to develop a liver neoplasm.
NDMA is actually used to cause cancer in rats in many lab experiments.
Another study published by a Danish cohort found an increased risk for colorectal cancer in individual patients, though studies are still ongoing to confirm this.
"What does this research mean if I've taken Zantac or ranitidine?"
There are currently a number of Zantac lawsuits being brought against its manufacturing companies, including U.S.-based Sanofi, that allege these companies knew their product was contaminated with NDMA.
NDMA is listed by the FDA as a "probable human carcinogen" meaning it is a substance that could cause cancer in humans.
High levels of NDMA in Zantac and ranitidine may cause these types of cancer:
Colorectal cancer
Thyroid cancer
Throat/nasal cancer
Testicular cancer
Uterine cancer
Pancreatic cancer
Leukemia, non-Hodgkins lymphoma, and Multiple Myeloma
These new findings are the most recent in a long line of studies linking Zantac to NDMA contamination and the later development of cancer in many patients.
In April 2020, the FDA officially recalled Zantac and other ranitidine products, stating "The agency has determined that the impurity in some ranitidine products increases over time and when stored at higher than room temperatures and may result in consumer exposure to unacceptable levels of this impurity. As a result of this immediate market withdrawal request, ranitidine products will not be available for new or existing prescriptions or OTC use in the U.S."
If you or a loved one have taken brand-name Zantac and were later diagnosed with cancer, you may be entitled to compensation. Call 1-800-525-7111 to speak with one of our Zantac lawyers for a FREE review of your case.
You may qualify for a Zantac lawsuit if you meet the following criteria:
Used brand-name Zantac only
Suffered from at least one of the following cancers:

Bladder cancer
Liver cancer
Stomach cancer
Esophageal cancer
Pancreatic cancer

Must have used brand-name Zantac after October 1984
Must have used brand-name Zantac for a minimum of one year
Must have used brand-name Zantac once per week for a minimum of six months
Must have been diagnosed with a qualifying cancer within 20 years of last dose
Must not have been a smoker in the past 20 years if diagnosed with lung cancer
Must be 64 years of age or younger at the time of diagnosis if diagnosed with prostate cancer
Certain other criteria may apply. For a FREE, no-obligation consultation with an experienced Zantac lawsuit attorney, please call 1-800-525-7111.
PLEASE NOTE: At this time, the federal MDL has limited the Zantac claims we can accept to bladder, esophageal, stomach, liver, and pancreatic cancers only. We understand that other cancers may be linked, but we are unfortunately unable to assist with these claims at this time due to evidence and recent court rulings.
There is no obligation and you won't pay any attorney fees unless we win your case and you receive compensation.
Call 1-800-525-7111 today and let's review your claim. 
"What should I do if I believe my cancer was caused by Zantac?"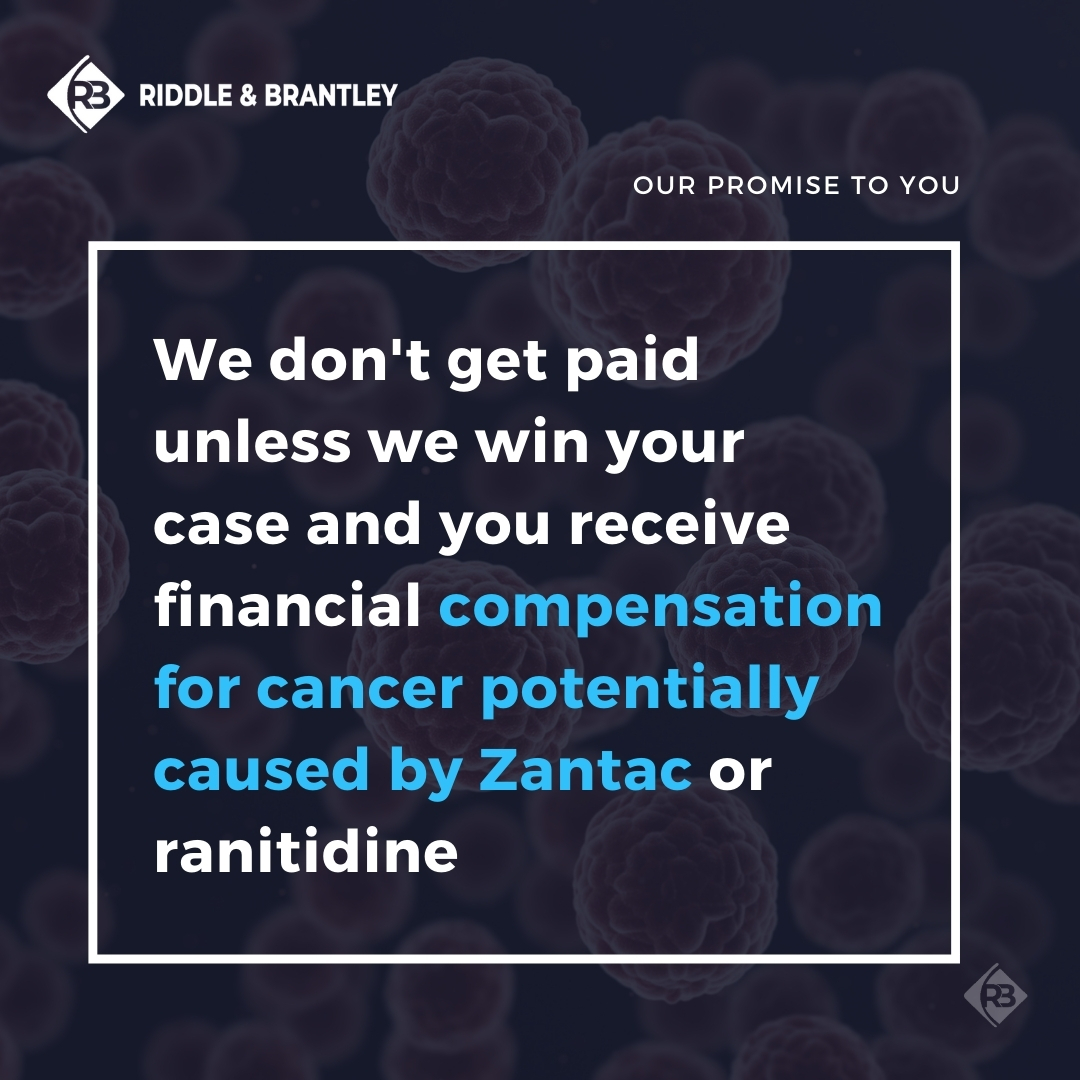 Potentially negligent drug manufacturers need to be held accountable for the damage their products may cause.
At Riddle & Brantley, our dangerous drug attorneys have over 225-years of combined legal experience fighting for the rights of our clients against potentially negligent parties.
We are here to help however we can.
If you have taken brand-name Zantac and later developed cancer, you may be entitled to compensation.
Call us today at 1-800-525-7111 or fill out our convenient form below to speak with one of our experienced Zantac lawyers and find out if you may qualify for a Zantac lawsuit.
"This settlement changed me and my family's lives."
–Linda B., Riddle & Brantley client
At Riddle & Brantley, you never pay ANY attorney fees unless you receive compensation.
Riddle & Brantley is dedicated to making sure you have a voice. With our team behind you, you can rest easy knowing we will fight hard to make sure you receive the maximum compensation to which you're entitled.
Let us show you that at Riddle & Brantley, Justice Counts.
---
***Disclaimer: No settlement agreement has been reached in any litigation regarding ranitidine (ZANTAC®), including in the Multidistrict Litigation in the United States District Court for the Southern District of Florida (case no. 20-MD-2924). 
*** Disclaimer: The results mentioned are intended to illustrate the type of cases handled by the firm. These results do not guarantee a similar outcome, and they should not be construed to constitute a promise or guarantee of a particular result in any particular case. Every case is different, and the outcome of any case depends upon a variety of factors unique to that case.