Is Elmiron Safe?
Is Elmiron safe? Alarming research links popular bladder medication to potentially serious eye damage.
Elmiron (generic pentosan) is a medication used to treat pain or discomfort from a certain bladder disorder called interstitial cystitis. Although the way in which Elmiron works is not completely known, it appears to work by adhering to the bladder mucus lining, preventing potentially irritating solutes in the urine from reaching the bladder wall. It is also a blood thinner and may increase the risk of bruising or bleeding from the nose or gums.
However, alarming new research links Elmiron with serious side effects, including severe eye damage. And many patients are wondering: "Is Elmiron safe?"
Is Elmiron safe?
Elmiron patients should know about the frightening research linking this popular interstitial Cystitis (painful bladder) drug to serious eye disease.
If you have ever taken the prescription Elmiron (pentosan polysulfate sodium, or PPS), this is an important message you need to know.
Here is why:
Recent research has linked Elmiron with a unique form of progressive eye disease. This eye disease is typically diagnosed by ophthalmologists as retinal maculopathy, retinal pigmentary endothelium injury (RPE) or age- related macular degeneration.
Elmiron has been associated with the occurrence of a potentially significant disorder of the eye. The link between Elmiron and retinal maculopathy was discovered by researchers associated with the Emory Eye Center at Emory University Medical School in Atlanta, Georgia.
Researchers at Emory observed those who were treated for interstitial cystitis associated with Elmiron long-term use between 2015 and 2017 were at an increased risk for developing retinal maculopathy. These people reported significant difficulty reading as well as adapting in low-light situations. The researchers concluded that a connection exists between this form of maculopathy and chronic exposure to PPS and it merits further investigation.
So, if you're wondering, "Is Elmiron safe?" the answer is that the evidence indicates that it is not, and may place you at risk of serious eye damage.
What to do if you take Elmiron
If you take Elmiron, talk with your doctor about the risks of Elmiron retina damage. He or she may recommend an Elmiron alternative.
The researchers responsible for the recent study caution that Elmiron does not appear to be safe, and urge patients who have taken Elmiron (PPS) to be screened regularly by an ophthalmologist if they experience unusual vision symptoms. They also suggest these patients discontinue the use of Elmiron if they are diagnosed with eye disease.
"Am I eligible for an Elmiron lawsuit?"
Elmiron manufacturer Janssen Pharmaceuticals faces legal action concerning this potentially dangerous drug.
Those who have taken Elmiron and been diagnosed with eye damage may be eligible for compensation.
You may be wondering, "Can I file an Elmiron lawsuit?"
You may be eligible for an Elmiron lawsuit if you have taken Elmiron for bladder pain or discomfort associated with interstitial cystitis and suffered serious side effects resulting in eye damage. Side effects that may be eligible for an Elmiron eye damage lawsuit include:
There are common symptoms for patients experiencing Elmiron-associated eye damage. These include:
Difficulty reading
Difficulty adapting to dim lighting
Seeing dark spots in the center of vision
Straight lines that appear curved or squiggly
Less vivid colors
Halo vision
Unilateral and bilateral blindness
The most common serious complication associated with Elmiron is retinal maculopathy. Symptoms of retinal or pigmentary maculopathy include:
Pain in the eye
Vision irregularities
Vision changes in low light
Permanent vision loss
According to a recent study, the use of Elmiron was linked to eye damage in approximately one quarter of patients studied, and Elmiron lawsuits are being filed.
If you have taken Elmiron for bladder pain and discomfort associated with interstitial cystitis and diagnosed with retinal damage or any eye damage, you may be eligible for an Elmiron lawsuit – and you may be entitled to compensation.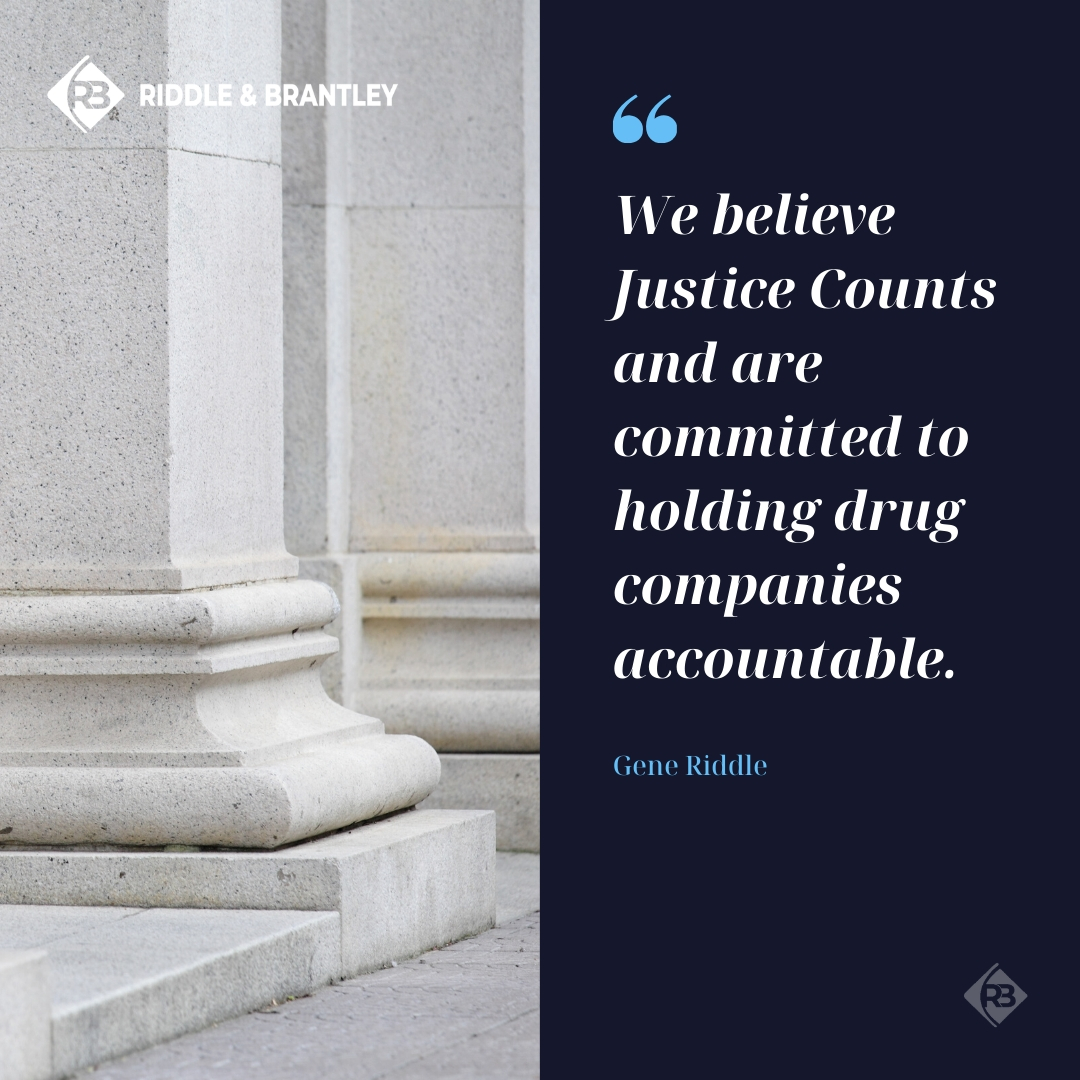 Riddle & Brantley has been holding negligent drug companies accountable for more than 35 years.
If you believe your eye injury is due to potential negligence on the part of Janssen Pharmaceuticals (a division of Johnson & Johnson) distributors, or another party, we believe you deserve justice.
If you suffered any of these retina or eye injuries potentially due to the bladder medication Elmiron, our Elmiron lawsuit attorneys would live to help you seek justice if possible.
For a free, no-obligation consultation, please call 1-800-525-7111 or fill out the quick form below. 
The consultation is free with no upfront fees or attorney costs unless we win your case and you receive financial compensation for your injuries.
Justice Counts for you and your family.
Please call 1-800-525-7111 today and let's review your case and see if you qualify for an Elmiron eye damage lawsuit.
Why should I contact Riddle & Brantley?
"This settlement changed me, and my family's lives."
-Linda B.
For more than 30 years, Riddle & Brantley attorneys have been fighting for the rights of those injured due to the negligence of others. Our injury attorneys have more than 225 combined years of legal experience. Our firm is led by Gene Riddle, an attorney who has been recognized as a member of Million Dollar Adovocates Forum and Multi-Million Dollar Advocates Forum, as well as Super Lawyers and The National Trial Lawyers Top 100. In 2014, attorney Riddle received the Litigator Award and he maintains a prestigious AV Preeminent rating from Martindale-Hubbell (see disclaimer below).
Riddle & Brantley has secured many five, six and even seven-figure verdicts and settlementson behalf of deserving clients.  (see disclaimer below).
"We believe Justice Counts and are committed to holding drug companies accountable."
-Gene Riddle, attorney and managing partner, Riddle & Brantley
Give us a call today for a free consultation at 1-800-525-7111.
We would love to help you if we can.
*** Disclaimer: The results mentioned are intended to illustrate the type of cases handled by the firm. These results do not guarantee a similar outcome, and they should not be construed to constitute a promise or guarantee of a particular result in any particular case. Every case is different, and the outcome of any case depends upon a variety of factors unique to that case.
*** Disclaimer: An attorney must meet certain requirements to join these organizations or receive these awards. For more information on Membership Criteria for Million Dollar Advocates Forum, Multi-Million Dollar Advocates Forum, Super Lawyers, The National Trial Lawyers Top 100, AV Preeminent by Martindale-Hubbell, and the Litigator Award, please visit our Membership Criteria page. These awards and memberships should not be construed as a promise or guarantee of a similar result. Each case is different and must be evaluated separately.