Can Benzene in Deodorant Cause Multiple Myeloma?
An independent lab recently announced that it had found the cancer-causing chemical benzene in certain spray-on deodorants, including varieties marketed under the brand names Old Spice and Secret. In response, the FDA and Proctor & Gamble announced a voluntary deodorant recall. Many forms of cancer have been linked to benzene exposure, including multiple myeloma, raising the serious question: can contaminated deodorant cause multiple myeloma?
In this article, we'll dig into some of the research concerning benzene exposure and multiple myeloma in order to answer this question.
IMPORTANT: If you've developed multiple myeloma or another type of cancer after using a recalled, benzene-contaminated deodorant like Old Spice or Secret, you may be entitled to compensation. For a free, no-obligation consultation with an experienced product liability lawyer concerning a potential deodorant cancer lawsuit, please call 1-800-525-7111. The consultation is free and we don't get paid unless we secure compensation for you. 
Contaminated Deodorant and Multiple Myeloma: What's the Potential Risk?
To be clear, research has established a link between benzene and multiple myeloma, a serious form of cancer affecting plasma cells in white blood cells. This research suggests that benzene-contaminated deodorant may cause multiple myeloma, and consumers who have used these products should take note.
What Does the Research Say?
Recent studies detailing the link between benzene and multiple myeloma include:
A 2018 review of scientific literature published in Annals of Occupational and Environmental Medicine found that "benzene was associated with all lymphohematic carcinogenesis," including multiple myeloma
A 2015 population-based study of offshore oil industry workers exposed to benzene concluded there was "evidence of dose-related risk patterns according to cumulative exposure for acute myeloid leukemia (AML), multiple myeloma, and suggestively so for chronic lymphocytic leukemia (CLL)."
A 2011 study that found "support for an association between occupational benzene exposure and risk of MM [multiple myeloma], ALL [acute lymphocytic leukemia], and CLL [chronic lymphocytic leukemia."
Based on the available scientific research, it seems reasonable to conclude that exposure to benzene in contaminated deodorants may cause multiple myeloma.
Other studies have documented connections between benzene and other forms of blood-related cancers, including non-Hodgkins lymphoma and various types of leukemia.
What is Multiple Myeloma?
According to the Cleveland Clinic, multiple myeloma is "a rare condition that causes cancerous plasma cells to be produced, multiply, and build up in the bone marrow. The disease can lead to weakened bones, anemia, abnormal kidney function, and other health problems." Multiple myeloma is relatively uncommon. In the United States, roughly 8 out of every 100,000 people are diagnosed with the cancer each year.
Symptoms of Multiple Myeloma
The Mayo Clinic reports that symptoms of multiple myeloma may not be present in early stages of the disease. However, once present, common symptoms of multiple myeloma include:
Bone pain, especially in the spine or chest
Nausea
Constipation
Loss of appetite
Confusion or mental "fogginess"
Frequent infections
Fatigue
Weight loss
Numbness or weakness in the legs
Excessive thirst
IMPORTANT: If you have experienced any of the above symptoms, or other potential symptoms of multiple myeloma, consult with your doctor immediately.
Prognosis and Treatment
While multiple myeloma was previously considered a very deadly disease, recent developments in treatment options have dramatically improved the prognosis for many patients suffering from the disease. Multiple myeloma is not curable, but can be treated with a variety of medications and therapies, including targeted drug therapy, immunotherapy, chemotherapy, corticosteroids, bone marrow transplants, and radiation therapy. In some cases, patients with multiple myeloma may qualify for a clinical trial in which new and experimental treatments are applied.
"I Was Diagnosed with Multiple Myeloma After Using Contaminated Deodorant. Can I File a Lawsuit?"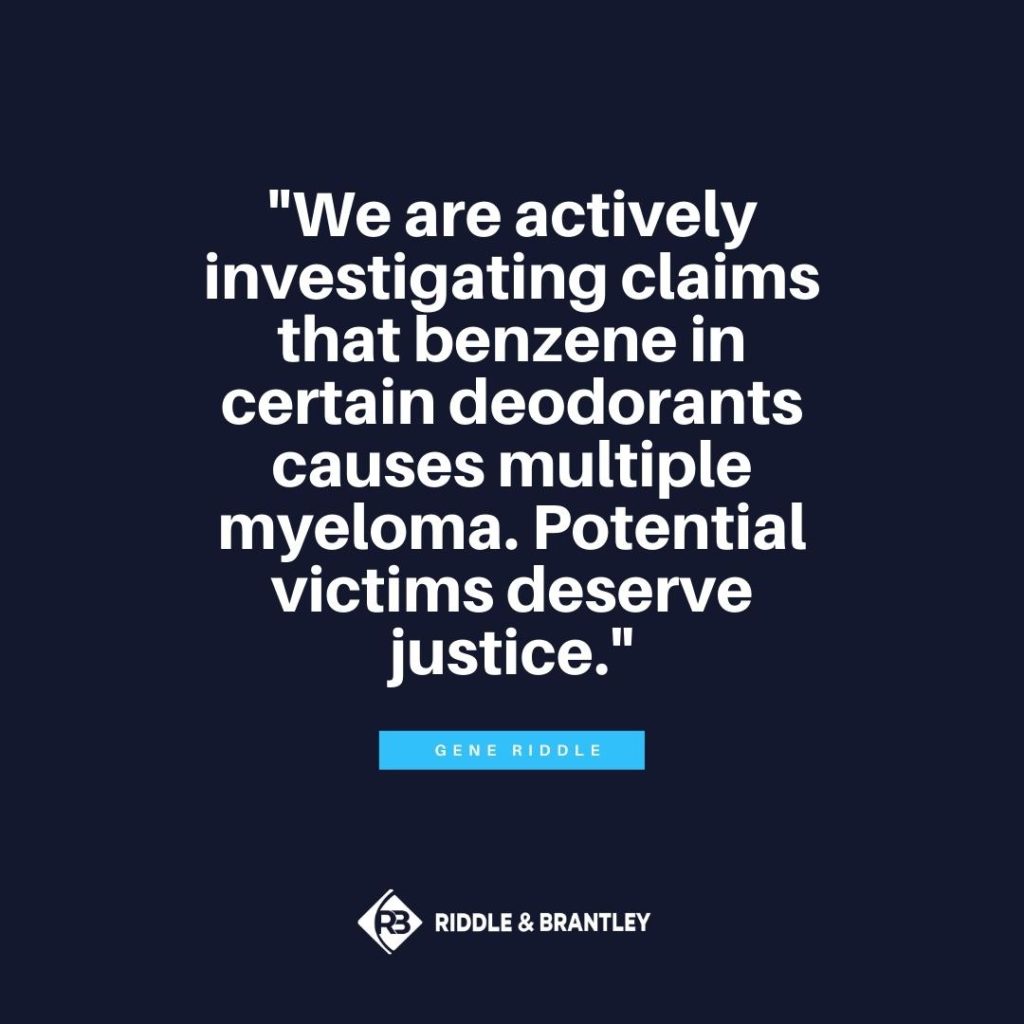 If you were diagnosed with multiple myeloma after using a benzene-contaminated deodorant or antiperspirant like certain spray-on varieties of Old Spice or Secret, you may be entitled to compensation and qualify for a deodorant lawsuit. For a FREE, no-obligation consultation with an experienced product liability attorney handling deodorant multiple myeloma (and other cancer) lawsuits, please call 1-800-525-7111.
You may qualify for a multiple myeloma deodorant lawsuit if you were diagnosed with this potentially deadly disease after using a benzene-contaminated spray-on deodorant, including certain Old Spice or Secret products. Call 1-800-525-7111 today and let's review your claim. Other potentially qualifying cancers include various forms of leukemia and non-Hodgkin's lymphoma.
Compassionate Attorneys Ready to Help
At Riddle & Brantley, we pride ourselves on treating every client like family, and our compassionate multiple myeloma deodorant lawsuit attorneys are ready to help however we can. Since 2000 alone, we've recovered more than $600 million in total compensation for our deserving clients (see disclaimer below). We invite you to call for a free consultation at 1-800-525-7111 and see why clients say the following about working with our firm:
"Every time I've needed them, they were there for me." –Tyronnie T.
"I would recommend them to anyone. They fought hard for me." –Christine W.
"They handled my case very professionally, with respect from beginning to end." –Joseph W.
"They turned a heartbreaking situation completely around." –Tonya T.
"This settlement changed me and my family's lives."
–Linda B., Riddle & Brantley client
We believe Justice Counts and we're ready to help however we can.
---
*** Disclaimer: The results mentioned are intended to illustrate the type of cases handled by the firm. These results do not guarantee a similar outcome, and they should not be construed to constitute a promise or guarantee of a particular result in any particular case. Every case is different, and the outcome of any case depends upon a variety of factors unique to that case.