Proctor & Gamble Hit with Deodorant Class Action Lawsuit Over Benzene-Related Cancer Claims
A class action lawsuit has been filed against Proctor & Gamble alleging that the deodorant manufacturer failed to warn consumers about potential cancer risk associated with its Old Spice and Secret spray-on deodorants. Recent testing by an independent lab found benzene in many popular deodorants, including certain Old Spice and Secret varieties. Benzene is a known cancer-causing chemical linked to cancers such as leukemia, non-Hodkgins lymphoma, and multiple myeloma.
The FDA and Proctor & Gamble subsequently issued a voluntary recall announcement. For more information, please visit our deodorant recall update.
What Does the Antiperspirant / Deodorant Class Action Allege?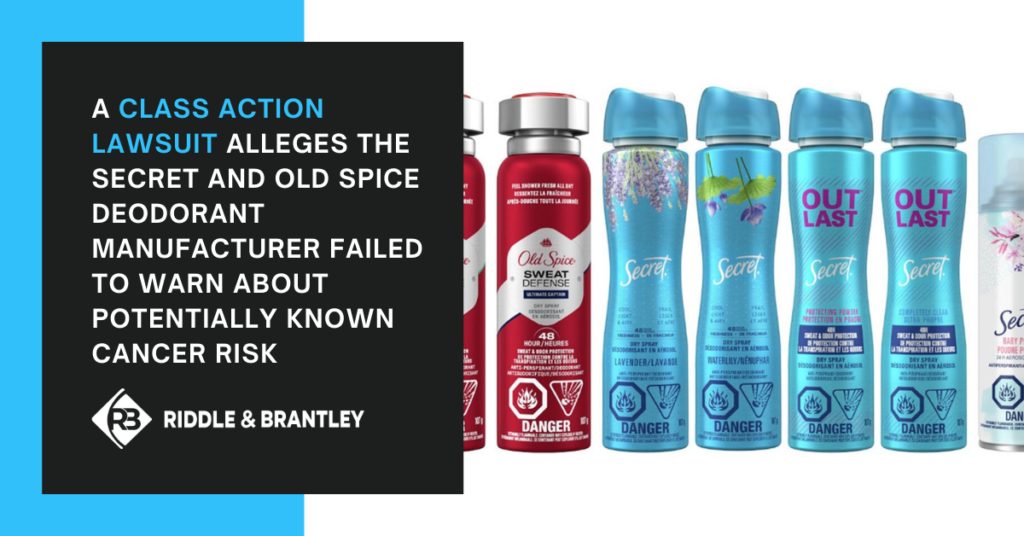 According to a report in Bloomberg Law, the Old Spice and Secret deodorant class action lawsuit alleges that Proctor & Gamble "failed to disclose that that Old Spice and Secret aerosol antiperspirants could contain benzene, a human carcinogen."
These are serious allegations and our firm continues to investigate the possibility of additional legal action against affected deodorant manufacturers. It is important to note that Proctor & Gamble strongly denies any liability and/or wrongdoing, and in its deodorant recall announcement claimed that it was taking the voluntary step out of "an abundance of caution."
Nevertheless, the class action lawsuit reflects serious and growing concern that benzene contamination in popular deodorants and antiperspirants presents a danger to consumers.
What Do Plaintiffs in the Deodorant Class Action Lawsuit Want?
The deodorant lawsuit seeks court action against Proctor & Gamble, including:
Enjoining (prohibiting) Proctor & Gamble from selling the affected Old Spice and Secret deodorant and antiperspirant products or claiming that they are safe for use
Requiring Proctor & Gamble to run corrective advertising disclosing the potential presence of benzene and the alleged cancer risk associated with certain Old Spice and Secret prodcuts
Restitution for consumers who have purchased the affected Old Spice and Secret deodorants and/or antiperspirants
Damages, including but not limited to compensation for cancers potentially caused by the benzene-contaminated deodorants
"Can I File a Deodorant Lawsuit?"
Riddle & Brantley is actively investigating claims that benzene-contaminated deodorant causes cancer, and we are ready to help however we can. For a FREE, no-obligation consultation with an experienced product liability attorney handling benzene cancer claims associated with Secret and Old Spice deodorants, please call 1-800-525-7111 or complete the convenient form below. There is no obligation, and we don't get paid unless you do. If we don't recover compensation for you in your deodorant lawsuit, you won't pay any attorney fees. It's as simple as that.
You may qualify for a deodorant class action lawsuit or potential mass tort claim if you meet the following criteria:
You were diagnosed with a qualifying cancer, potentially including certain types of leukemia, non-Hodgkins lymphoma, or multiple myeloma
This is a rapidly developing situation and we are still working to verify criteria for potential deodorant lawsuits. For more information, please stay tuned to our website and call 1-800-525-7111 if you believe you may have a claim. We believe Justice Counts and are committed to securing justice for those whose cancer may have been caused by benzene-contaminated deodorant.