Toxic CPAP Foam Exposure Symptoms
Are You Suffering from Symptoms of CPAP Foam Exposure?
On June 14th, 2021, many different CPAP and ventilator machines manufactured by Philips were voluntarily recalled due to potential cancer risk and other health issues.
The recall stemmed from users' potential exposure to toxic foam inside the CPAP machine. But what are the symptoms of exposure to toxic CPAP foam?
Symptoms of CPAP foam exposure may include:
Irritation to skin, eyes, and/or respiratory tract
Headache
Airway irritation
Airway inflammation
Respiratory issues
Hypersensitivity
Nausea or vomiting
Asthma
Organ damage (including liver damage and kidney damage)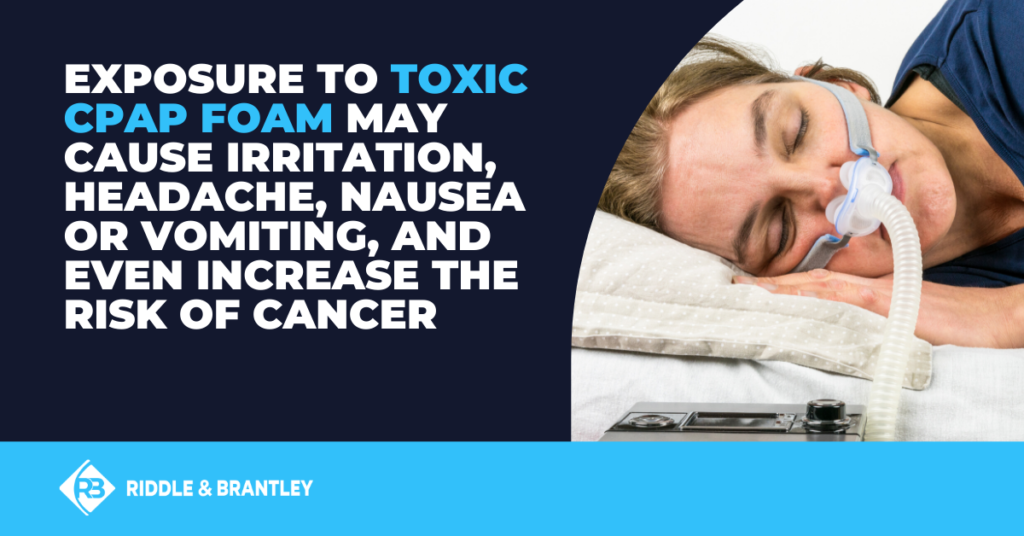 Those who have been exposed to toxic CPAP foam may also be at increased risk of developing cancer, including kidney cancer, liver cancer, lung cancer, and rectal cancer, among others.
If you or a loved one have used a Philips CPAP machine or ventilator and later developed cancer or other health problems, you may be eligible for a CPAP lawsuit.
Call 1-800-525-7111 today for a FREE consultation with one of our experienced medical device lawyers, who will review your case to see if you may be entitled to compensation.
The consultation is free, and you won't pay any attorney fees unless we win your CPAP toxic foam case and you receive compensation. Call 1-800-525-7111 and let's review your claim.
Why is Philips Recalling CPAP Machines?
According to the recall that Philips submitted to the U.S. Food and Drug Administration, the PE-PUR foam installed in the recalled machines to reduce noise may degrade and release toxic chemicals or particles that can be harmful to the user.
Philips announced that the company has received "no reports regarding patient impact related to chemical emissions," however, it is believed that inhalation or absorption of gaseous Volatile Organic Compounds (VOCs) released by the degradation of toxic CPAP foam may cause serious symptoms and even cancer.
What Devices are Being Recalled?
This recall will affect between three and four million users, and applies to a wide range of Philips products worldwide. This is a huge recall, and if you used a Philips CPAP or life-sustaining ventilator device manufactured before April 26th, 2021, you should immediately refer to the recall order to see if your device is included.
Some of the CPAP machines and ventilators being recalled include:
All CPAP and BiLevel PAP devices manufactured before April 26th, 2021
E30 model continuous ventilator
Dreamstation ASV, Dreamstation ST/AVAPS, Dreamstation GO systems
All mechanical ventilators manufactured before April 26th, 2021
"What Should I Do if I Am Currently Using One of These Devices?"
If you are currently using one of the recalled devices, consult with your physician immediately to discuss your options for continuing your treatment and/or discontinuing the use of your recalled device. To return or replace your device, contact Philips for information on how to do so.
If you are using a life-sustaining ventilator device, do not immediately discontinue use. Instead, contact your healthcare provider to discuss treatment options and weigh the risks associated with using the device.
However, according to Philips, if you use a CPAP or BiLevel PAP device for non-life-sustaining treatment, you should discontinue use immediately and consult your physician for alternative treatment options.
"I'm Experiencing Symptoms from Toxic CPAP Foam Exposure. What Can I Do?"
If you used one of these recalled devices and later developed symptoms of CPAP foam exposure, or a qualifying cancer, you may qualify for a lawsuit.
Currently, these are some of the conditions that may be caused by exposure to toxic CPAP foam and may entitle you to compensation:
Cancers including:
Rectal cancer
Esophageal cancer
Bladder cancer
Brain cancer
Colon cancer
Stomach cancer
Nasal cancer
Throat cancer
Laryngeal cancer
Thyroid cancer
Papillary cancer
Various types of leukemia
Non-Hodgkin's lymphoma
Multiple myeloma
Other health problems, potentially including:
Severe ear, eye, nose, throat, sinus, or oral cavity inflammation and injury including nodules, cysts, and tumors
Respiratory problems, including:

Reactive Airway Disease (RAD)
Acute Respiratory Distress Syndrome (ARDS)
Recurrent pneumonia
New or or worsening asthma

Lung damage / lung disease
Kidney damage/ kidney disease
Liver damage / liver disease
Heart problems
Sudden respiratory failure leading to heart attack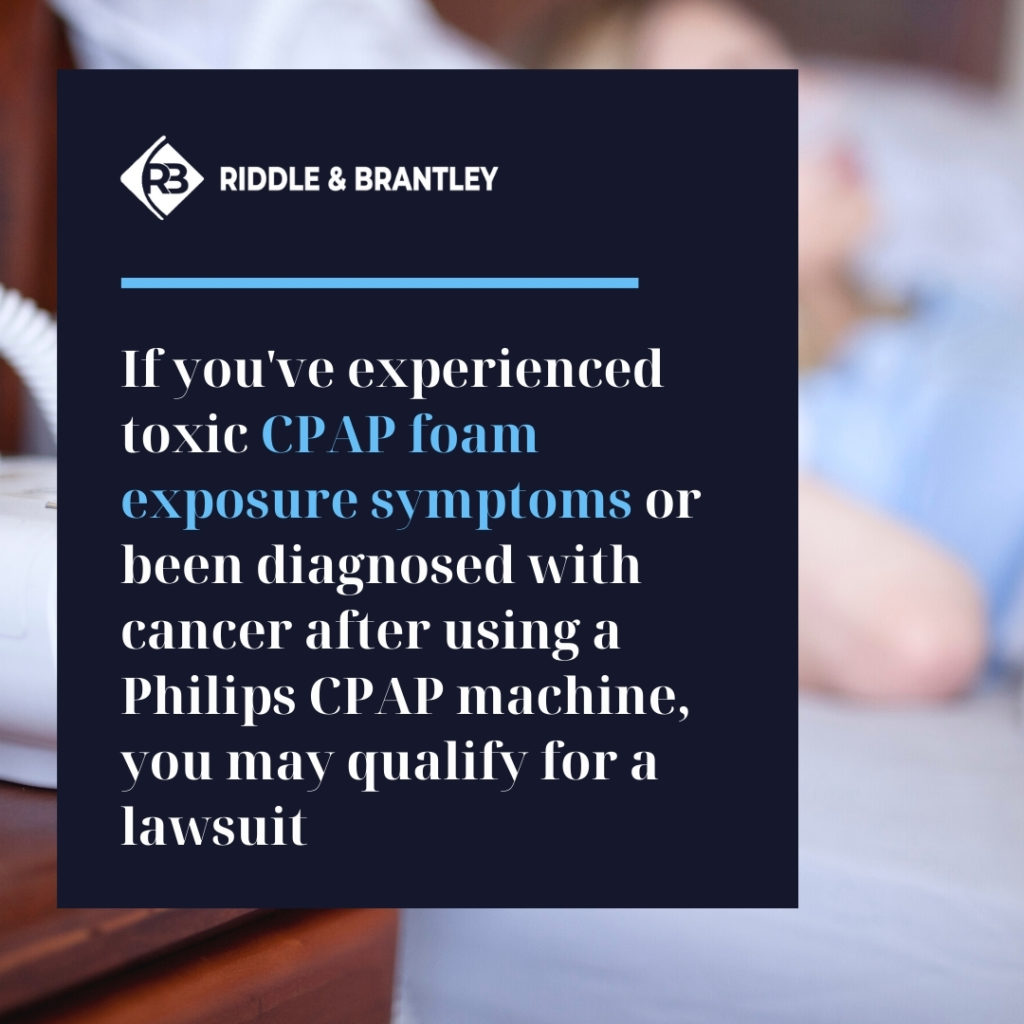 This list is not exhaustive, so if you have experienced cancer or another respiratory illness or injury after using a Philips CPAP or ventilator, call us today at 1-800-525-7111 to see if you may qualify for a Philips CPAP lawsuit. 
Consultations are 100% FREE, and with Riddle & Brantley, you never pay ANY attorney fees unless you receive compensation for your claim.
Our team of attorneys has over 220+ years of combined experience fighting for our clients against defective medical device manufacturers, and we are dedicated to helping you receive the maximum compensation you deserve.
At Riddle & Brantley, we are committed to showing every one of our clients that Justice Counts.