Greenville Truck Accident Lawyer
Have you been injured in a truck or tractor-trailer accident?
You may be looking for an injury lawyer, and the Greenville truck accident lawyers at Riddle & Brantley may be able to help.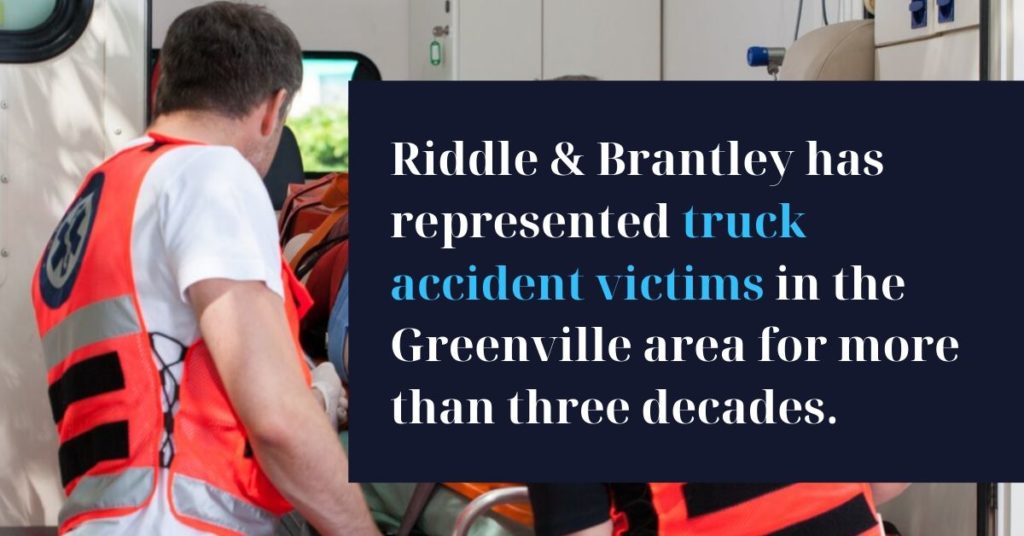 Size, weight and speed mean that truck accidents — especially those involving tractor-trailers — can result in devastating damage and life-altering injuries.
If you've been hurt in a truck crash caused by someone else's negligence, you deserve justice — and you may be entitled to significant financial compensation.
The Greenville injury lawyers at Riddle & Brantley have more than 220+ years of combined experience representing clients throughout North Carolina, including Greenville.
We have convenient offices in Greenville*, Goldsboro, Kinston*, Jacksonville, and Raleigh, and can even come to you if you prefer (*these locations by appointment only).
Reach out to Riddle & Brantley for expert guidance on a wide range of truck accident lawsuits.
We will review your case and advise you on your legal options.
As always, there are no upfront costs and no attorney fees unless we win your case and you receive financial compensation.
Justice for Truck Accident Victims in Greenville
Several busy highways converge in and around Greenville and truck accidents are unfortunately common. Tractor-trailers follow routes on US-264, US-13, and NC-33 and NC-43.
3,797 crashes in Greenville resulted in injury in 2018, according to the North Carolina Department of Transportation (NCDOT), and many of these involved trucks and tractor-trailers.
If you've been injured in a truck accident or tractor-trailer wreck in Greenville or surrounding North Carolina, please call the Greenville truck accident attorneys at Riddle & Brantley.
You can also complete the short form below if you prefer.
"All North Carolinians deserve justice and we're proud to serve victims of truck accidents in Greenville." -Gene Riddle
Common Truck Accident Injuries 
Injuries caused by truck and tractor-trailer accidents can be severe and even life-threatening. Our attorneys have experience handling truck accident cases involving all kinds of injuries, including:
Cuts, scrapes and contusions
Soft tissue injuries
Broken bones
Neck injuries
Head injuries (including traumatic brain injuries)
Spinal cord injuries
Back injuries
Burns
Loss of limbs and amputations
And more
In certain situations, an emotional injury like post-traumatic stress disorder (PTSD) may also be considered in a truck accident claim.
If you've suffered any of these injuries as a result of a truck accident and believe someone else is responsible, call us for a FREE consultation.
The consultation is free and there are no attorney fees unless we win your case.
Our team of attorneys is experienced helping clients in Greenville and throughout North Carolina and we would love to help if we can.
Results for Victims of Truck and Tractor-Trailer Accidents
We're proud of the results we've obtained for deserving victims of truck crashes throughout the state. While every case is different and there is no guaranteed outcome of any claim or lawsuit, we invite you to consider our record of successful settlements and judgments:
$5.45 Million | Tractor-Trailer Accident & Wrongful Death — In one of the most heartbreaking cases our attorneys have ever handled, a family of four was killed when hit by a large tractor-trailer on a busy NC highway. We organized a comprehensive accident investigation and promptly filed a lawsuit. The case settled prior to trial through mediation, for a total settlement of $5,450,000 in compensation for surviving relatives.
$2 Million | Truck Accident — Attorney Jonathan Smith, assisted by managing partner Gene Riddle, successfully secured a $2 million total settlement for the surviving sons of a woman who was ultimately killed by an 18-wheeler. Riddle & Brantley brought in outside experts to help determine liability in the case prior to mediation.
$1.25 Million | Tractor-Trailer Accident — When a 75-year-old client was seriously injured in a crash involving a tractor-trailer, attorneys Gene Riddle and Adam Smith jumped into action. We attended 14 sessions of traffic court in order to ensure the truck driver was found guilty of traffic charges, and ultimately negotiated a large settlement with three separate insurance carriers.
*** Disclaimer: The results mentioned are intended to illustrate the type of cases handled by the firm. These results do not guarantee a similar outcome, and they should not be construed to constitute a promise or guarantee of a particular result in any particular case. Every case is different, and the outcome of any case depends upon a variety of factors unique to that case.
What can a Greenville truck accident lawyer do for you?
Accidents happen in an instant, but the consequences can last a lifetime.
You deserve an advocate who will fight tirelessly for justice.
Riddle & Brantley's Greenville injury attorneys understand what you're going through and can help manage your entire claim or lawsuit from beginning to end.
Our services may include:
Identifying and interviewing witnesses
Coordinating with law enforcement and obtaining the official police report
Organizing a through crash scene investigation
Hiring expert witnesses like accident reconstructionists
Conducting depositions
Preparing and submitting your injury claim
Calculating damages
Connecting you with appropriate medical care
Helping set up affordable payment plans for medical bills
Filing court documents and legal briefs
Filing a lawsuit
Litigation
Negotiating with defense counsel
Negotiating with insurance companies
Mediation
Arbitration
Trial
Setting up trusts or guardianships for long-term care
And much, much more…
Your Greenville truck accident lawyer will also be assisted by an entire staff of investigators, case managers and paralegals dedicated to your success.
You can also complete the form below if you prefer.
Our #1 goal is to get you the justice you deserve and make the entire process as easy and stress-free as possible for you and your loved ones.
Need an accident attorney?
You don't have to go through this alone.
A Riddle & Brantley Greenville truck accident attorney will listen to you, advise you on your legal options, and if you decide to hire us, fight tirelessly for justice for you.
We say Justice Counts and believe ALL North Carolinians deserve justice and compensation for injuries suffered as a result of someone else's negligence.
The consultation is free and you won't pay a dime unless we win your case and you receive financial compensation.
Truck and tractor-trailer accidents can be devastating, but we're here for you.